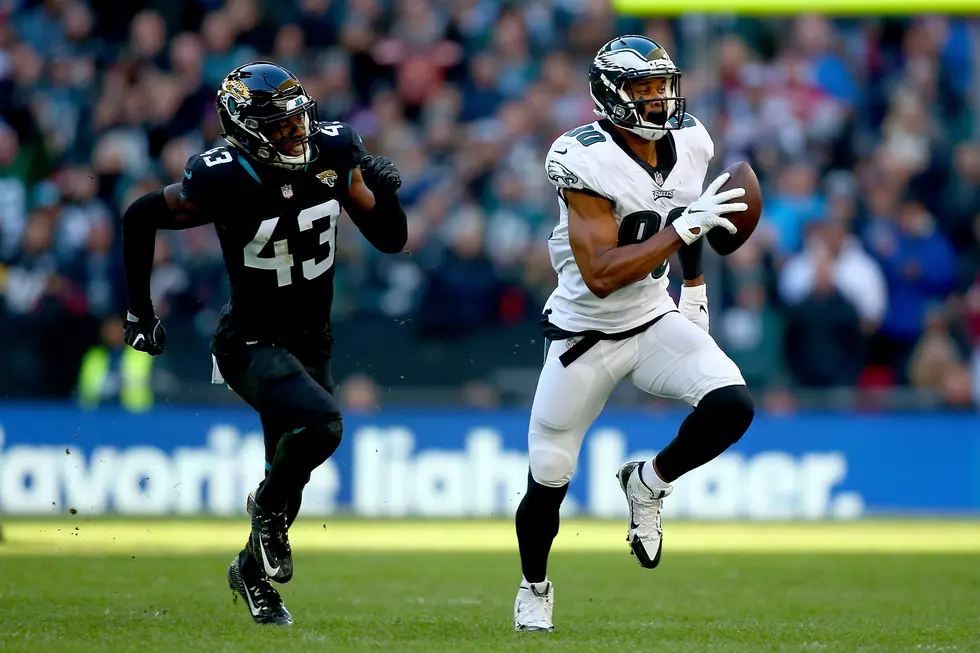 Grayson's Grades: Eagles at Jaguars
Getty Images
LONDON - The Philadelphia Eagles can take a long sigh of relief after hitting the midway point of the season with a win on foreign soil. The Eagles nearly saw another fourth quarter lead slip away but managed to hold on and beat the Jacksonville Jaguars 24-18 at Wembley Stadium.
The Eagles offense did a much better job of fixing their third down woes. At one point they were seven-of-nine on third down. They finished the game seven-of-12. They also scored a touchdown on one out of two trips into the Red Zone, which has also been an area of concern.
The defense also did its part. They forced a turnover that the offense converted into a touchdown. The defense also did a great job of creating pressure on Jaguars Quarterback Blake Bortles. Many players indicated in the locker room after the win that this might have been the most that Defensive Coordinator Jim Schwartz has ever blitzed.
Overall, the Eagles hit the middle of the season at 4-4 while playing in a wide-open division. That long sigh of relief makes for a much happier flight back across the Atlantic Ocean and a more enjoyable week off.
For the first time in a foreign country, here is Grayson's Grades:
Jordan Hicks – Hicks played a really good game. He was frequently in the backfield and also around the ball an awful lot. He got to Bortles on a blitz and teamed with Michael Bennet for a sack early in the game. Hicks was the third guy to get a shot at him in the pocket, but the team did a much better job of having multiple players get a shot at the quarterback in the first half. They had less pressure in the second half. Hicks came on another blitz in the third quarter and recorded another sack. He led the team with 12 tackles. Hicks also added 1.5 sacks, a tackle for a loss and two quarterback hits.
Avonte Maddox – Maddox has grown into a solid backup for Rodney McLeod at safety. Each week since McLeod's season-ending injury has seen Maddox look more and more comfortable at that positon. He made a huge tackle on third and one for a short loss on the play. That forced the Jaguars to kick a field goal. He did have a couple of missed tackles and must fix that part of his game. But overall, Maddox played pretty well. He finished with four tackles including a tackle for a loss and a very important forced fumble that was recovered by the Eagles.
Jordan Matthews – Matthews had his best game since returning to the Eagles after a trade earlier this season. He led the team with four receptions for 93 yards. Matthews was frequently not the primary target but as Wentz went through his progressions, he found Matthews open. Matthews best catch was on a post-route where he had one step on the defender and made the catch despite a pass interference call against the Jaguars.
Fletcher Cox – Cox had a very solid game plugging up the middle of the line and taking advantage of numerous blitzes by the defense to get into the backfield and wreak havoc. His impact extends far beyond just the stats. Cox managed to record a pair of tackles including a tackle for a loss, a quarterback hit and a pass that was batted down at the line of scrimmage.
Josh Adams – Adams was the most effective running back of the day for the Eagles. He did a good job shifting his weight and extending runs. He appeared to hit the hole with a full head of steam that helped advance the ball for some solid gains. Adams carried the ball nine times for 61 yards. That is a productive 6.8 yards per carry. However, he got lucky in the fourth quarter when he fumbled the ball and had it overturned as he hit the ground just before the ball came loose.
Dallas Goedert – Goedert did a nice job reading Carson Wentz' scramble and locked up his man for a nice block to allow Wentz to get enough for a third down conversion. Wentz appreciated the gesture and kindly found Goedert on the very next play for a 32-yard touchdown. That was Goedert's only reception of the game, but his contributions extend as a blocker and he is doing a good job as both a receiver and blocker.
Carson Wentz – Wentz had an up-and-down kind of day. It started poorly when he was sacked and fumbled the ball away in the first quarter. That fumble was recovered by the Jaguars. Wentz turned it over again later in the first half when he forced a pass into double coverage. He was trying to hit Josh Perkins in the back of the endzone. Wentz started to turn it around after that. He was able to find ways to buy more time and extend plays. His accuracy began to get better and with it came touchdowns for the offense. Two areas the Eagles had been struggling got better in this game and Wentz played a big role in that change. The birds converted seven of 12 third downs and scored a touchdown in one of two trips into the red zone. Wentz hit nine different receivers in this game including himself when he had a pass batted in the air that he caught and was able to take across the first down marker to convert a third down. Wentz completed 21 of 30 passes for 286 yards and three touchdowns with one interception. He also added 28 yards on the ground when scrambling out of a collapsing pocket.
Doug Pederson – Pederson did a good job of adjusting in the middle of the game. The Eagles were having several passes batted down at the line of scrimmage. Once Pederson began calling some designed rollouts for Wentz, the offense started to find a rhythm. It was on a designed rollout that saw Wentz hit Dallas Goedert for a 32 yard touchdown. Pederson also chose the right time to call screen plays. Some of them did not work, but he hit a homerun with the screen to Wendell Smallwood that went 36 yards for a touchdown. Pederson had to manage a revolving door on the offensive line. At one point both Jason Peters and Lane Johnson were sidelined due to injury. Peters eventually returned, but Johnson remained out the entire game after suffering a knee injury and going to the locker room on the back of a cart.
Wendell Smallwood – Smallwood's biggest impact came as a receiver. He took a screen pass and had nothing but green grass in front of him. He had two defenders deep down the field to avoid and did to ensure he scored from 36 yards out. Smallwood did okay carrying the ball. He had a nice run in crunch time to move the sticks and allow the Eagles to run out the rest of the clock in victory formation. Smallwood finished with eight carries for 24 yards. He added two receptions for 42 yards and a touchdown.
Zach Ertz – The Jaguars did a pretty good job of limiting Ertz' touches; however, he did a good job of making the most of the opportunities that came his way. Namely, he ran a solid route and made a good catch for a touchdown when the Eagles needed it most. Ertz only had four receptions for 26 yards and a touchdown, but the attention he received allowed others to get more opportunities.
Malcolm Jenkins – Jenkins came on a safety blitz early in the game and nearly got Bortles down. He did get enough of him for Chris Long to wrap him up for a sack and force a punt. Jenkins also had a great pass breakup as the Jaguars were driving in the fourth quarter. It would have been a touchdown if he did not lay out and bat it away. Jenkins was the man tasked with coverage earlier in the game on a touchdown catch by Dede Westbrook. He left too much room in the back of the endzone for Westbrook to make the catch and get both feet down. Jenkins finished with four tackles, but his two pass breakups in the game were extremely important.
Jim Schwartz – Numerous Eagles players said after the game that they believe this was the most Schwartz has ever blitzed in a game. It typically worked creating pressure on Blake Bortles and even resulted in four sacks. He did a good job of dialing up blitzes from different positions and trying to confuse Bortles. The Eagles did start allowing the Jaguars to move the ball more in the second half but only allowed the opponent to reach the endzone once.
Offensive Line – The Eagles had to keep patching an injured offensive line in this game. At one point, both starting tackles Jason Peters and Lane Johnson were on the sideline. Peters eventually returned. Halapoulivaati Vaitai played right tackle for Johnson and then moved to left tackle for Peters. While he was there, Isaac Seumalo moved to right tackle and Stefen Wisniewski took Seumalo's spot at left guard. Overall, the line handled that okay but allowed way too many hits on Carson Wentz. They gave up four sacks and saw Wentz get hit nine times in the game. That number could have been even higher if Wentz did not do a good job of getting out the pocket and scrambling. Perhaps no position on the team needs this bye week more than the offensive line. There are plenty of bumps and bruises there that need to heal.
Corey Clement – The Eagles appear to be satisfied running the backfield as a three-man committee, at least for now. It remains to be seen if they make a move at the trade deadline at that position. Clement became the odd man out in this game. He had the fewest carries among running backs and failed to find running room. Clement finished with four carries for six yards. He also caught one pass for a loss of one yard.