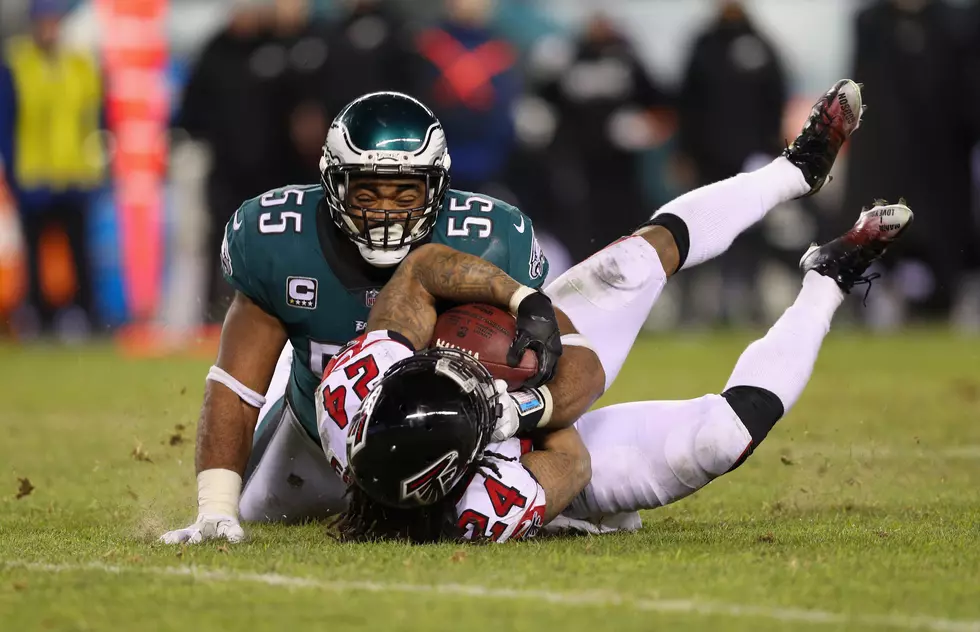 Grayson's Grades: Eagles vs. Falcons
Getty Images
PHILADELPHIA - The Philadelphia Eagles survived and advanced to the NFC Championship Game by knocking off the Atlanta Falcons 15-10 inside a windy Lincoln Financial Field.
The Falcons trailed by five and had a first-and-goal from the nine-yard line as well as a fourth-and-goal from the two-yard line, but failed to find the endzone leading to the Eagles victory.
The Eagles rallied around an overwhelming number of national pundits picking against them in this game. Lane Johnson and Chris Long wore dog masks in the locker room after the game mocking the amount of times they were called underdogs this week.
Nick Foles managed the game well and did not turn it over. The offense went on two long scoring drives in the second half to first take the lead and then increase it to five points. The Eagles turned it over twice, once on a Jay Ajayi fumble and another time on a punt that was held up in the wind and took a crazy bounce off of Bryan Braman and was recovered by the Falcons.
Meanwhile, the defense played very well in holding the Falcons to just ten points and ultimately holding them short of the endzone at the end of the game.
The Eagles won their first playoff game in nine years and will host the NFC Championship Game next Sunday evening.
Without further ado, here is the latest edition of Grayson's Grades:
Doug Pederson - I thought Pederson called a good game that fit Nick Foles skill set. He did not ask him to throw a ton, but when he did they were short passes or slants that he could throw on a line over the middle. I also liked how he relied on the running game to set the tone. He fed Ajayi a lot, particularly early in the game and it helped to wear down the Falcons defense. I thought Pederson made the right decision to kick the Field Goal with a two-point lead in the fourth quarter and the ball on the five-yard line. It was tempting to go for the win, but his faith in his defense ultimately paid off. When you stop and think about just how much talent the Eagles have lost to injury this season, it is truly impressive that Doug Pederson has led this team to the NFC Championship Game.
Jim Schwartz - Schwartz deserves a lot of credit for his attack on the Falcons. He also had his team well prepared for what they saw from the Falcons on fourth-and-goal from the two-yard line with the game hanging in the balance. Several players talked about how they had seen that play run by the Falcons out of that same formation earlier in the season. They knew he was going to roll out and they made sure they were not going to let Julio Jones beat them. Schwartz also did a great job of calling a blitz sending Rodney McLeod after Matt Ryan on the final play of the third quarter. It was going to be the Falcons' final play with the wind at their back. Schwartz sensed it was going to be a pass play with a big drop back and McLeod sacked Ryan for a loss of ten yards. The Eagles held the Falcons to 281 total yards. They were just 4-for-13 on third down.
Offensive Line - I have been one in the past to criticize this line. But they deserved a lot of credit in this game. There were some big running lanes on the left side of the line thanks to Halapoulivaati Vaitai, Stefen Wisniewski and Jason Kelce. Kelce blocked very well in this game and his snaps were much better than they had been lately. Brandon Brooks and Lane Johnson also blocked well. Nick Foles only got sacked once and for the most part had a protected pocket. The Eagles nearly rushed for 100 yards as a team and tallied 334 yards on 63 plays.
Fletcher Cox - Cox was a complete nightmare for the Falcons. He shut down the middle of the line and also introduced himself to Matt Ryan several times. Cox was second on the team with seven tackles. He racked up a big sack with less than two minutes remaining in the first half. He also had two tackles for a loss and a pair of quarterback hits. This was an all-around great game for Cox.
Rodney McLeod - McLeod played a really solid game. He picked up a huge sack on Matt Ryan to end the third quarter. McLeod had his number called on a blitz and got to Ryan untouched for a sack and a ten-yard loss. McLeod also added a tackle for a loss as well as a pass successfully defended. He and Jenkins are working very well together on the back line of this defense.
Alshon Jeffery - I thought Jeffery did an excellent job of taking advantage of his limited opportunities when they were presented. He owned nearly one entire drive in the third quarter. Jeffery caught three passes on that drive for a total of 46 yards. He was left in one-on-one coverage and Foles hit him in stride all three times. Jeffery finished with four receptions for 61 yards.
Nick Foles - Foles proved to be a good game manager in this one. He did not make the costly mistake. Sure, he missed some open receivers including a wide-open Trey Burton downfield on third down that would have been a huge gain. However, Foles did what he had to do to help this team earn this playoff victory. Foles had some breaks go his way for sure. He went deep into the wind on the first play of the game and it got held up in that wind eventually resulting in a pass interference call against the Falcons. He also got hit as he threw at one point and the pass went off of a Falcons defenders hands and into Torrey Smith's hands. That eventually set up a long field goal just before the half. Foles completed 23 of 30 passes for 246 yards with no touchdowns and no interceptions.
Brandon Graham - Graham did not show up a ton in the stat sheet, but made some huge plays at key times for the Eagles. He racked up a huge tackle for a 5-yard loss on a run play in the fourth quarter. He also made a great shoestring tackle to stop a run that appeared to be on its way to a big gain. Graham did help create a large push by the defensive line at times. He finished with two tackles including one tackle for a loss and two quarterback hits.
Malcolm Jenkins - Jenkins did a great job of being a team leader, especially on his side of the ball. He led the team with eight tackles including one tackle for a loss. Jenkins is one of the best safeties in the league at playing near the line of scrimmage. He is very good at run support. Perhaps his biggest contribution is leading the secondary and making the coverage calls. He told Jalen Mills that last play was going to come his way and led the defense in talking Mills up to build his confidence.
Jalen Mills - Mills played a pretty good game. There was no bigger play than the one he made on the Falcons' final play of the game from the Eagles' two-yard line with the game hanging in the balance. He was physical with Julio Jones and ultimately did not let him make the game-winning catch. Mills also did an excellent job of jumping just high enough to bat away a pass that almost surely would have gone for a touchdown. Ryan tried to float it over his head, but Mills was able to get a hand on it and force a punt. Mills did commit one costly defensive holding penalty, but it seems he is pretty good for one of those per game. Ultimately he recorded one tackle and had a pair of passes successfully defended.
Jake Elliott - Every time I am impressed by Elliott and want to give him an 'A', he seems to have a big miss in that game. His 53-yard field goal just before the half was extremely huge. He also booted field goals from 37 yards and 21 yards out. However, he missed an extra point that loomed large as the Eagles trailed the Falcons 10-9 at the half. Elliott has made some unbelievable kicks this season. But one missed extra point next week could be the difference between advancing to the Super Bowl or cleaning out his locker.
Jay Ajayi - Ajayi clearly has a fumbling problem and it stems from his stubborn desire to always carry the ball with one hand. Pee Wee players out there know that you need to cover it up on contact. He fumbled his first carry of the game and it was recovered by the Falcons on their own 25-yard line. That drive almost certainly would have resulted in at least three points. That could have been the difference in the game. To Ajayi's credit, he forgot it and started racking up the yards. He had 49 yards rushing on seven carries at halftime. The Falcons adjusted and his second half was not nearly as productive. It was still a decent performance for Ajayi. Without the fumble, his grade would have definitely been higher. He finished with 15 carries for 54 yards. He also added three receptions for 44 yards.
LeGarrette Blount - Blount took a page out of Ajayi's book and decided to try and play basketball with the pigskin. He fumbled his first carry of the game, but was fortunate enough to recover it for a substantial loss. Blount also rebounded from it and ultimately scored the Eagles' only touchdown of the game from one-yard out. That capped off a drive that covered 86 yards on 14 plays. Blount carried the ball nine times for 19 yards and one touchdown.