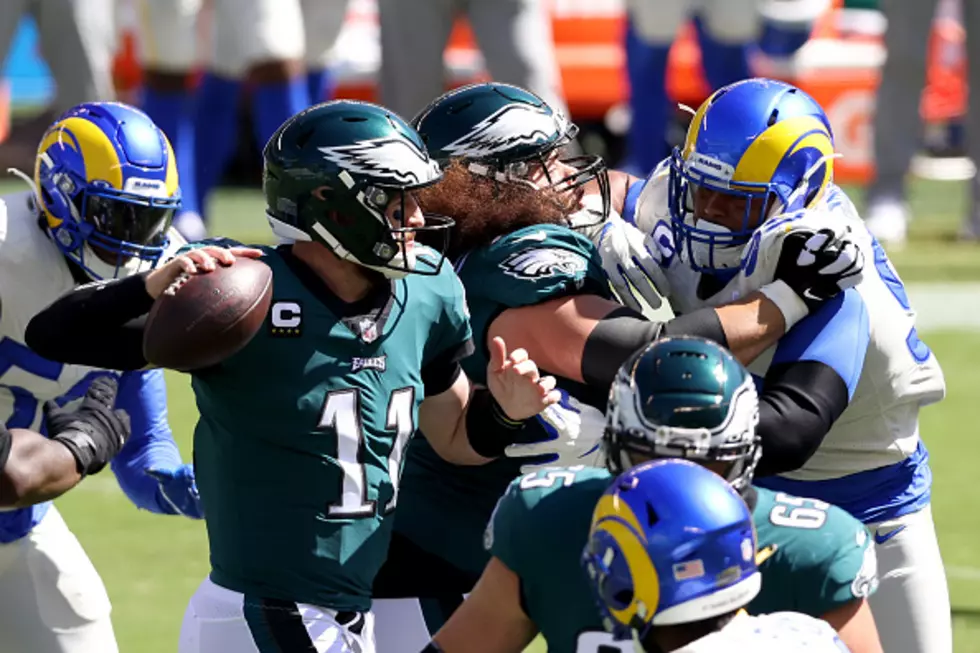 Grayson's Grades: Eagles vs. Rams
Getty Images
PHILADELPHIA - The Philadelphia Eagles have started a season losing their first two games for the first time since 2015 after falling to the Los Angeles Rams 37-19.
The Rams got out to a quick start before the Eagles cut the deficit to five points in the second half. Eventually the Rams opened it back up to a comfortable lead and finished off the Eagles in the fourth quarter.
Carson Wentz threw a pair of interceptions while the defense allowed 449 yards of total offense. The Eagles have given up 64 points in two weeks.
Another bad report card for the Eagles after another ugly loss.
Offensive Line - I thought the offensive line played well, especially after the criticism that unit faced last week. Having Lane Johnson back certainly helped. I thought Nate Herbig did a good job playing alongside Johnson. Jason Kelce, Isaac Seumalo and Jason Peters also did pretty well. They did not give up a sack just one week after allowing eight of them. They also did not let Aaron Donald record a sack although he did get off a hit or two on Wentz. Seumalo left the game with an injury and Matt Pryor took his place. The communication on the line was clearly much better and the mental mistakes seemed to disappear. Also give credit to the line for run blocking well and allowing the Eagles to rush the ball 26 times for 121 yards.
Miles Sanders - Sanders got his 2020 debut off to a rough start fumbling on the opening drive and setting the Rams up with a short field. He recovered and made some nice runs throughout the rest of the day. He was clearly a big part of the game plan recording 23 touches in this one. He did a good job of finding some holes to run through and looked pretty good. Sanders carried the ball 20 times for 95 yards and touchdown. He added three receptions for 36 yards.
Zach Ertz - Ertz had a good bounce-back game after a bad one last week. He was more involved in the offense and did a better job of running his routes as well as catching the ball. Ertz appeared to lack mental focus last week and had rare drops. He was more himself in this game. He was targeted seven times and caught five passes for 42 yards.
DeSean Jackson - Jackson played more in this game than he did last week. He also played more of an impact role. Jackson started to establish himself as a frequent target in the second half. Wentz found Jackson on short and intermediate routes. It appeared he might be setting up a deep shot at some point, but that never happened. It was good to see Jackson do more. He was targeted nine times and caught six passes for 64 yards.
Jalen Reagor - Reagor is settling into a solid role so far as a rookie and I expect that will expand as the season continues. He caught every pass thrown his way and with that will continue to gain more and more confidence in his abilities from Wentz. I like that Pederson called a screen pass for Reagor, but he ran toward the middle of the field after catching it than towards the outside where he had blockers. His speed could be a big asset on screen plays in the future. Reagor caught four passes for 41 yards.
Nate Gerry - Gerry struggled in coverage today. He could not hang downfield and gave up a touchdown when he couldn't stay with Tyler Higbee. Gerry also needs to help and do more to stop the run. He was second on the team in tackles with seven.
Carson Wentz - Wentz had another stinker of a game. He had his team driving for an opportunity to tie the game in the second half and without being rushed, he fired an interception in the endzone turning it over. His second interception came late in the fourth quarter with the game essentially decided. However, he overthrew his man and had it picked off by the Rams on a diving catch. Wentz did a better job this week of throwing it away to avoid taking any sacks. However, some of his decision making was questionable. He threw into a crowd at times including on a crucial fourth-and-two when he tried to hit Dallas Goedert in a tight window. It fell incomplete and resulted in a turnover on downs. Wentz' accuracy was again a question. He completed 24 of 43 passes for 242 yards with no touchdowns and two interceptions.
Defensive Line - Success in this defensive scheme begins with stopping the run and creating pressure. The Eagles failed to stop the run and rarely generated pressure. Brandon Graham recorded the only sack of Jared Goff in this game. The line struggled against the run allowing 191 yards rushing. This defense needs the line to stop the run and be able to generate a pass rush. Through two games there has not been too much of that.  Fletcher Cox and Malik Jackson led the line in tackles with four each. Josh Sweat had three tackles, Derek Barnett registered a pair of tackles and Brandon Graham's only tackle was the sack on Goff.
Doug Pederson - One thing Pederson has done well is rally his team in adversity to play inspired football. They failed to do that in this game. That was largely what contributed to this grade. Offensively, his play-calling was better. Certainly it hurts when your starting Running Back fumbles it away on the opening drive. Pederson did a better job of getting Wentz out of the pocket. He also allowed the running game to be more prominent than he did a week ago. The Eagles ran it 26 times for 191 yards. I don't question the call to go for it on fourth-and-two, but do question the play and where Wentz went with it. Pederson needs to find a way to get this team going. Given they are just one game out of first in the NFC East, it is not time to push the panic button yet. But starting the season with two straight losses is alarming.
Jim Schwartz - Schwartz' defense appears to be playing uninspired football and without energy. There seems to be a lack of leadership right now on that side of the ball. The defense has allowed 64 points in two games. The Rams racked up 449 yards of total offense. That included 191 yards rushing. The Eagles had their entire starting defensive line intact and failed to generate much pressure. They recorded just one sack and two quarterback hits. Jared Goff completed his first 13 passes of the game without much difficulty. He had wide open receivers to hit for the most part. In the past, this defense has helped to make a team one-dimensional by taking away the rushing attack. However, after the Eagles pulled within five points the defense allowed the Rams to rush the ball 40 yards on the opening play of the drive. Two plays after that they scored a touchdown to essentially put the game away. Schwartz looks like he is failing to make adjustments during the game and that has to change. This defense has to at least start holding opponents to more field goals than touchdowns. They gave up five touchdowns in this game alone.