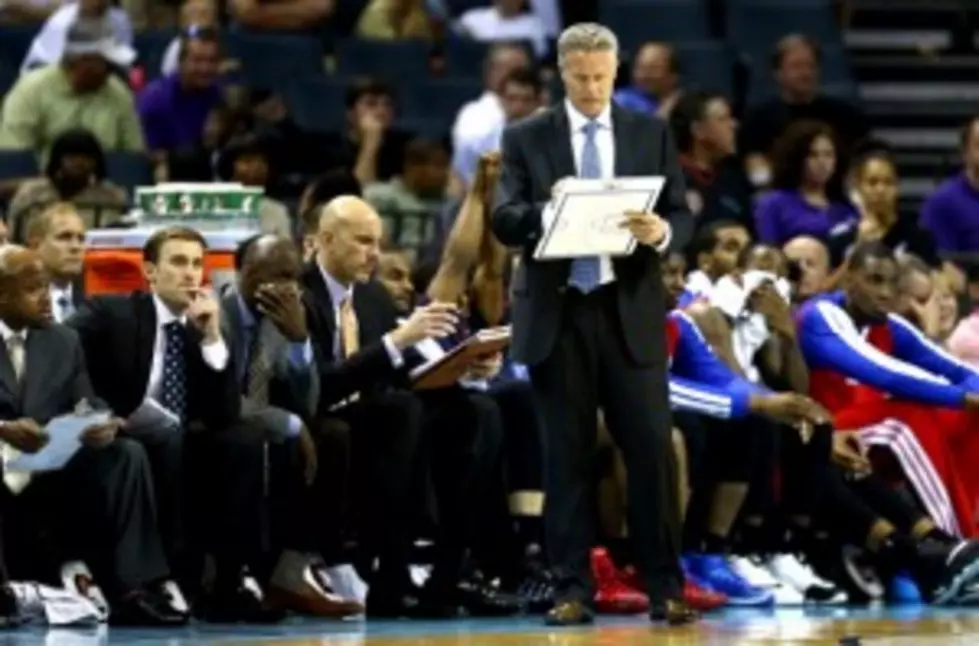 Here's What the Sixers Could Look Like in 2015-2016
Sixers head coach Brett Brown wants to start winning next season. (Photo by Streeter Lecka/Getty Images)
With the NBA Draft in the books and free agency starting on Wednesday, Sixers GM Sam Hinkie said that the 76ers will be looking to add perimeter players to the roster during free agency and didn't rule out attempting to sign a player to a max deal.
While a max player doesn't really seem to exist in a weak in a free agent class, many of the players that would make sense for the Sixers are restricted free agents.
Guys like Jimmy Butler, Kawhi Leonard or Khris Middleton would be great fits for the Sixers but are restricted, the other top players in this year's class are big men like LaMarcus Aldridge, Marc Gasol, Kevin Love Greg Monroe and DeAndre Jordan.
Then there is LeBron James - maybe he would wanna play with three big men?
Wishful thinking Sixers fans.
Some available options are point guard Goran Dragic, forward DeMarre Carroll and maybe a specialist player like Jimmer Fredette who might have some room to shoot the three-pointer with guys like Nerlens Noel, Joel Embiid (if healthy) and Jahlil Okafor on the floor.
So what will the 2015-2016 Sixers look like?
It will definitely have a different look then the team that just won 18 games last season. Sam Hinkie confirmed that he expects Pierre Jackson and Jordan McRae to play in at least one summer league for the Sixers, both of those guys could make the team this fall.
Jackson said he's planning to come off the bench as a sixth man next season, he recently recovered from a torn Achilles, but he is an explosive scorer and he would be a really exciting player to watch with Tony Wroten who should be back this season after missing half of last season with ACL surgery.
McRae was selected by the Sixers with the 54th pick in the 2014 NBA Draft and spent the 2014-15 season playing overseas in Australia and with the 76ers D-League affiliate, and said he feels he become a better defender and a more efficient scorer during that time.
Many have said the Sixers needed to add guards in this year's draft, one could argue that adding Wroten, Jackson and McRae will make the Sixers backcourt better than the one that ended the season.
The Sixers lineup could look something like this:
C - Joel Embiid
PF - Jahlil Okafor
SF - Robert Covington
SG -Hollis Thompson
PG - Tony Wroten
Bench - Nerlens Noel (PF/C)
Bench - Pierre Jackson (PG)
Bench - Jordan McRae (SF)
Bench - Jerami Grant (SF)
Bench - Isiah Canaan (G)
Bench - JaKarr Sampson (SF/SG)
Bench - J.P. Tokoto (SF)
That's what the roster could look like if the Sixers don't make any moves in free agency. Obviously if a few moves are made the Sixers could add a few more talented players, but can they add enough talent to make a playoff run?
Maybe not, but it might be the first step in getting away from "tank 3.0" which some people think is about to happen.
If Embiid can't play that's obviously a major setback but getting Wroten back, adding Okafor and maybe a player in free agency and the Sixers might finally starting winning more than 18.5 they have averaged over the last two years.