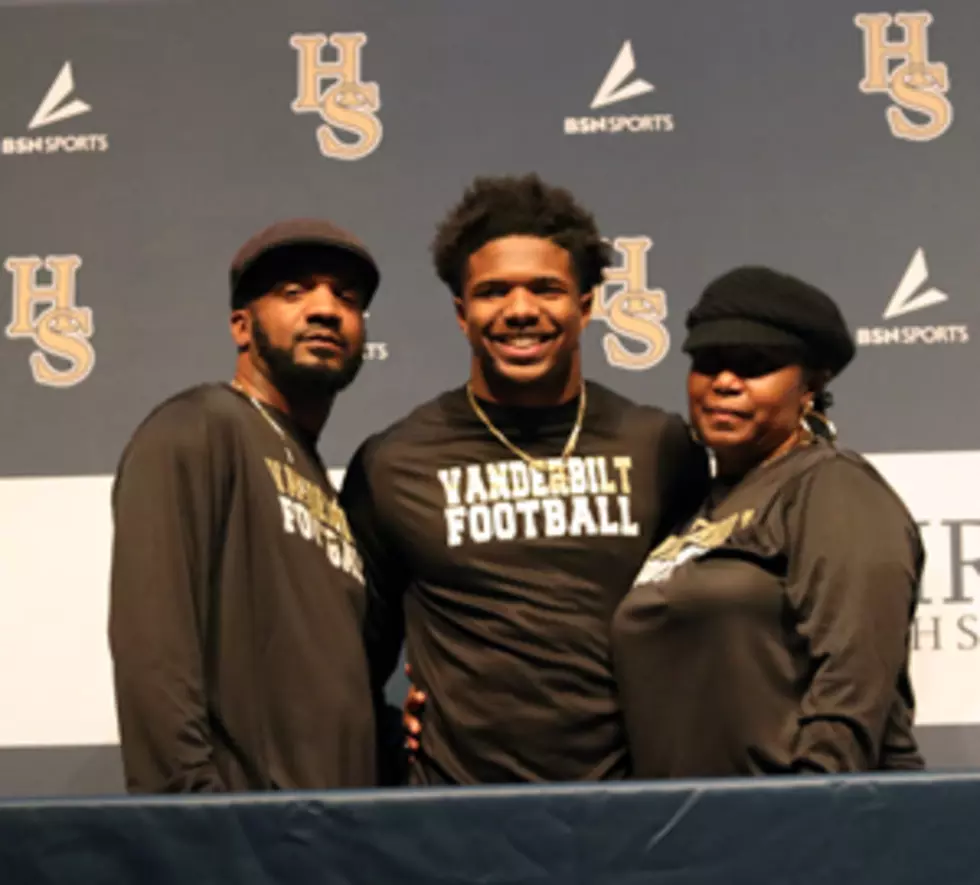 Holy Spirit's Patrick "Cheeks" Smith Picks Vanderbilt
(Glory Days photo/Sully)
ABSECON — When Patrick "Cheeks" Smith was a freshman at St. Augustine Prep four years ago, he followed behind big No. 75 — Jake Ketschek, who now is a towering offensive lineman who this past fall announced his commitment to Vanderbilt University in Nashville, Tenn. It looks like Smith will spend the next couple of years running behind the powerful 300-plus pounder, as he switched his commitment from Colorado State to Vandy.
Smith made the announcement on Wednesday afternoon in the auditorium of Holy Spirit High School — where he has spent the past two years making a name for himself as one of the best running backs in the state. Smith led Holy Spirit to an 8-0 record in 2020 and the No. 1 ranking in South Jersey, as well as a top-10 national ranking in MaxPreps' small schools Top 25. He rushed 221 times for 1,719 yards and 22 touchdowns, and for his career as a Spartan Smith posted more than 3,000 yards and 41 touchdowns. He was first-team all-state and was named New Jersey Offensive Player of the Year by nj.com.
After de-committing from Colorado State in the fall, Smith's finalists were Vanderbilt, Iowa, Wake Forest, Yale and Iowa State.
"It's a dream come true. This is something I always dreamed about as a kid, playing at the collegiate level and to have the best of both worlds playing at a high level school in a great conference as well as getting a great education — it's something that's unspeakable," Smith said. "I want to break as many records as I can there, just like I did here (at Holy Spirit). It's another step that I feel like I have to get better for."
Vanderbilt will be guided by a new regime in 2021, as former player and former Notre Dame defensive coordinator Clark Lea, who replaces Derek Mason, who went 27-55 in six seasons against some brutal opponents in the Southeastern Conference. Vanderbilt went 0-9 in 2020, but that hasn't deterred Smith or Ketschek from signing on.
Enter your number to get our free mobile app
"The new coaching staff that came in welcomed me with open arms and I feel they are going to do a great job. I have all the faith in them and the program that they're going to build, and I have a great opportunity to go in there and help as soon as possible," Smith said. "You have to go through adversity to overcome obstacles, so it's nothing that I feel I can't handle. I have full belief in coach Lee and the program. I feel like me going there, and the rest of the class of 2021, we have a great opportunity to change the program."
Smith, an Egg Harbor Township resident who spent his freshman year at St. Augustine Pre and sophomore year at The Peddie School in Mercer County, credited his parents and sisters with being the foundation for his success, both on the football field and in the classroom.
"It's a blessing, being at Holy Spirit, they welcomed me with open arms from the previous schools I was at. To come here and build a family and achieve so many goals here — not only athletically, but academically — it's a blessing," he said. "Since I first touched a football (my family) has always been there and that's one of the most important support systems I have in my life. Whether it's football or academics — if we take football out of the equation they'll still be there. It means a lot for them to still be by my side through everything. I didn't expect (to get emotional) but looking at them and realizing that this is actually happening, it hit me hard. My parents and my siblings have worked so hard and sacrificed so much to help me get to where I am today, so for me to be able to repay them by going to school for free is a blessing."
Contact Dave O'Sullivan: sully@acglorydays.com; on Twitter @GDsullysays
KEEP READING: Greater Atlantic City Area Athletes Who Played Games In NFL