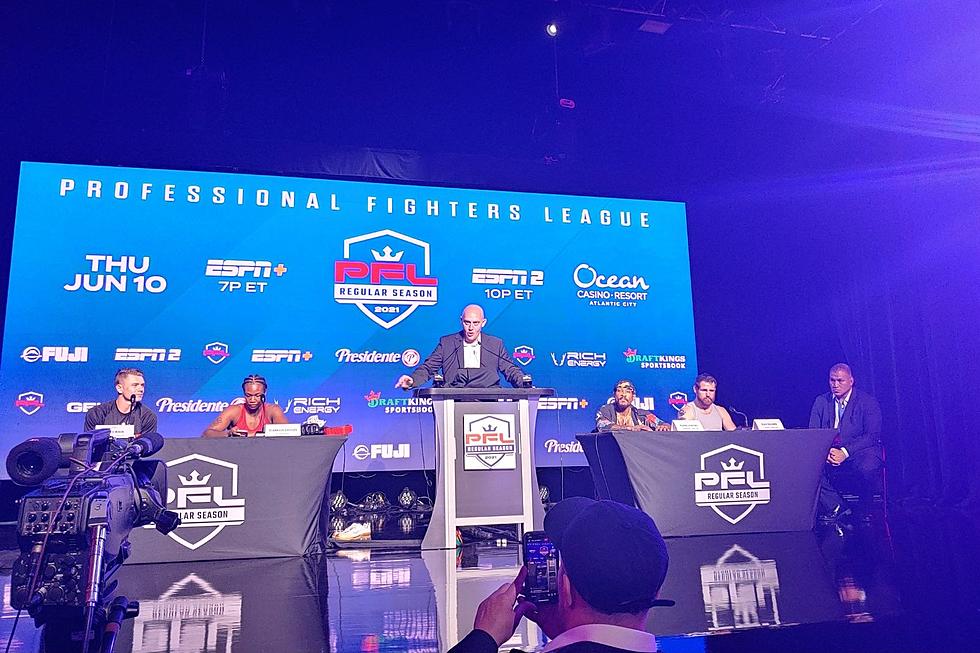 Inside PFL MMA Regular Season Bubble in Atlantic City with Photos
Photo by Josh Hennig/Townsquare Media
Driving over the bridge into Atlantic City to see fighters compete has historically been a major part of the attractions for the city over the last few decades.  The Professional Fighters League (PFL) is the first promotion to bring fighting back to Atlantic City since the COVID-19 Pandemic shutdowns back in March 2020.  But PFL's return to Atlantic City to host their 2021 Mixed Martial Arts Regular Season at Ocean Resort Casino came with a stipulation: No fan attendance with the PFL taking over a section of the Casino Property to host a Bubble Environment.  Similar to what the NBA did in Florida and the UFC in Abu Dhabi, the goal was to create a COVID-19 Free environment insulated from the outside world to prevent even schedule interrupts and protect everyone in attendance including fighters from any issues the world has faced over the last 15 months.
Until Thursday June 10th the only people in the bubble were the Fighters, their coaches, PFL MMA employees, ESPN Broadcast crews, and select essential personnel that were necessary to host their Made-For-TV Broadcasts of the fights.  Select media were approved to enter the PFL MMA Bubble and I was a member of that group sitting cage side for what would be a historic night for the sport of MMA and Boxing.
Before we could get to the main event featuring Women's Boxing Superstar Claressa Shields making her Mixed Martial Arts Debut, I had to go through the protocols process to get into the PFL Bubble.  After passing a PCR COVID-19 Test with a Negative result, I had to mask up when entering Ovation Hall.  While many states like New Jersey have lifted their Indoor Mask Mandate in many environments, the PFL Bubble functioned more like what I saw while covering the 2021 MAAC Basketball Tournament at Boardwalk Hall back in March. Many people wearing masks, hand sanitizers station at multiple place around press row and the familiar environment for a sporting event being broadcast on ESPN+ and ESPN 2.
The Broadcast Crew for PFL MMA Fights on ESPN features the 2018 PFL Light Heavyweight Champion Sean O'Connell anchoring the coverage along side the six-time UFC Champion Randy Couture and the first UFC Fighter to compete at four different Weight Classes Kenny Florian.  What I was not expecting was to see Pro Football Hall of Famer Ray Lewis in the PFL MMA Bubble and he joined the ESPN+ Broadcast for a few minutes.  Many eye would be on this PFL MMA Fight Card because of the debut of Claressa Shields and stars from other sports were among them.
Shields is more than just another Boxing Champion attempting to compete at MMA, she is one of the most accomplished female athletes of the 21st Century.  Shields is a two-time Olympic Goal Medalist representing the United States at the 2012 London Olympics and the 2016 Rio de Janeiro Olympics.  As a professional fighter, Shields has an undefeated Boxing record of 11-0 along with being the current WBC, WBO, IBF, WBA, and The Ring Women's Light Middleweight Champion.  Shields goal is to become an MMA Champion while also simultaneous being a Boxing Champion, an accomplishment that has never been done by any man or woman.
Thursday Night marked the start of the second half of the 2021 PFL MMA Regular Season featuring fights in the Men's Featherweight and Lightweight Divisions. Impressive wins by Featherweight Contenders Brendan Lough from Manchester, England and Chris Wade from Long Island, New York locked up their spots in the PFL Postseason.  Another Featherweight Contender Bubba Jenkins was showered by support from a few select fans who were allowed into the PFL Bubble on his way to the cage; Bubba Jenkins also clinched his spot in the 2021 PFL MMA Featherweights Playoffs.
After Midnight Eastern Standard Time, the Main Event fighters made their way to the cage for Claressa Shields made her MMA Debut against MMA Veteran Brittney Elkin at 12:16am.  After a couple minutes, Elkin landed a takedown and despite Shields working her way out of it, Elkin got her down to the ground again, giving Elkin the clear advantage over her inexperienced opponent since Elkin is a Brown Belt in Brazillian Jiu-Jitsu.  Shields was dominated in the First Round as she received a heavy dose of dominant grappling plus Ground-and-Pound.  Despite some good combinations and solid takedown defense to start the Second Round, Shields lands on her back again after Elkin reverses position and take the Full Mount.  Shields did show good technique by escaping Elkin's Arm Bar Submission attempt and Shields finished the round in top control.  Shields came out in the Third round unafraid, now knowing she can stop Elkin's Takedowns, which she did perfectly early in the final round and leveraged her position to take top-side control on the ground.  Maintaining an excellent base, Shields asserts her own version of Ground-and-Pound eventually forcing Elkin into a balled up position and the Referee stops the fight after Shields lands numerous power shots as Elkin has stopped defending herself in any reasonable way for a fighter who is attempting to continue fighting.
This was not the way the story was supposed to play out for the Undefeated Boxer but Shields proved something more important: She can endure adversity, she showed no quit and kept fighting.  Despite Elkin's superior skill level and experience as a Mixed Martial Artist, Shields found a way to win the fight.  That is part of the morality play of MMA as a sport, it's about overcoming adversity and finding ways to win no matter who the opponent may be across the cage.  This fight was the best thing that could have happened to Shields because she learned how to work through situations that were foreign to her and come out victorious.
One of the issues that led to the downfall of former UFC Women's Champion Ronda Rousey was that MMA came easy for her and she won her first seven fights all by Submission in the first round.  Before losing by Knockout versus Holly Holm, Rousey didn't have to work through much adversity and only one previous fight lasted beyond the first round. Once Rousey lost one fight, instead of evolving and growing as a fighter, she tried one more fight, got dominated, and then hung up her gloves.  What makes Claressa Shields different is she experienced "Baptism By Fire", showed she was not going to wilt under pressure, and now she can go back to Jackson MMA Gym to evolve and grow.  And yes, Shields has a chance to be a greater fighter than Rousey because of her physical gifts and mental fortitude, Shields has all the tools to do what only a couple other female athletes have done: Become a champion in the Olympics and in other sports.
In the post-fight press conference, Shields was ecstatic about her night and to walk away with a win after working through adversity.  The PFL had a great fight card on Thursday Night that delivered on multiple fronts and everyone involved should be proud of the work they put into this along with taking care of all the new people entering their Bubble Environment.  It was great to be cage side for fights in Atlantic City and as we continue to all work back towards more Normalcy day by day in 2021, the PFL afforded me and many others a great event that was, yes, made for TV Broadcast but you could feel the energy in the building.  In the cage with the fighters and outside the cage with the Broadcast, the PFL continues to establish themselves as the Number Two MMA organization in the world.  And for Atlantic City, the fight game is back in town with the ground work set for PFL to return to town for the 2022 Regular Season with the hope of fans in attendance as we have seen at other sporting events
Inside the PFL MMA Bubble at Ocean Resort Casino, Atlantic City: June 10, 2021