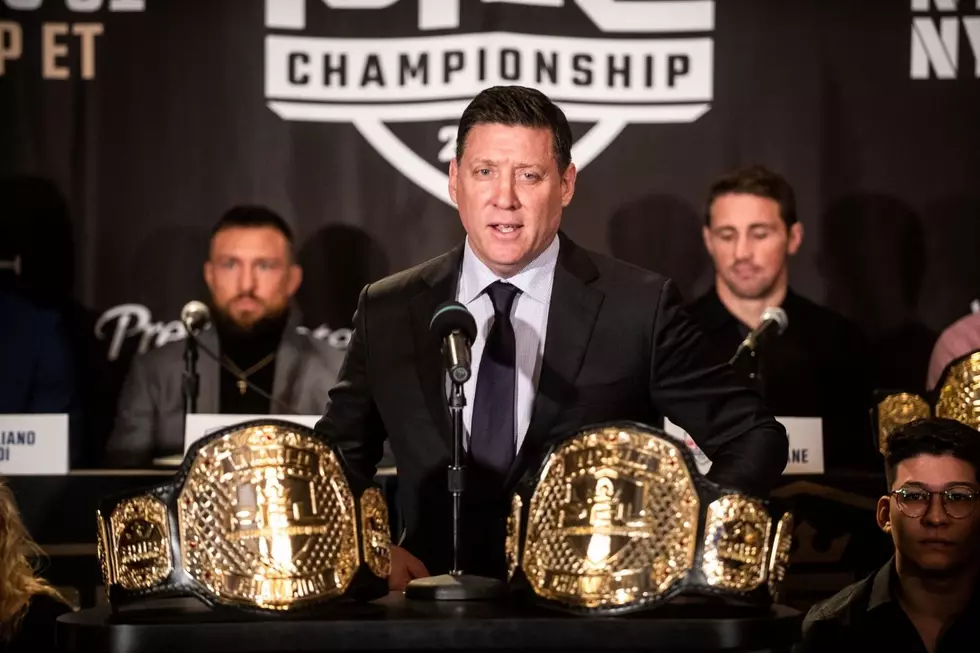 PFL CEO Explains Why Atlantic City Is Home For 2021 Season
Photo courtesy of Professional Fighters League for use by Townsquare Media
The Professional Fighters League is the number two Mixed Martial Arts organization in the world and they are returning to Atlantic City for their entire 2021 Regular Season with a residency at Ocean Resort Casino.  The PFL hosted events in Atlantic City back in 2019 but not for the entire Regular Season.  In the PFL, MMA Fighters compete during the Regular season earning points for Wins and how they recorded the victory with the best performers in the Regular Season qualifying for the Playoffs.  In the PFL Postseason, the winner of each Weight Class Tournament is crowned that divisions' Champion and awarded One Million Dollars.
Ocean Resort Casino in Atlantic City has been host for numerous MMA events over the last decade but 2021 marks the first time they will host a Professional Sports Bubble Environment allowing the PFL to do what the NBA did last summer: insolate their fighters and staff from any chance of contracting the COVID-19 virus which would disrupt their scheduled Regular Season. The NBA and NHL along with the number one MMA organization UFC proved last summer that it is very possible to create a Bubble Environment that eliminates any schedule interruptions and issues that have caused problems for sports as everyone is trying to work through the many ramifications of the world under a COVID-19 pandemic.
PFL MMA CEO Peter Murray joined Josh Hennig for an extensive one-on-one interview to answer a variety of questions about the PFL's return to Atlantic City, starting with why the MMA organization is returning to Atlantic City and why they are having a residency at Ocean Resort Casino for the entire Regular Season:
"I would say three reasons: Number one we have had a great experience in the past in Atlantic City staging PFL events - (Number) Two, Ocean Casino Resort is a world class property and they really rolled out the red carp for the PFL to create our Bubble, no different than the NBA's Bubble (last year) to keep our athletes safe and ensure we get our (Regular) season in. And then I would say (reason) three, Atlantic City has such great history in the fight game - Obviously boxing and other MMA events held there, so we like the legacy and great fan base."
This will be the second sporting event hosted in Atlantic City since the COVID-19 shutdowns back in March 2020 with PFL 1 fight card on Friday April 23rd. The 2021 MAAC Men's and Women's Basketball Tournaments held a successful week of games with no major issues or interruptions last month.
While several other Combat Sport organizations have been holding events in other parts of the country like California, Las Vegas, and Florida yet the PFL is the first one to return any fights to Atlantic City.  Peter Murray explained why they chose Ocean Resort in Atlantic City to host their 2021 regular season:
"First and foremost, our events for the Regular Season which are April through June will be Made-For-TV only (with) no fans, so it really is a studio production which will be in (Ocean Resort) main venue, Ovation Hall....And the Ocean Casino Resort and management, they are up and running, they are hosting guests through out the property and the casino, etc. But for the PFL, we carved out excusive rooms and floors and segregated areas so that our fighters can train and prepare and actually keep them insolated from other guests. As it relates to all the COVID Protocols, we are doing daily testing, segregating the fighters (from each other), supporting their training and preparation, they have access to a world class fitness center exclusively at (Ocean Resort). We have setup the cage so they have access to create appointment driven cage time for training as well as personal mat spaces....We do have COVID Protocols in terms of distancing and different zones where our operational staff (work), we are limiting the amount of people who access to the fighters themselves."
Considering how extensive the NBA, NHL, and UFC Bubble Protocols were along with the reality that the NHL was in Canada while the NBA was in Florida and the UFC split time between Jacksonville, Las Vegas and Abu Dhabi, it is very impressive for Ocean Resort Casino to commit themselves to creating a Bubble inside their resort while also operating the rest of the building "business as usual".  Also for the PFL to be satisfied with what Ocean Resort Casino saying they can do it is a testament to everyone working together to do what is needed to get this to work so all parties involved benefit.  There are so many moving parts in terms of setting up a MMA event that is broadcast on a international platform like ESPN and all of that is separate from the layers COVID Protocols necessary to create a Bubble Environment.
PFL CEO Peter Murray told Josh Hennig that these Protocols go beyond just what they are doing in Atlantic City and in the process of creating all of these restrictive elements in make sure they have an uninterrupted 2021 Regular season, PFL MMA spent the last 13 months learning from what the other professional sports did to see how they would make the 2021 season happen:
"We had the benefit to learn what's working and what is not in terms of Bubble Protocols, testing and procedures....We have 21 countries represented on our roster so before anyone even steps on a plane they do receiver a COVID test from the PFL and our testing partner prior to (travel). So they obviously must test negative and we test them (again when they arrive) and then they go into Quarantine for a window of time and then we open things up to getting their training process underway (in Atlantic City)."
The downside of this Bubble Environment though is that the PFL 2021 Regular Season will have zero fan attendance which is disappointing for New Jersey and Regional Sports fans.  The 2021 MAAC Tournament had "Select Family and Friends" in attendance for their basketball games at Boardwalk Hall.  But that was just six days of games in March, contrast that with the PFL putting on six separate events from April through June, so the dynamics are very different.
Peter Murray explains that for PFL MMA, their priorities are the integrity of the Bubble Environment to prevent any potential disruptions for the Regular Season so like many other sports over the last 13 months, the sacrifice to protect the athletes and operations staff is no fans:
"We are very focused on not bending that bubble (in Atlantic City and) being very conservative. We will obviously evaluate after the Regular Season as we think about the postseason (potentially) changing some of our policies and protocols for the athletes and the operational staff and perhaps, we are hopeful, that fans will have access to attend events. But we will cross that bridge a little later (this year) and we will go from there."
While the UFC has not been back in Atlantic City since their Fight Night at Boardwalk Hall in 2018 or a Fight Night at Ovation Hall since 2014, the PFL will now be hosting MMA events in Atlantic City for their third straight Regular Season. While most people are familiar with Boxing's four decades of history with fights in Atlantic City, Mixed Martial Arts has over 20 years over history in AC.  UFC 28 was hosted at Mark G. Etess Arena back in November 2000 and New Jersey Athletic Commission helped set the standard for the rules and regulations that was the ground work for Modern MMA as a sport. Since 2000s, international MMA organizations such as UFC, PFL MMA, and Bellator MMA have all hosted fight events in Atlantic City along with local MMA promotions such as CFFC and Ring of Combat.
But PFL MMA CEO Peter Murray says they are committed to Atlantic City beyond the 2021 Regular Season:
"We are committed (to Atlantic City) for the Regular Season and likely we will be taking our Playoffs to another location for a mini-residency but we will be (coming back) to Atlantic City certainly next year and more events to come."
The 2021 PFL MMA Regular Season in Atlantic City will feature the organization debuting new roster additions such as former UFC Lightweight Champion Anthony Pettis, former UFC Heavyweight Champion Fabricio Werdum, former Bellator Welterweight Champion Rory McDonald, and The Ultimate Fighter Brazil 3 Winner Antonio Carlos Junior.
But the biggest name coming to PFL MMA is Two-time Olympic Gold Medalist and the pound-for-pound best woman's boxer on earth Claressa Shields, who is making her MMA debut on June 10th in a fight that is not apart of the current 2021 PFL Regular Season schedule but is similar in function to what the PFL did in 2018. Current Women's Lightweight Champion Kayla Harrison, also an Olympic Gold Medal Winner, made her MMA debut in 2018 with the PFL before competing in the 2019 Regular Season.
PFL CEO Peter Murray talked about his background with Claressa Shields and how they are excited about the potential history she wants to accomplish n Combat Sports:
"I had the opportunity to sign USA Boxing when I was at Under Armor (and) Claressa (Shields) was on the team. So I have been really following her jouney for many years and jumped at the opportunity to sign her (to PFL)....She really entrusted us to help sheppard her into the sport (of MMA) and also we were open to her competing with another promotion in Boxing and her competing in Boxing while she enters MMA. We are all about supporting the athlete and her absolute goal is to be a two sport champion."
Checkout the full interview with PFL CEO Peter Murray from GameNight with Josh Hennig on 973 ESPN in which he talks about the PFL Regular Season in Atlantic City which you can watch all the highly anticipated fights on ESPN 2 and ESPN+. Murray also talks more about Claressa Shields debuting with PFL MMA this summer and all the elite MMA Fighters who will be apart of the 2021 PFL season at Ocean Resort in AC
KEEP READING: Greater Atlantic City Area Athletes Who Played Games In NFL
KEEP READING: South Jersey Boardwalks & Promenades We Love