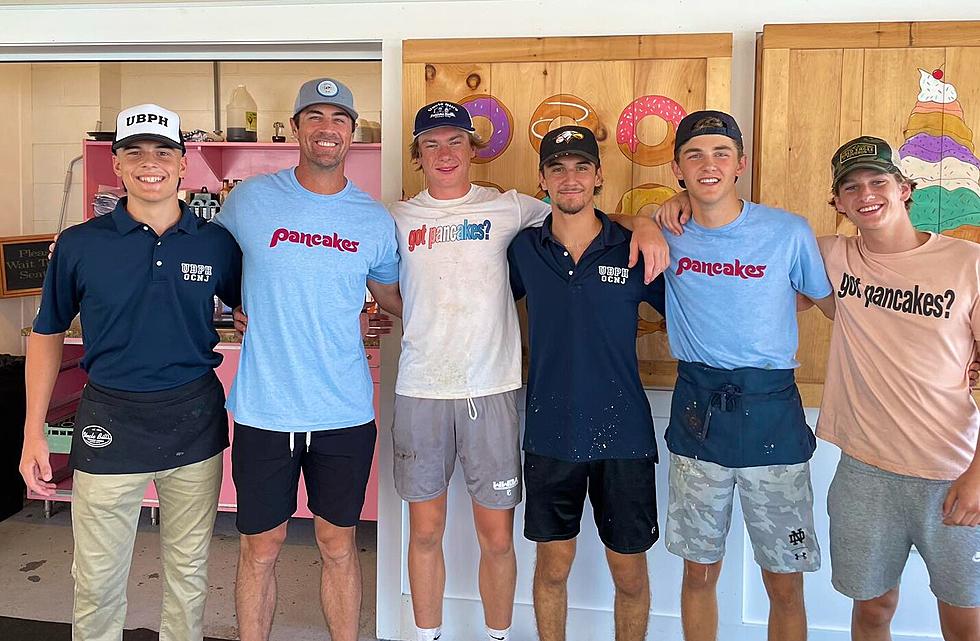 Phillies Great Cole Hamels Loves Pancakes in Ocean City
Uncle Bills Pancake House/Facebook
Former Philadelphia Phillies pitcher and MVP of the 2008 World Series, Cole Hamels, was spotted recently having breakfast at Uncle Bill's Pancake House in Ocean City. It's an annual sighting of the Phillies' great lefthander.
The former Phillie is as sure a thing to show up for breakfast at Uncle Bill's Pancake House in Ocean City each summer as he was to paint the plate with a 95-mph fastball back in the day.
Cole even has a powder-blue Phillies-design pancake t-shirt! Where do you get one of those?
Cole looks like he could still throw the speedball by you, doesn't he?
Hamels last pitched for the Phillies in 2015 before getting traded to Texas, where he spent three more seasons. After his time with the Rangers, he pitched in Chicago for the Cubs for two seasons.
He made one appearance for the Braves in 2020, which is the last time he has appeared in the majors in 2020.
He signed with the Los Angels Dodgers in 2021 but never pitched for them due to an injury. Cole had 163 career wins, a 3.43 ERA, and 2560 strikeouts during his big league career.
Hamels and his wife, former Survivor: The Amazon contestant Heidi Strobel and their children live in the Philadelphia area.
It's always good to see a Phillie having fun at the Jersey shore in the summertime!
Ocean City's New The Shoppes at The Asbury
15 South Jersey Restaurants You Must Try This Summer