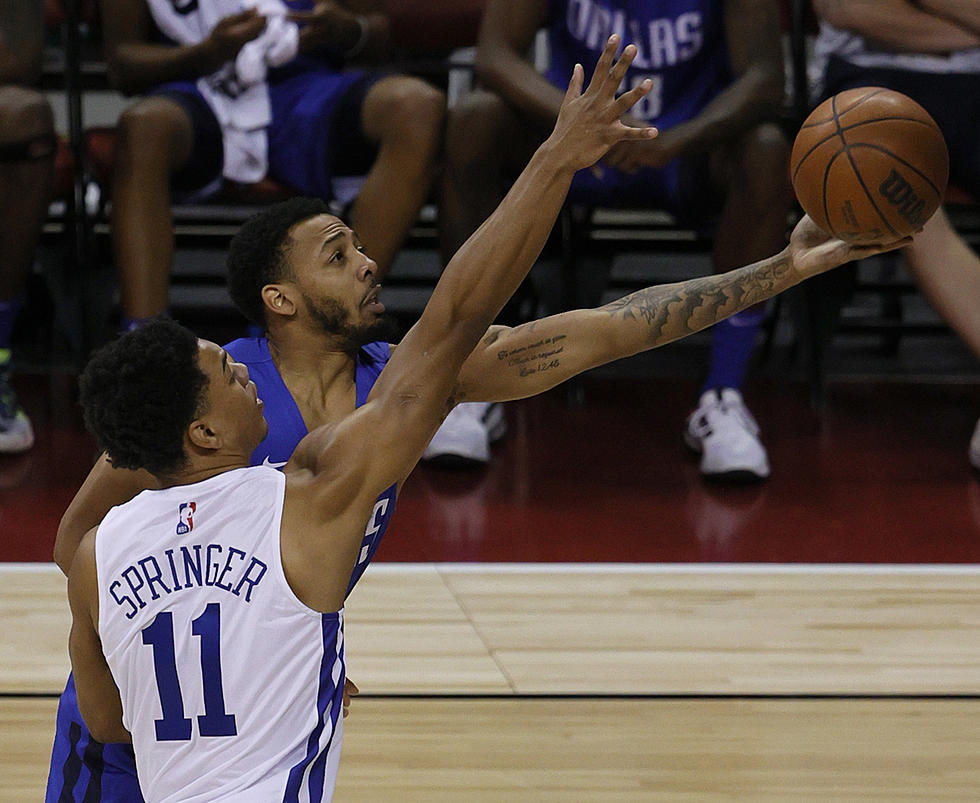 Jaden Springer and Terquavion Smith shine in Sixers' summer league loss to Grizzlies: Likes and dislikes
Photo by Ethan Miller/Getty Images
The Sixers tipped off their summer league slate against the Memphis Grizzlies in Salt Lake City, Utah on Monday. Jaden Springer and Terquavion Smtih were standouts on defense and offense, respectively, in a close loss to the Grizzlies, 94-92.
Before we get to what I saw, some notes.
Contextual Notes
Vitaly Potapenko started Vince Williams Jr., Jacob Gilyard, Jake LaRavia, David Roddy, and Kenneth Lofton Jr.
Nick Nurse started Smith, Springer, Ricky Council IV, Louis King, and Filip Petrusev.
Likes
I don't know if you believe in 6-foot-4 guards being rim-protectors, but Springer made his case that such a thing exists in the game's opening quarter. Philadelphia really struggled to score out of the gate - and eventually that normalized and even swung in their favor - but Springer kept the Sixers in it by thwarting shots at the basket during Memphis' hot start.
They weren't cheap plays, either. He sensed movement coming on the second side of the floor, whether it be baseline cuts or the ball swinging to a Grizzlies player with an open lane. Springer intuitively made the rotation, booking it back to the basket to pursue the shot at the rim. His efforts were rewarded, the young guard bouncing off the hardwood to swat what appeared to be inevitable layups away at the last second. On another Memphis possession, Springer refused to allow an unabated shot at the cup, getting involved at the rim and offering a great contest to force a miss despite not having favorable positioning on the inside.
I'm not convinced those types of plays will hold against real NBA bodies at this stage of Springer's career, but the instincts he has in rotation are an immediate asset.
This game had some hints of what Nurse is looking to establish early in his tenure in Philadelphia. Forget about the humility of stepping up to coach the summer league team, something that is usually delegated to assistant coaches. The Sixers were pressuring the ball in the backcourt, cheers from the Philadelphia bench so loud you could hear them through your television. Beyond that, they threw out a different look in the middle of the second quarter, showing a zone defense despite no pressing issues with their man-to-man defense.
This environment is usually treated like a casual convention for those not playing in the games. Nurse certainly wasn't interested in setting that tone. He was coaching to build culture and win.
This game made it quite clear that the Summer Sixers have at least one star to play through on offense. It was none other than Smith, who Philadelphia signed to a two-way contract on draft night. He has a very natural scoring game, comfortable with creating a shot for himself when there's nothing developing elsewhere on the floor. Certainly not bashful.
Smith gave a sneak peek at his toolbox, using a gorgeous in-and-out dribble move to get a defender off balance before pulling up for and lacing a midrange jumper. But, Smith made sure it wasn't just about him getting his buckets. He made some beautiful reads out of the pick-and-roll, threading pocket-passes on the move to find cutters for easy buckets inside.
He was the one creating advantages in the halfcourt for Philadelphia, open looks revealing themselves on the first action or developing as the ball sprayed out of the pressure Smith applied on Memphis' interior defense.
I don't know that he really has a chance of stealing a two-way spot from one of the three guys the Sixers signed on draft night, let alone earning a standard NBA contract, but there's something desirable about Louis King. It's the combination of size (6-foot-7) and willingness to trigger threes off the catch from anywhere, regardless of space. There's an interesting three-and-D prospect there that may be worth keeping around and developing, especially with the league's new collective bargaining agreement encouraging teams to spend less.
Dislikes
We're heading into year three and I still can't envision Springer becoming a consistently effective offensive player. His jumper still needs a lot of power from the lower body to get the ball to the rim and he gets swallowed up by bigger bodies inside. The ceiling might be Avery Bradley, and that seems like a 100th percentile outcome.
The Sixers will continue Salt Lake City summer league play on Wednesday against the Utah Jazz. Tip-off is scheduled for 9 p.m., Eastern time.
36 Restaurants to visit in Sea Isle City, NJ (Alphabetical Order)