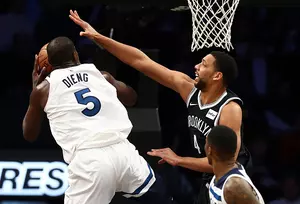 Jahlil Okafor Strikes Deal With Pelicans
Getty Images
The Philadelphia 76ers have been through their fair share of big men during The Process. The Sixers' big man logjam was a hot topic for a while, especially during the 2016-17 season when Nerlens Noel, Jahlil Okafor and Joel Embiid were all healthy for a period of time.
Joel Embiid earned his first All-Star Game appearance this year and is one of the top big men in the NBA. Nerlens Noel, after a season plus of injury-plagued time in Dallas, has signed with Oklahoma City in hopes of resetting his career.
Meanwhile, Jahlil Okafor's tenure in Brooklyn lasted all of 26 games. It looked like he may have gone into the season without a new home, but the former No. 3 pick from 2015 has agreed to a deal with the Pelicans.
Okafor, still just 22, has had a forgettable first three seasons in the NBA. After posting strong per-game averages of 17.5 points and 7.0 rebounds in his rookie season, knee issues and the inability to play effective defensive severely limited his playing time.
This past season, Jah played a total of 28 games (26 with Brooklyn, 2 with Sixers). In his short stint with the Nets, he averaged 6.4 points and 2.9 rebounds.
Not too long ago on Instagram, Okafor posted a video displaying his expanded range and slim frame. If he's able to show improvements in areas of his game that have haunted him to this point, Jah has a good chance to make a Pelicans roster that lacks a true center.
Brandon Apter is a Sixers contributor to 97.3 ESPN. Follow him on Twitter @bapter23.