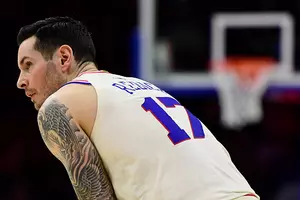 JJ Redick 'annoyed' at media's obsession over Fultz's shot
Corey Perrine/Getty Images
We're all still riding the high of the Eagles first Super Bowl title, but for the first time in nearly two months this morning, Bryan Colangelo addressed the media. While he expected to get questions about the trade deadline, the majority of the ones he fielded were about Markelle Fultz. Needless to say, he wasn't too happy about that and cut his presser short after just 22 minutes when they are normally 40+ minutes long.
The frustration rolled over to shoot-around as JJ Redick met with the media shortly after practice and was flooded with Fultz questions. Usually, players answer questions from anwhere between 3-5 minutes, but Redick's was cut short and he was clearly rubbed the wrong way off the bat.
Reporter: J.J. - you seem a little annoyed at us shooting videos of Markelle. Is there something you want to say about that?
Redick: Yeah, it is annoying. The guy is 19, he's working his ass off. I understand the fans want to see his progress, but this is maybe going to be a longer process than we all hoped for and he may be on the court soon, I don't know...it's not my thing. I don't get the coming in here everyday to like, watch him shoot pull-up jumpers...it's a little obsessive.
Reporter: How's he dealing with all this?
Redick: That's something you'll have to ask him. I'm not going to speak for Markelle, but we're all supportive of him and we all want to see him back on the court enjoying what he loves to do.
Reporter: How do you guys show him support?
Redick: We do on a daily basis. Whether it's through conversations, our group text messaging. We're all there for him - he knows that.
Redick went on to say that he's seen a lot of strange things in the NBA, but it's most important that Fultz is put in a position where he can be successful. As for when that will be, he wasn't interested in speculating. It's understandable why JJ is frustrated, but at the same time if the front office was more transparent, he wouldn't have to deal with questions like these at all.
At this point in time, it's fair to expect that Fultz may not return at all this season. You can also expect that despite Redick's annoyance with the media, we'll continue to get videos of Fultz as he makes his way through recovery.
Brandon Apter is a contributor to 97.3 ESPN and managing editor at SportsTalkPhilly.com. Follow him on Twitter @bapter23.