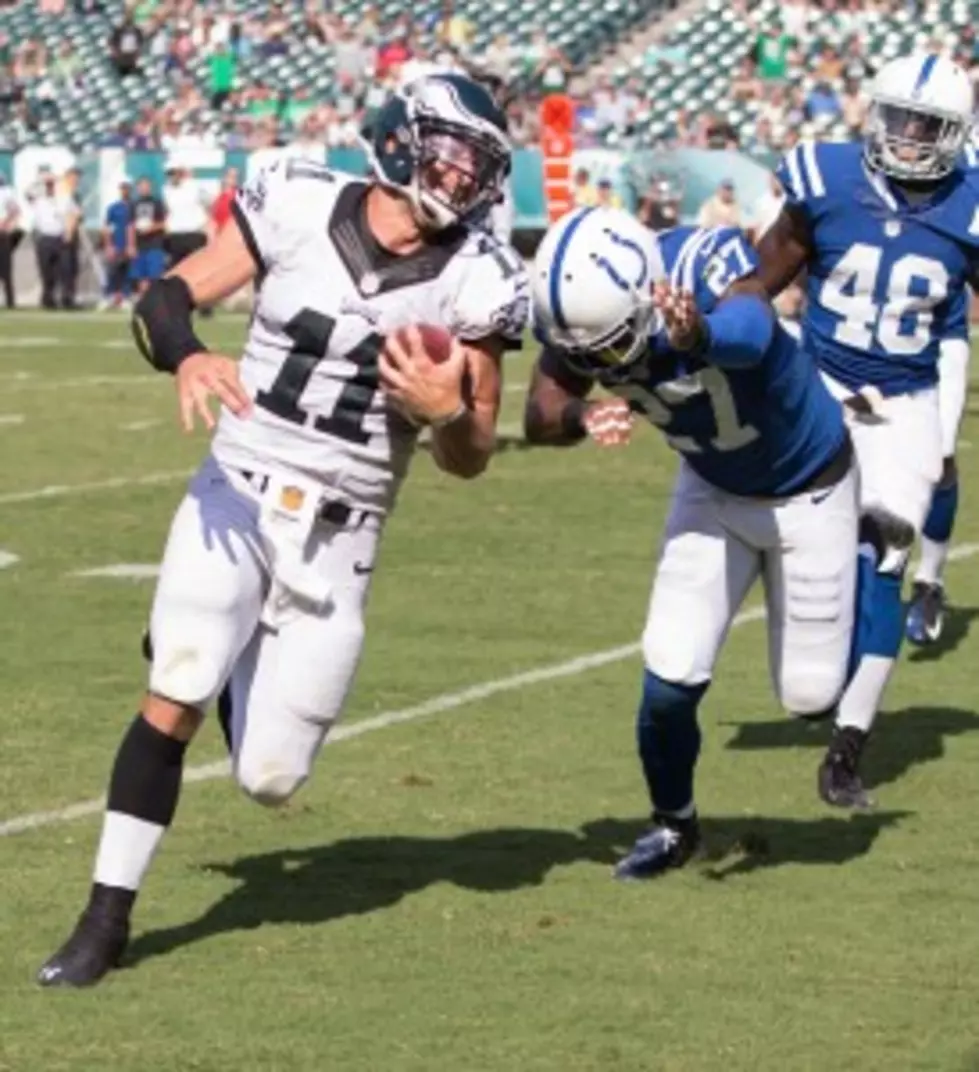 McMullen's Quick Hits: Eagles-Colts edition
Tim Tebow completed 6-of-12 passes for 69 yards in the Eagles' preseason opener Sunday. (Photo by Mitchell Leff/Getty Images)
PHILADELPHIA - The first preseason game of any NFL season can be a tedious exercise, a necessary eight-to-10 play evil for the veterans -- at least the ones not named Sam Bradford -- and an opportunity for young unknowns to catch the eye of a coaching staff that regards them only as a useful body to abuse in the 90-degree heat of an August practice.
With Tim Tebow and his national fan club overblowing every single thing the former Heisman Trophy winner does, the third-team quarterback competition was the obvious storyline during Sunday's 36-10 Eagles rout of the Indianapolis Colts. But, here's the other areas you should have been paying attention to:
HOLDING DOWN THE FORT: With Zach Ertz gone until at least Week 1 of the regular season, an optimistic timetable if his core-muscle injury was indeed sports-hernia surgery as most surmise because Dr. William Myers was involved, the young tight ends behind Brent Celek become far more important.
Second-year man Trey Burton steps into the backup role for now and serves as more of a versatile h-back because he can line up in the backfield or in the slot. At just 6-foot-3 and 235 pounds, however, Burton isn't moving many off the ball as an in-line blocker. He can play a gloried fullback role, however, and had a few nice lead blocks against the Colts, while he also got behind the Indy defense on Philadelphia's first offensive play but Mark Sanchez badly hung the football, resulting in an incompletion.
The Birds, meanwhile, brought in three rookie free agents at the position to ostensibly fight for a practice squad spot, a reality that could turn into a regular roster spot for at least  a few weeks as Ertz convalesces. Michigan State product Andrew Gleichert, Central Florida alum Justin Tukes and ex-UTEP starter Eric Tomlinson are all two-way tight ends in the Celek-mode rather than difference makers in the passing game. Tomlinson was the clear winner on Sunday, hauling in 5 catches for 61 yards.
THE YOUNG RECEIVERS: For all the talk about the ceiling of players like Nelson Agholor and Josh Huff, the only proven commodity among the Eagles' young receiving corps is Jordan Matthews and the second-year wideout needs to step up as the true No. 1 on this team, a notion that is undermined by the coaching staff which has pigeonholed the ex-Vanderbilt star as a slot option.
Matthews caught two passes for 44 yards on five targets in limited action against the Colts and was lost in the shuffle due to the highlight-reel athleticism of Agholor, the team's 2015 first-round pick. The former Southern California standout basically lived up to his scouting report. Like advertised, he's a sudden athlete who can really stick his foot in the ground and go as evidenced by his brilliant 34-yard catch-and-run TD reception on a shaky Sanchez throw. He's also inconsistent, though, and needs to eliminate the drops (he had two Sunday) and mental mistakes.
YOU'RE UP: Chip Kelly said all four entrants in the ongoing right-guard competition still have a chance but as expected Andrew Gardner got the nod in Game 1 and it's his job to lose now if he can hold off the comeback attempt of John Moffitt.
Matt Tobin and Julian Vandervelde have taken a step back in the four-way competition and have an uphill battle to get back in the mix. Gardner was solid if unspectacular against the Colts and if the leader in the clubhouse continues that narrative, it's his gig.
MARCUS MATTERS: Travis Long's ACL injury created a vacuum behind starters Brandon Graham and Connor Barwin at outside linebacker. The Birds believed Long was ready to take the next step and step into Graham's former role as the third edge player from last season when Trent Cole was still around.
The Long injury seemed like good news for former 2014 first-round bust Marcus Smith but Bill Davis and Co. are still wary of counting on the former Louisville pass rusher and are moving Vinny Curry outside in order to get his pass-rushing skills on the field more. As a 280-pound defensive end, though, it's hard to imagine Curry being able to play in space consistently.Conversely, Smith may have changed the thought process on him at least a little bit against Indianapolis with his best effort as a professional, including one series where he assisted on a run stop, was solid in coverage and got after Matt Hasselbeck with a solid pass rush. If you didn't know the back story of No. 90, you might have thought he was a true, three-down linebacker.
SAFETY HELP?: To the surprise of no one Earl Wolff wasn't dressed Sunday, meaning special teams stalwarts Chris Maragos and Chris Prosinski were the top two options behind starters Malcolm Jenkins and Walter Thurmond at safety. That's a level of depth that's just not acceptable in this league, making the position the one spot to focus on at the final cutdown for a potential waiver wire pickup .... unless Ed Reynolds continues to show up.
The former fifth-round pick out of Stanford hasn't exactly been Philadelphia's best practice player but he showed up big on Gameday with a pair of interceptions and three PBUs. Yeah, it wasn't against Andrew Luck, TY Hilton and Frank Gore but Reynolds' nose for the football shouldn't be dismissed because the Eagles are desperate for any help at the position.
PARKEY PANIC:Under any circumstances, it was going to be hard for Cody Parkey to live up to his impressive rookie season.
There was plenty of good against the team that originally signed him as a rookie free agent out of Auburn last season, including a 48-yard field goal in the third quarter but there was also plenty of bad, as he misfired on one of the now extended PAT tries as well as a 34-yard FG attempt.
Philadelphia fans were a little spoiled with Parkey's performance last season and you can expect a bit of  market correction this time around.
TEBOW TIME:Kelly's assertion that Tim Tebow is not a gimmick and rather a true signal caller in this league foreshadows his ultimate intent when it comes to the third spot. The Eagles would love to trade Matt Barkley in order to hand the job to Tebow and as injuries continue to pile up around the league that remains the most likely scenario.
If nothing materializes, however, Kelly would be forced to cut Barkley in order to move toward Tebow, a reality that would be much easier if the popular former Hesiman Trophy winner is at least competent in the preseason.
If the battle were a true competition, Barkley wins going away in Week 1 and was by far the Eagles' most impressive signal caller against Indianapolis, finishing 12-of-20 for 192 yards with an interception. He's gotten some of the arm strength back that has been missing since his shoulder injury at Southern California and while he'll never be Brett Favre, Barkley belongs in this league.
You probably can't say the same for Tebow, who still has the terribly elongated throwing motion and mechanics that remain subpar. Meanwhile, despite the talk of Tebow being a great runner he's not exactly Michael Vick when tucking the football, although he set off his acolytes with a 7-yard TD run late. Overall Tebow finished 6-of-12 for 69 yards and added another 15 on the ground with the TD.
-John McMullen covers the Eagles and the NFL for 973ESPN.com. You can reach him at jmcmullen@phanaticmag.com or on Twitter @JFMcMullen