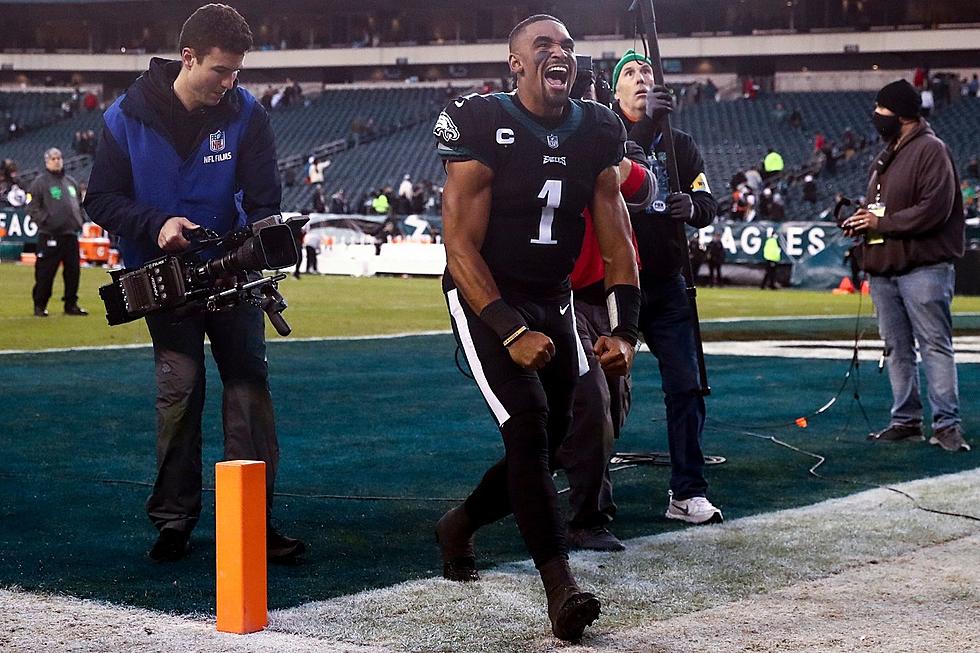 Member of National Sports Media is jumping on Eagles Bandwagon
(Photo by Tim Nwachukwu/Getty Images)
The Philadelphia Eagles are currently a half-game behind the Minnesota Vikings and New Orleans Saints for the final two playoff spots in the NFC Postseason standings heading into NFL Week 12. Thanks to the Eagles Rushing Offense and Quarterback Jalen Hurts execution of Head Coach Nick Sirianni's play-calling, winning three of their last four games has caught the attention of those in the National Sports Media and people are starting to take notice.
On "Good Morning Football" on NFL Network this week, FOX Sports Senior NFL Writer Peter Schrager was asked: Which team in the NFC Playoff race do you not want to play right now?
"There is so much positivity right now coming out of the city of Philadelphia because Jalen Hurts has put this team on his back and really on his legs, rushed for three touchdowns (in Eagles win over the Saints), they now got back to back wins....The remainder of their schedule they gotta play (teams) and the (New York) Jets, (these are) teams they can beat. I think the Eagles have a lot of things good going on right now."
Schrager doubled down the next day on GMFB on NFL Network saying the Eagles Rushing Offense is getting hot and says Eagles have the best Offensive Line in the NFL:
Interestingly enough it was the crew of "Good Morning Football" that was the first national media show to jump on the Eagles Bandwagon in 2017 but that was Schrager's co-host Kyle Brandt who was the first to go all-in with Philadelphia. Now in 2021, it's Peter Schrager that has planted his flag with the City of Brotherly Love as they have the easiest Strength of Schedule among the teams on the NFC Playoff Bubble according to ESPN's Sportscenter:
Look Back at Past Philadelphia Eagles' Uniforms
We have your look back over the decades of Eagles' uniforms.