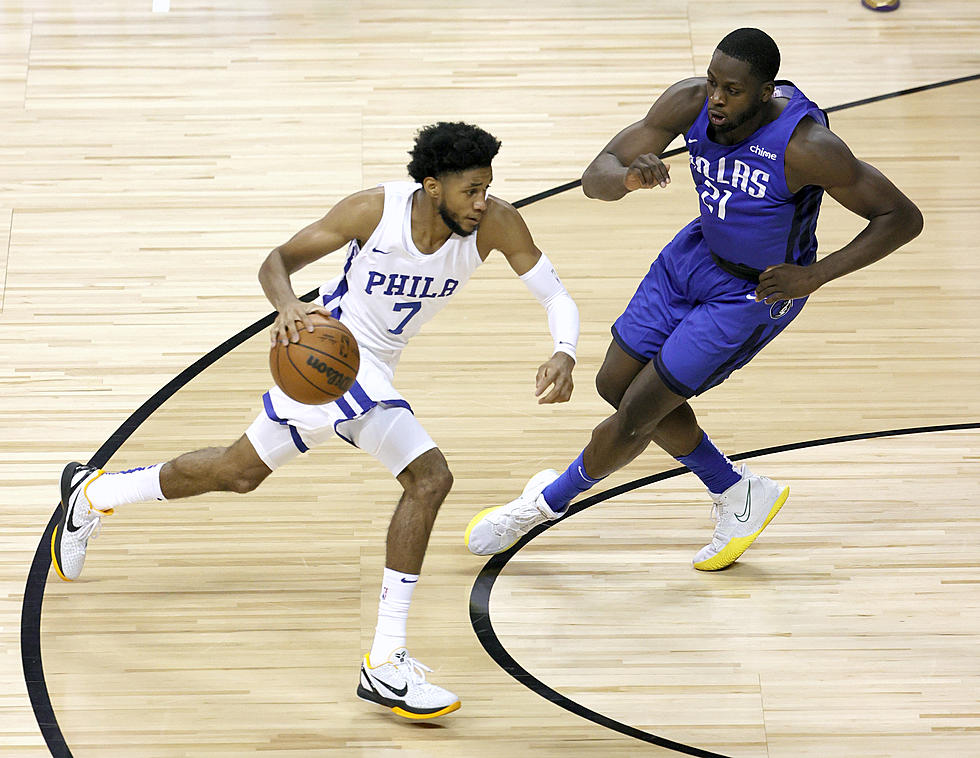 Observations From Summer Sixers Win vs. Hawks
(Ethan Miller, Getty Images)
The summer Sixers were back in action on Thursday night, looking to follow up a strong performance against the Mavericks on Monday. They faced off against an all too familiar face in the Atlanta Hawks for their second matchup of the Vegas Summer League. 
Things were not looking good early for the Sixers as the offense was stagnant. This allowed Atlanta to take a big lead early. Follow a strong second-half performance from multiple players, the Sixers managed to storm back and win in overtime by a final of 96-88. Here are some observations from the thrilling win. 
Jaden Springer Looked More Comfortable 
After Monday's win, the Sixers' 2021 first-round pick admitted that nerves got the best of him. This is not surprising as it is most prospect's first taste of real NBA action. Now having a sample of what to expect, Jaden Springer looked much more comfortable on the court Thursday. 
Springer played just under 29 minutes against the Hawks and tallied seven points, two rebounds, two assists, and one steal. He also continued to show great promise as an on-ball defender. 
Offensively, the 18-year-old still has ways to go, but he continues to show nice flashes. Springer looked much more comfortable as a secondary ballhandler and even created some offense for himself. 
Through two games, there hasn't been anything spectacular from Springer, but there are a lot of positives to take away. He is sure to be more effective on the offensive end once he gets more acclimated to the NBA speed. 
Tyrese Maxey letting it fly from deep 
Tyrese Maxey was the biggest standout for the Sixers in their win on Monday and put on another strong showing against Atlanta. He finished the game with a team-high 31 points, six rebounds, five assists, one steal, and two blocks. 
One thing that stood out from Maxey in this game was his three-point shooting. It's clear that is one area of his game he is trying to work on during his time in the Summer League. 
Despite not being the strongest of outside shooters, Maxey attempted eight shots from beyond the arc. The range was not there on Thursday, as only one of the attempts connected. 
Despite the shots not falling, it was good to see Maxey stick with his outside shot. It is something he will have to get comfortable doing with the Sixers, and Summer League is the perfect opportunity to get the attempts up. 
Isaiah Joe stays hot 
One player who did have it going from three was Isaiah Joe. The second-year wing knocked down five shots from deep en route to finishing with 21 points. 
Through two Summer League games, Joe has been one of the biggest standouts on the Sixers' squad. The coaching staff should be more than pleased with what they've gotten from the former second-round pick. 
Joe is a guy who will be looking for more playing time in his second NBA season. If he can carry this shooting through Summer League and into training camp, he'll have a serious shot at cracking the rotation. 
The Paul Reed game 
The biggest standout for the Sixers in their second Summer League game was none other than Paul Reed. The reigning G-League MVP did it all for the Sixers, racking up 20 points, 12 rebounds, three assists, two steals, and one block. 
Head coach Brain Adams praised Reed's efforts after the win, saying he made multiple "winning plays" on the floor. His energy and doing the little things out there helped keep the Sixers afloat when shots were falling. 
To put it simply, Reed was everywhere. Whether it was the offensive glass, defending on the perimeter, you name it. Whatever needed to be done, Reed was trying to be the guy. 
This confidence and assertiveness were great to see from Reed, as he too will have a chance to compete for a rotation spot in camp. If he can continue to make plays with his effort and hustle, he is sure to see a minutes bump moving forward. 
Top 10 Winningest Sixers Head Coaches
Here is a look at the Sixers coaches with the most wins in franchise history.