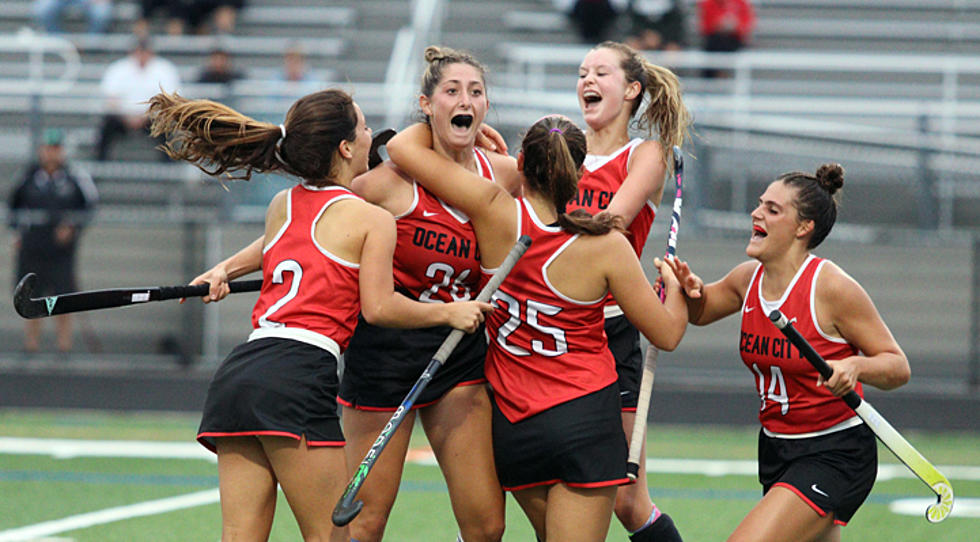 Ocean City Field Hockey Gets Revenge on EHT with OT Win
Photo: Dave O'Sullivan, Glory Days
EGG HARBOR TOWNSHIP — The Ocean City field hockey program doesn't lose games all that often, so when it does, the Red Raiders take that personally. In early September the Raiders — who normally cruise through their Cape-Atlantic League schedule with relative ease, beating most league opponents by seven or eight goals — were stunned 3-2 in an overtime loss against Egg Harbor Township.
And it wasn't a fluke, as the Eagles ripped off 11 straight wins to start the season and vaulted to the top spot in the CAL American Conference standings.
On Wednesday afternoon at Silver Eagle Stadium, Ocean City was hell bent on getting some payback. It took more than the allotted 60 minutes — as well as losing one of their top players to injury in the third quarter — but the Raiders got what they came to EHT for. Carly Hanin, a senior, scored on a breakaway a little more than three minutes into overtime as Ocean City came away with a hard-fought 1-0 victory, handing the Eagles their first loss of the season in the process.
The win also brought Ocean City (10-1, 9-1 CAL American) within a half game of EHT (11-1, 10-1) in the race for a conference championship.
"Then we went to overtime, and they scored against us (in OT) last time, and, honestly, at that point it's just who wants it more," Hanin said. "We didn't have anything to lose and we were able to finish and get the ball into the net. It happened last year where I got the ball in overtime and we just had to do that again and finish it out. It was so relieving and exciting at the same time."
Hanin took a ball through from Julia Neff and found herself in a one-on-one situation with EHT goalie Rebecca Macchia. Macchia had no choice but to come off her line and challenge, and she did just that, stopping Hanin's initial shot. But Hanin was able to recover the rebound and poke the ball into the back of the cage, setting off a celebration by the Red Raiders' bench.
"They play tough all the time. EHT will run through a brick wall; that's not really our style, we try to string together passes. It took a little adjusting to but our kids never quit and I'm really proud of my team for that," said Ocean City head coach Kelsey Burke. "This wasn't our first overtime game. We were just savvy, letting the ball do the work and knowing that you can't win overtime with a 1 vs. 1. Making sure we had off-the-ball movement, finding passes and connecting served us well."
The game was a defensive struggle throughout, as Ocean City didn't even get a shot on goal until late in the third quarter, and EHT was similarly denied scoring opportunities, mostly because of a Herculean effort from central defender Camryn Flynn, a senior, and the rest of the back line.
"Going into it, we were just trying to get the ball out of the back as quickly as possible and our defense did a great job today getting it out. The past couple of weeks we've been working really hard on fixing things from the last time we played them, and we came in here with a lot of confidence. We knew we could do it, we just had to work together as a team," Flynn said. "That loss against them (earlier in the season) definitely lit a fire under us and has had us working extra hard. We knew they were undefeated so we wanted to come in here and get the win."
Ocean City, the No. 14 team in the state according to nj.com's Top 20 rankings, stopped two corners late in the first quarter after EHT, No. 20 in the state, had stopped one moments before. That's how the rest of the game went, with each team's defense rising to the occasion whenever the other threatened.
In the third quarter Ocean City senior forward Racheli Levy-Smith, who came into the game with seven goals and nine assists, was struck in the face with an EHT pass and had to leave the game. Junior forward Tricia Nicoletti came in and the Red Raiders didn't miss a beat.
"It was scary because I was right next to her when it happened," Hanin said. "Racheli means a lot to our team and is a core part of our team so it was tough to see her go down, but we had another girl who came in and filled her spot. She had big shoes to fill, but she did that."
For both teams, Wednesday afternoon provided a preview of what the competition and atmosphere is going to be like come playoff time in a few weeks. And Ocean City has to turn right around and play Hammonton (11-2) on Friday on the road, so things won't get any easier for the Red Raiders.
"It's the same thing that happened last year and it's been (overtime) for three games in a row against them," Hanin said. "This time, no one scored the entire time and it was like ping pong, just back-and-forth the whole time. Nobody was getting subbed out so it was the same people out there the whole game."
Added coach Burke, "It was a playoff-like atmosphere, they had a great crowd. I just kept telling our kids to keep their heads, don't get frazzled and worry about what's happening between the orange lines."
What's next: Ocean City travels to Hammonton on Friday at 4 p.m. EHT hosts Williamstown on Saturday at 11 a.m.
Contact Dave O'Sullivan: sullyglorydays@gmail.com; on Twitter @GDsullysays
Atlantic Shore Wins the 2021 13U Babe Ruth World Series