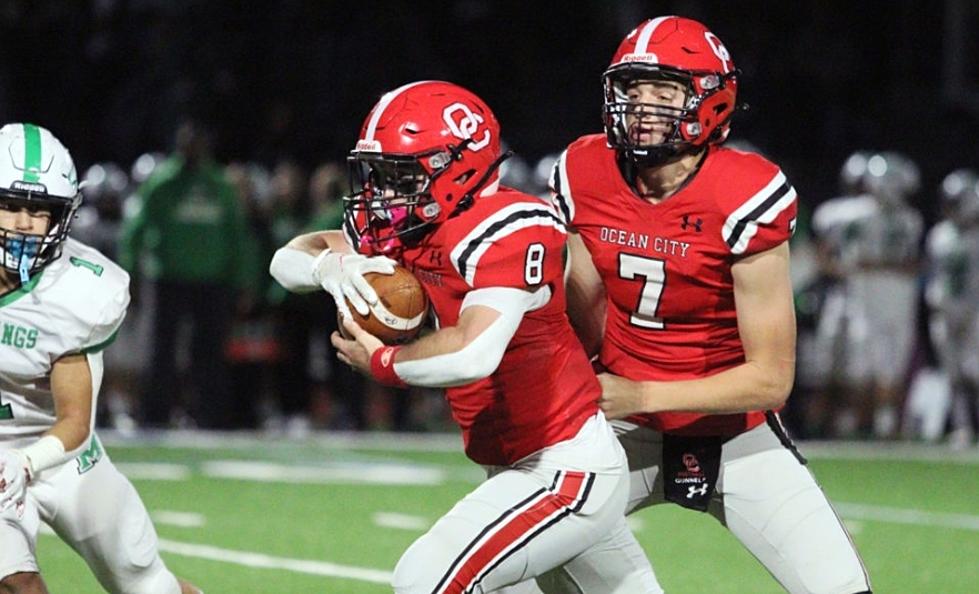 Ocean City, NJ, Runs Past Mainland in NJSIAA Playoffs
Photo: Dave O'Sullivan, Glory Days
OCEAN CITY — Opponents who face the Ocean City High football team must confront several truths. One, they'll have to deal with two really good running backs in Jacob Wilson and Sean Mazzitelli. Two, they are tasked with trying to slow down a veteran offensive line that has pushed people around all season. Third, the Red Raiders have a big (6-foot-4, 215 pounds) quarterback who is a nightmare matchup in the red zone. And, lastly, opponents have to find a way to move the ball and get into the end zone against a defense that has size up front and speed and athleticism in the secondary.
Ten teams have tried to contend with all that this season. All ten have failed.
Ocean City is moving on to the South Jersey Group 4 semifinals after racking up six touchdowns — including four in the second half — against arch nemesis Mainland on Friday night in the Bunting Family Pharmacy Game of the Week. The 41-7 victory boosted the Red Raiders' record to 10-0, and still just one team, Williamstown, has been able to score more than a touchdown against Ocean City the entire season.
The Red Raiders racked up more than 300 rushing yards and all six of their touchdowns came on the ground, while the defense limited Mainland — which was playing without starting quarterback Marlon Leslie, out for the season with a shoulder injury — to just a handful of first downs and one big play, a 53-yard touchdown run by Ja'Briel Mace in the first half.
Wilson and Mazzitelli were simply too much for Mainland to handle, as each ran for more than 150 yards and two touchdowns.
"You see how lethal we are when we have all of our running backs healthy. But it's also a reflection on the offensive line with how many running backs are having success. It all starts with the offensive line. You just have to keep your head down and run straight. We just try to get positive yards," Mazzitelli said. "We have some veteran guys on that offensive line. C.J. Conti is a three-year starter, (my brother) Zach Mazzitelli is a three-year starter, with Eddie Pearce filling in, and our two guards — they don't look like the most intimidating guards but they can move. They really lead the way for the holes to open up."
"Me and Mazz, we're equal in talent, they just put us in, when somebody has rest and is fresh they put us in and we just bang out and get yards. It took time because we had a new group this year, so in the beginning of the year we weren't really throwing the ball that much, we were just running the ball. But now we've incorporated a lot of different elements into our game and now we're a dangerous team," Wilson added. "We're both tough running backs and we're experienced. We've been doing it since we were little kids. We've played together, we grew up together on the same team. We've been splitting the backfield our entire lives and when we got into high school we've just continued to work."
Ocean City (10-0) got going late in the first quarter as safety Charlie Cossaboone picked off a pass at the Mainland 25-yard line, setting the Raiders up deep in Mustangs territory. Wilson took the ball around the left side and scored from 11 yards out to give Ocean City a 7-0 lead. On its next possession, the Raiders got a huge pass play from quarterback Riley Gunnels to Pat Lonergan, but that drive ended with a missed field goal. With 3:10 left in the first half, however, Ocean City bolstered its lead to 14-0 when a big run from Wilson set up Jack Hoag's 17-yard touchdown run on an inside reverse on 3rd-and-15.
Mainland (4-6) cut the deficit in half a minute later when Mace burst through the middle for a 53-yard touchdown run.
Ocean City knew it had to buckle down in the second half and clean up some of its mistakes, and the Red Raiders came out with renewed focus after the break.
"At halftime, in the locker room, we just had to take a second and think about what we were doing and not get into our own heads. We knew we could beat that team, we just had to take it play by play," said Wilson, a senior who returned last week after missing six games with a sprained foot.
Wilson said he was itching to get back to the field, and he proved that with 101 yards on 20 carries in a 31-14 win over Williamstown last weekend.
"It was really tough, I just had to do my therapy and work on myself, and see my other boys like Sean get recognition. It feels great, I love when those guys get recognition," Wilson said. "I had a lot of motivation (to get back). When I got hurt the team picked me up for six weeks."
"Me and Jacob have been in the same backfield since we were in about third grade, so we feed off each other's energy. We love when one of us has success, and it showed tonight," Mazzitelli added.
Ocean City started the second half with a scoring drive that was capped off by a 6-yard touchdown run from Mazzitelli, putting the Raiders up 21-7, and on their next drive the Raiders pushed the lead to 27-7 on another touchdown run from Mazzitelli. The lead swelled to 34-7 early in the fourth quarter ona 21-yard scoring run from Wilson, and Gunnels capped the scoring by rolling in from five yards out on a fourth-down play with 2:54 remaining.
The defense was just as impressive as Ocean City limited Mainland to just one first down in the second half, on a fake punt from Stephen Ordille to Noah Torres.
Mazzitelli credited Taylor Eget, a senior linebacker, with being an inspiration for the defensive unit.
"Taylor Eget, man, he's really worked his way up to become a starter," Mazzitelli said. "He's been on the scout team the past two years and now he's the leader of that defense, and he showed up in a big way tonight."
What's next: (2) Ocean City hosts either (3) Long Branch or (6) Freehold Boro in the South Jersey Group 4 semifinals on Nov. 12 at 6 p.m. Mainland's season is complete.
Contact Dave O'Sullivan: sullyglorydays@gmail.com; on Twitter @GDsullysays
Were You at the 2021 Vagabond EHT Halloween Party