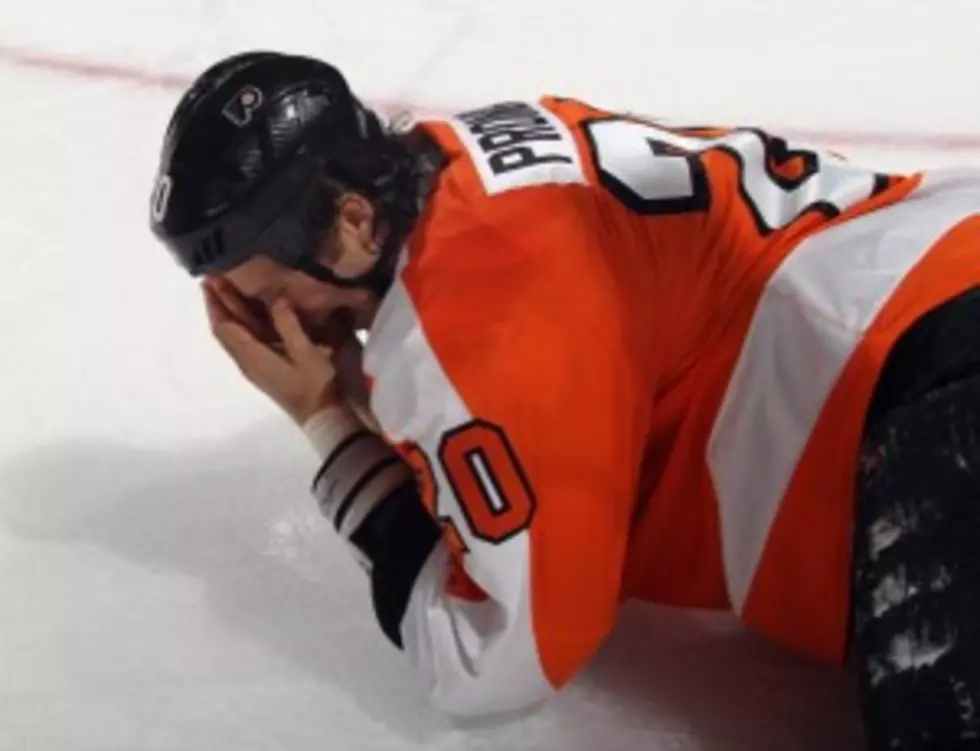 Paul Holmgren: "Chris Pronger Still Has Headaches" [AUDIO]
What was Paul Holmgren's first stop when navigating the windy road that is a question about Chris Pronger? The guy's quality of life. Not improvement. Not setback. Not anything having to do with a hockey context altogether. He went quality of life. That's right. He went there. And went there first.
Needless to say, this whole "Getting Chris Pronger Back" thing is starting (?) to look grim. (Or, like Ian LaPerriere. Either-or. Take your pick. Toss-up.)
"It's the same. He still continues to have good days and bad days. I think, from a life standpoint, he's doing OK. But he has headaches, often enough that it makes you wonder about whether he can play. At some point we'll have to make an educated guess on whether we can expect him back. If not, we'll have to try to improve in that area."
Some education: Dude's not coming back. (Pronger hasn't played since Nov. 19, when he was hit in the eye by the stick of Toronto's Mikhail Grabovski Oct. 24. He met with a duo of Pittsburgh-based concussion specialists in December. News wasn't good. Was announced Dec. 15 that Pronger would sit the rest of the season -- Stanley Cup playoffs and everything -- with  post-concussion syndrome.)
You need to improve in "that area." Now.
Funny thing: The Flyers can't swing any moves before the NHL league year starts July 1. ("Tagging issues," is how Holmgren put it.) Thereafter, they have the draft (June 22-23) and free agency (12:00 p.m. on July 1) and any wheeling and dealing that might be up Holmgren's sleeve.  Which, he said, there just may be.
"I wouldn't rule anything out. I think when you get 30 teams there and you're all talking, you're all trying to improve your own team,  you never know what's going to pop up. But I think it's safe to say right now that we don't have anything in the works."
Which, probably, there should be. If only because of Homer's remarks on Pronger. Good thing the guy lies through his teeth. Good thing.... Speaking of good things: The team seems to be making good calls in pursuing and passing on Matt Carle and Jaromir Jagr, respectively.
"I've kept fairly close contact with Matt and his agent about coming back. I think Matt would certainly like to continue his career with the Flyers, and as I've said a number of times, we'd certainly like to have Matt back. We unfortunately can't get anything done on paper right now because of tagging issues."
"I have not spoken to Jaromir's agent since I think a couple of days after the playoffs ended. We have interest, I think Jaromir liked it here, we certainly like what he brought to our team. So we'll see what happens. That's probably going to play out until July 1."
Totally different plays. (Chatting it up with Carle and his people? Mum on Jagr? Clear enough.) Totally different tenor. ("We "unforunately" can't get anything done before July 1" versus "We "probably" won't get anything done before July 1. Which, yeah, to us, gleans interest. Lots and littles of it.) Both probably right.
Carle is 28, and had 34 assists in 82 (that's right, a full season) games with the Flyers a year ago. Jagr is ancient already (40 years old) and showed as much down the stretch a year ago. (Even if he was statistically more productive: 19 goals, 35 assists in 72 regular season games, 1 goal, 7 assist in 11 postseason games. Still. Think: OLD.)