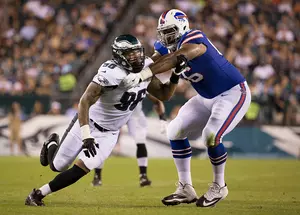 Pederson Confirms Barnett Shoulder Surgery
(Photo by Mitchell Leff/Getty Images)
PHILADELPHIA (973espn.com) - Eagles coach Doug Pederson confirmed Derek Barnett is out for the season Wednesday, the latest in a long line of injuries that have contributed to Philadelphia's disappointing 3-4 start.
Barnett, the team's 2017 first-round pick, was a key part of Jim Schwartz's defensive end rotation, starting at right defensive end opposite Brandon Graham with veterans Michael Bennett and Chris Long mixing in.
The next man up to join the group in Barnett's absence is rookie fourth-round pick Josh Sweat.
"Obviously we have some options still," Pederson said at his Wednesday morning press conference. "In lieu of not giving away a lot of game-plan stuff, we're still OK. Obviously Josh Sweat [moves] into the mix. But it's a great opportunity for the guys that are healthy."
Bennett figures to take over as the starter at right end and there will be extensive mixing and matching from there as Bennett also plays inside in pass-rushing situations. Graham, meanwhile, can play either side and inside as well and Long is capable of playing both end positions.
Sweat, a Florida State product with an intriguing skill set, is ready for an expanded role, according to Pederson.
"I think he's done a great job," the coach said. "He's working the service team, working his reps there, and he's getting time with the D-line. [He] does a great job. I think he's explosive off the ball; he's long; has been around the passer; can be disruptive. This will be a great opportunity for him."
The team could also bring up undrafted rookie Joe Ostman from the practice squad if it feels the need for another body at the position.
As for Barnett, he finished his sophomore campaign with 2 1/2 sacks and is regarded as a big part of the Eagles' defensive future.
"He's a tremendous player," Pederson said of Barnett. "He's going to bounce back from this and be better than ever."
-John McMullen covers the Eagles and the NFL for 973espn.com. You can reach him at jmcmullen44@gmail.com or on Twitter @JFMcMullen