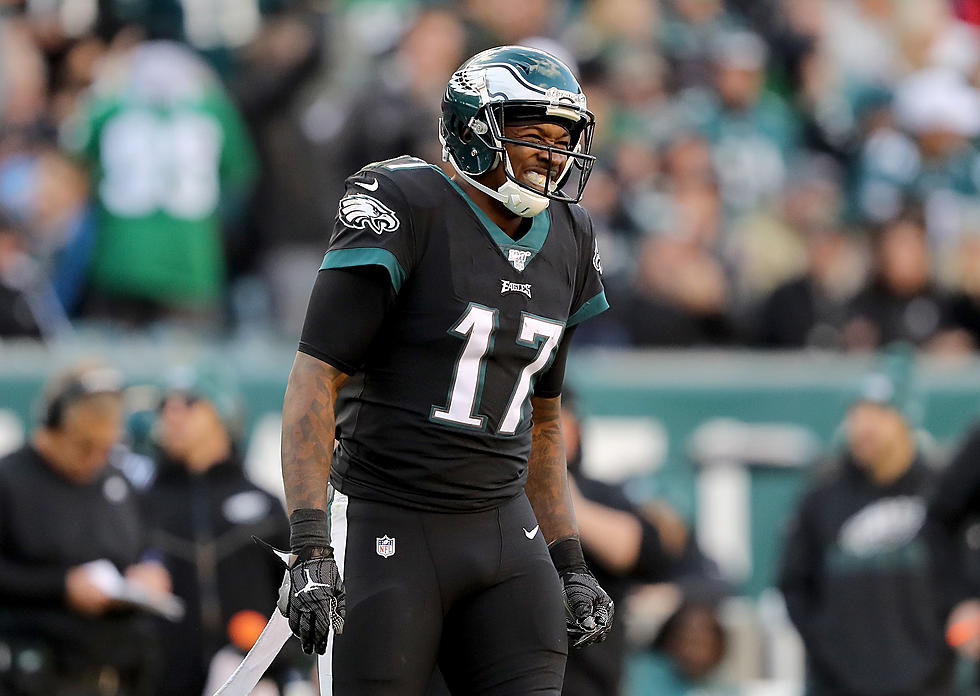 Pederson Says Alshon Jeffery is Out for Sunday's Game
Getty Images
The Eagles will be without wide receiver Alshon Jeffery again this week for their game against the Pittsburgh Steelers, Doug Pederson announced today.
"Alshon, we were hoping that he would get some practice reps this week," Said Pederson. "But he has an illness. It's not related to COVID. It's just an illness, and so he's been out of the building the last couple days, so he'll be out."
This marks the fifth straight game that Jeffery will miss after Lisfranc surgery, but this week he has a "non-COVID illness"  that kept him from getting out on the field this week. While he is getting closer, he will be unavailable again this week.
As for DeSean Jackson, that too seems up in the air per Pederson, who said: "DeSean is another one that we're still trying to get through today to see where he's at, and try to see if he can make it to game time."
So as the Eagles get closer to Sunday, they could be going into the game with Pittsburgh with Greg Ward, John Hightower, Travis Fulgham, J.J.Arcega-Whiteside and Deontay Burnett if they choose to play with five wide outs.
"We want to make sure it's small enough but yet enough plays in the game plan where they can go play and execute and they don't have to think a lot about a lot of moving parts, and keeping Travis in one spot and keeping Hightower in one spot," stated Pederson. "Obviously Ward can move around and J.J. [Arcega-Whiteside] in the mix."
One other possibility is sixth-round pick Quez Watkins who is in the 21-day window to return, and there is a possibility be ready to play Sunday.
"Quez was one of the players we activated from the IR list, so he's been working in practice," Pederson explained. "He's been getting himself back into game shape. We haven't made a decision yet on his status, but he's doing well. He's doing well."
The Eagles wide outs will have their hands full this week with a good Steelers secondary, which includes Joe Haden and Steve Nelson. Safety Minkah Fitzpatrick is also one of the best in the league, and gives the Steelers secondary great versatility and playmaking ability.
Enter your number to get our free mobile app
Eagles First Round Draft Pick Busts