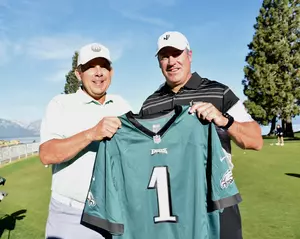 Pederson Takes Payton Again
Doug Pederson got the best of Sean Payton again at the American Century Championship. (Photo: Jeff Bayer)
(973espn.com) - Sean Payton might want to stop trying Doug Pederson on the golf course.
For the second time, this offseason the Eagles head coach got the best of the Saints mentor and this time the Eagles Autism Challenge is reaping the rewards.
Pederson finished the American Century Championship on Sunday with 31 points and easily outdistanced Payton in their latest head-to-head bet with the NOLA coach compiling a score of minus-33 in the 29th annual celebrity tournament at Lake Tahoe.
The tourney uses a modified Stableford scoring system which rewards points for eagles (the other variety - six), birdies (three) and pars (one) and deducts points (two) for double bogeys or worse.
"It's very special. I'm very pleased," said Pederson. "If I would have donated, it would have been just as special either way. This is a charity that is close to the Philadelphia Eagles and our owner, Jeffrey Lurie."
The two coaches made the wager on Thursday, on the eve of the tournament. Pederson had won an earlier bet with Payton at the NFL meetings in March, one that will enable Eagles to wear their home green uniforms when they play the Saints in New Orleans on Nov. 18.
The Eagles Autism Challenge raises money for research and programs in the fight against autism. Had Payton won, KultureCity in New Orleans would have received a donation from Pederson. Payton, meanwhile, said he will be donating to both charities.
"Hey, Doug's a great guy," Payton said. "It's hard to describe how beautiful Lake Tahoe is, and my donation benefits autism in both cities, so it's all good."
-John McMullen covers the Eagles and the NFL for 973espn.com. You can reach him at jmcmullen44@gmail.com or on Twitter @JFMcMullen