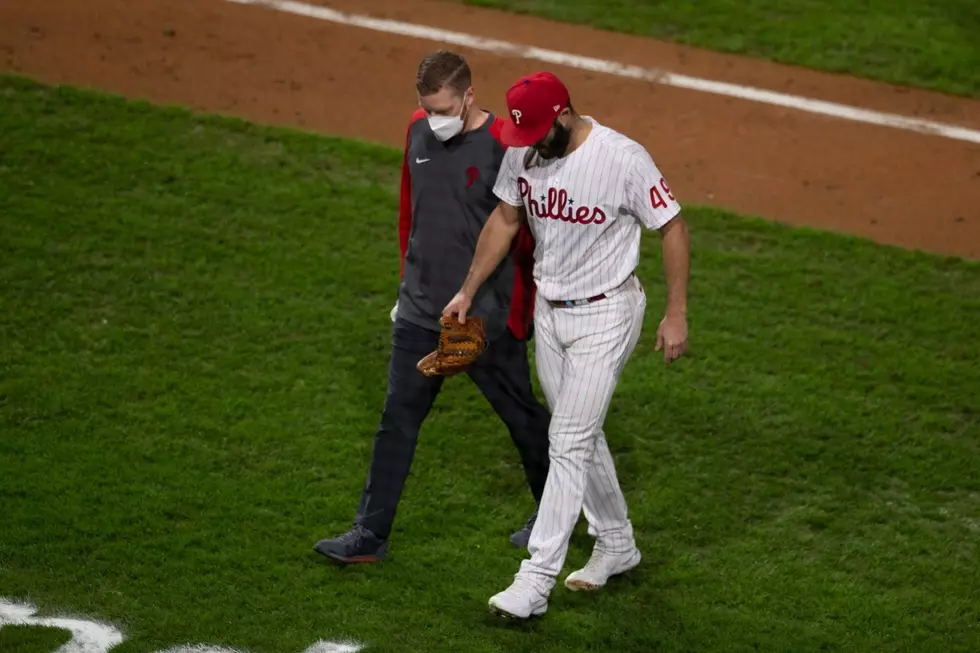 Phillies Bullpen Adding Insult To All The Injuries!
(Photo by Mitchell Leff/Getty Images)
On last week's The Locker Room with Billy Schweim, we had a very candid conversation with Ricky Botallico about the Phillies pitching staff.  The focus was on how horrible the Phillies bullpen is playing and how they can turn it around.  Our frustration grows with each game as the Phillies bullpen is proving themselves to be the worst in Major League Baseball.  Phillies General Manager Matt Klentak made a couple trades to bolster the bullpen, but it clearly hasn't worked out well since the Bullpen has a 7.18 ERA since the Trade Deadline.  The Phillies have blown a league leading 12 saves this season!!  It is flat out insulting watching the end of the Phillies games as we hold our breath in hope that this poor pitching doesn't continue. The Phillies are also dealing with the injury bug coming down the home stretch with 11 games to play.
Enter your number to get our free mobile app
This Saturday on The Locker Room with Billy Schweim, former Phillies pitcher Tommy Greene will call in to offer his perspective on the performance of the Phillies the last few weeks.  We will also check-in with Doctor Sean McMillan, who is the Chief of Orthopedics for Virtua Sports Medicine at the Willingboro and Camden Campus; he will discuss all the injuries that the Phillies and Eagles are dealing with this month.
The Eagles lost to the Washington Football team last week 27-17 despite getting off to a 17-0 lead in the first half and the Eagles saw that lead evaporate in the second half. Quarterback Carson Wentz played like an MVP candidate in the first half only to look like an undrafted Rookie in the second half.  With an offensive line starting just three starters from last year's starting lineup, the Head Coach didn't do anything to help.  The play calling was lopsided, the run/pass disparity was 17 rushes to 42 passes.  The injury bug hit the Eagles as three more players were taken off the field in Week One.
This week the Eagles are taking on the Los Angeles Rams at home this Sunday and The Locker Room will preview the game with Scott Grayson of Fox 29 and 973espn.com, who each week gives us the latest news prior to the Eagles game. Our " Where Are They Now" segment this Sunday we visit with former Eagles center Dennis Franks. And don't miss my Fantasy Football Guru Brian Hartley who each week gives you his plays for the week around the NFL. All the action starts Saturday and Sunday at 10am on 97.3 ESPN. 
Phillies Major Award Winners Since 1980