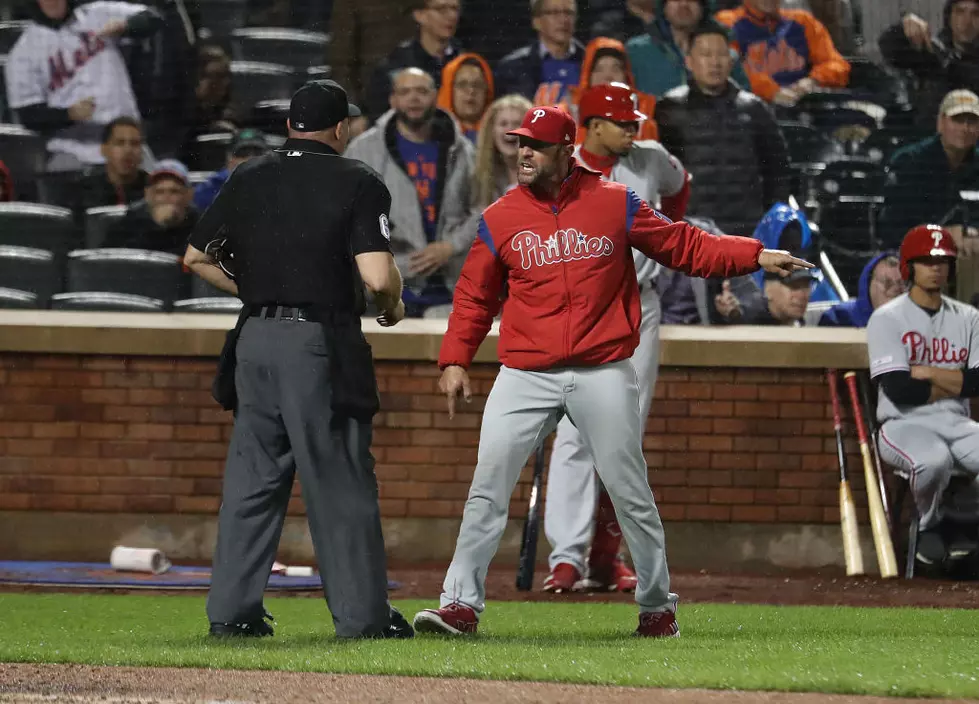 Phillies Mailbag: Gonzalez, "Flat" Offense, Harper's Ejection
Phillies manager Gabe Kapler was not happy that umpire Mark Carlson tossed Bryce Harper (Al Bello/Getty Images)
We are back once again with a 97.3 ESPN Phillies mailbag.  Each week we take your questions and talk about them on the Sports Bash with Mike Gill every Tuesday.  Send your questions anytime on Twitter to @FrankKlose or send a text to the text board at 609-403-0973.
Would the Phillies consider Gio Gonzalez now that he is available again?
~Matt
When the New York Yankees signed pitcher Gio Gonzalez to a minor league deal that would have been worth $3 million prorated if he made the major leagues, this very inbox had a question as to why the Phillies did not consider signing their former farmhand to such a deal.  But in the last week, Gonzalez fired his agent, Scott Boras and exercised an opt-out in his deal with the Yankees.  With a new agent, Gonzalez is looking for work.
Gonzalez made three starts for the Triple-A Scranton-Wilkes Barre RailRiders, going 2-1 with a 6.00 earned run average.  Gonzalez had a shaky first start, allowing eight earned runs in four innings.  But his next two starts were better, allowing no runs in six innings in start two and two earned runs in five innings in start three. Gonzalez would have started a fourth time but the game was rained out.
So far, Gonzalez has been linked to the New York Mets and the Milwaukee Brewers, with whom Gonzalez finished the 2018 season after a July trade from the Washington Nationals.  So far, the Phillies have not been linked to Gonzalez.  Of course, that does not mean that they are not interested.
My guess is that the Phillies will consider Gonzalez and any other opportunities that present themselves.  I think the Phillies would at least look at Gonzalez as an option, particularly with the Phillies short in the bullpen.  If the Phillies might finally begin to look at some of their starter depth as bullpen pieces, then maybe they would like additional starter depth.
But I would also think that Gonzalez will sign with a team that allows him to pitch in the major leagues sooner.  The Phillies probably are not ready to remove anyone from the starting rotation at the moment, as Jerad Eickhoff has made some strides and probably will get a longer look.  Therefore, I think that the Phillies are an unlikely match at this time.
What can the Phillies do about their offense?
~Scott
The Phillies managed just 2, 3, 1, and 1 runs in the four losses the Phillies have in their last five games.  Thanks to injuries to Jean Segura, Scott Kingery, Odubel Herrera and briefly Andrew McCutchen, much of the offensive firepower has been diminished.   Losing three key offensive pieces is tough for any team.
The Phillies are not even a month into the season, so the starting lineup the team assembled has not had too long to really fully gel, even though they got out of the gate strong.  Maikel Franco, finding success batting eighth, had to bat fifth in a lineup that now features journeyman Phil Gosselin and Roman Quinn on a regular basis.  On the days that J.T. Realmuto is out of the lineup, Andrew Knapp is another weak spot.
After last night's loss to the Mets, starter Jake Arrieta called the team behind him "flat" (via Scott Lauber of the Philadelphia Inquirer).  McCutchen said that he needed to "do a better job".   The Phillies were also without star Bryce Harper, who got ejected in the fourth inning for barking at umpire Mark Carlson, prompting manager Gabe Kapler to show demonstrable anger for perhaps the first time of his Phillies tenure.
Unfortunately for the Phillies, they may have to wait out these injuries.  The subs that include Quinn and Nick Williams and Aaron Altherr are essentially playing for their futures.  If they cannot step in for the veterans when they are out, the Phillies will find better bench players down the stretch.  But those acquisitions tend to happen later.
Will Bryce Harper be suspended or fined?
~Michael John

Players are generally not allowed to argue balls and strikes.  As umpire 
Mark Carlson seemed to be missing some calls on both sides, the Phillies dugout had some words directed at the umpire.  Carlson turned and ejected the Phillies star player from among those who were saying things from the Phillies bench.
With Harper having already expressed his thoughts to Carlson earlier, Carlson knew exactly who was in the dugout yelling about a high and outside pitch to Cesar Hernandez.
I think that the matter is settled; Harper's ejection will take care of it.   But the damage was already done due to the aforementioned already-depleted Phillies offense.
The Phillies did need his bat, it turned out.  I think that will be it, without a future suspension or fine.  But the Phillies paid for it last night.