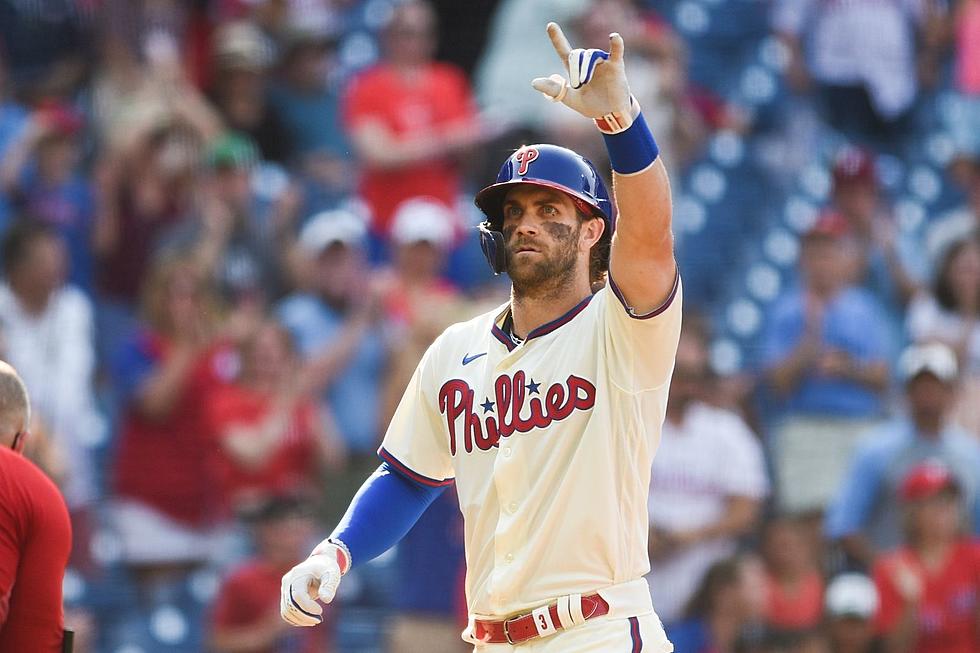 Phillies Mailbag: Harper's Rehab, Maton, the Playoff Push
(Photo by Cody Glenn/Getty Images)
We are back once again with the 97.3 ESPN Phillies Mailbag.  Each week we take your questions and answer them on the Sports Bash with Mike Gill.  Tune in Tuesday afternoons to hear your question answered.
Bryce Harper's situation for next year is very concerning. Is he going to have to get Tommy John surgery? It would seem to be the case. If he does, is he's going to miss all of next year?
~James
The good news for 2022 is that Bryce Harper is on the mend.  Harper shared himself taking batting practice at Citizens Bank Park on Monday afternoon.  It sounds as if Harper will be ready for a minor league rehab assignment soon - maybe Tuesday of next week due to the minor league schedules - and then will hopefully be activated in the next couple of weeks.
But then after that, it could get tricky.
Scott Lauber of the Philadelphia Inquirer reported that Harper's throwing program was shut down and that he may have "Tommy John" surgery in his future.  But the good news is that this is not likely to be the same timetable for recovery as a pitcher.  We are used to a pitcher missing over a full calendar year.  For Harper it probably will be different.
It's tricky to compare, but the best example of some in Harper's situation might be Shohei Ohtani.
Ohtani got his "Tommy John" surgery in October of 2018.  Ohtani was then out until May.  After returning, he played the rest of the season as a designated hitter role - while not pitching - until an unrelated injury shut him down in September.
It is not out of the realm of possibility that Harper misses some time to start 2023.  But of course, getting him healthy for the long-run and a return to right field would be ideal.  But a lot of this is still being worked out.
The good news is that the Phillies have hung in there this season without him, and perhaps they can do the same next year in a short absence.  And they will have Harper for this season.
Thoughts on Nick Maton being a everyday starter when Jean eventually moves on? Been coming along nicely and something that is under the radar, 1st, 2nd, SS and 3rd would all be home grown.
~Greg
The Phillies indeed have a lot of young homegrown players helping out lately.  Looking around the diamond: Alec Bohm, Bryson Stott, and Rhys Hoskins are all home-grown players, as is Darick Hall.  The starting staff has Aaron Nola and Ranger Suárez.  The bullpen has Seranthony Dominguez and Connor Brogdon playing key roles.
So it's nice that they are getting some contributions from Nick Maton, currently a backup infielder.
I think the Phillies will play Maton against some of the right-handed pitching the rest of the way.  I think they will try to get a good enough look at him down the stretch to see if they might have a solution there.  I would say the same thing about Edmundo Sosa.  Having a replacement already would be easier than looking for one.
But some reports have linked the Phillies to the free agent infield class.  Would Trea Turner sound nice in this Phillies lineup?  It's unclear the Phillies will spend that much.  But with Jean Segura and Didi Gregorius accounting for almost $30 million of payroll, they might add a nice player.
Or, they might feel like they can allocate that money elsewhere.  There are many possibilities.  The emergence of both Bohm and Stott in the infield gives them some real options on this team.
Can the Phillies beat the Dodgers and or Mets in a playoff series?
~Dan
"On any Sunday" is a phrase you might hear in the NFL.  On any Sunday any team can be at any team.  The best team on paper is not going to beat the team playing best that particular day.  I remember watching a bad 1997 Phillies team sweep the New York Yankees at the Vet.  Tony Barron had the game winning RBI.
Can the Phillies beat them?  Sure.  Is it probable?  Maybe not.
I think the last series against the Mets showed that the Phillies could at least hang with them and their two best pitchers.  They went 1-1 against the Mets in the games started by Max Scherzer and Jacob deGrom.   Had Zack Wheeler had a better day the next day they might have won the series.
Could having Bryce Harper and Kyle Schwarber have made the difference?  Perhaps.
Let's also not forget that the Phillies took three games of four from the Dodgers in Los Angeles and took four out of seven on the season.
But the Phillies must get to the playoffs first.  And like I recommended with the 2017-2018 Eagles when the team was a clear underdog:  Just enjoy the games.  You might be surprised.