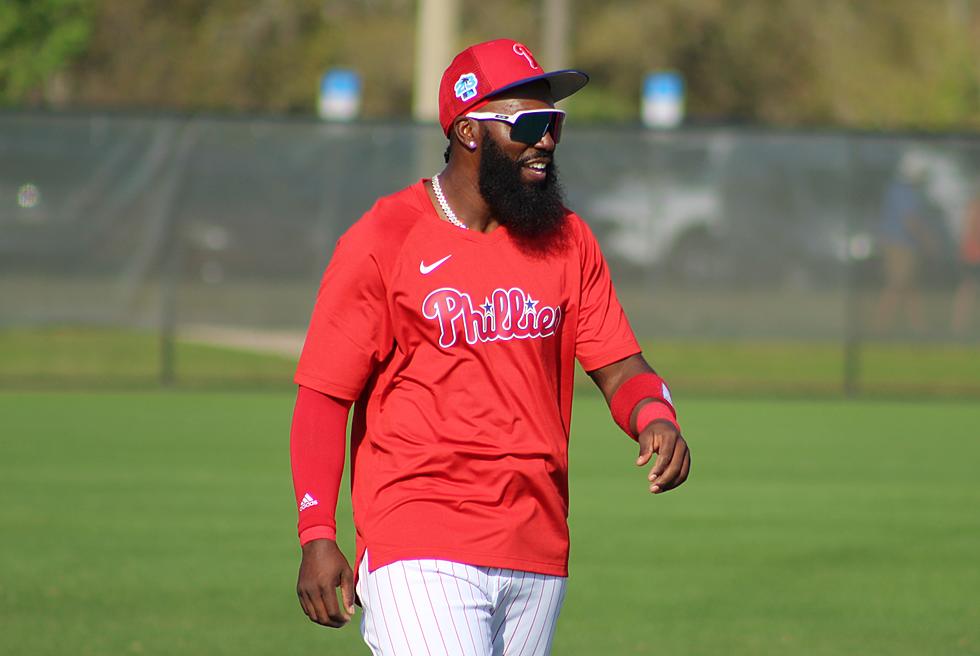 Phillies Mailbag: Poor Play, Schwarber's Spot, Harrison, Trades
Josh Harrison may be on the bubble of the roster (Frank Klose/97.3 ESPN)
We are back once again with the 97.3 ESPN Phillies mailbag.  We take your questions and answer them on the Sports Bash with Mike Gill on Tuesday afternoons.  Submit your questions anytime to @FrankKlose on Twitter.
How is this team as bad as they are?
~Greg
I do not think that there is a real simple answer.  But there are a number of factors that have led the Phillies to this really rough stretch that finds them currently four games under the .500 mark even though they've won four in a row.
1. Injuries.  The injury to Rhys Hoskins was a late Spring blow that the Phillies were basically unable to account for.  Darick Hall would have been someone they could give a trial to see if he belonged at first base and then he almost immediately got injured.  But missing Hoskins seems to have hurt the team beyond the baseball field.
His biggest asset would be his pitch selection.  Yes, he goes into prolonged slumps.  But even then he takes a lot of pitches and allows the others to see what the pitcher has to offer.  And of course, in a pitch-count era, an 11-pitch at bat is more than 10% of that starter's total offering for the day.
But Hoskins was the literal Phillies leader in terms of being the team's union rep.  But he also was an important clubhouse leader.  He is the established, in-house voice that suddenly went missing.  Harper missed the first while of the season, and vets like Kyle Schwarber and Nick Castellanos are still someone new; Trea Turner is very new.
2. Players who need to play better.   Simply put: Schwarber needs to play better than he did in April and May.  J.T. Realmuto needs to perform with the bat more than he has the first two months.  And, the starting pitching that includes Aaron Nola and Zack Wheeler need to be the top-of-rotation pitchers that they have been for them as of late.
That leads me to...
3. Lack of starting pitching depth.  The Phillies depth for the fifth spot in the starting rotation went like this:  Bailey Falter, Andrew Painter, Cristopher Sanchez, Michael Plassmeyer, Nick Nelson.  All five have been unable to help the Phillies in 2023 and the fifth spot in the starting rotation has been an overwhelming bust.   If that spot in the rotation had gone .500, the Phillies would be a winning baseball team right now.
This is something the Phillies will have to address before the July 31 trade deadline.  With Ranger Suárez returning from injury and literally nobody in the fifth spot, the Phillies are living very dangerously right now.
Is Kyle Schwarber back in the leadoff spot for good?
~Some guy named Pete Giordano
I hate Kyle Schwarber in the leadoff spot.  I want someone who gets on base more.  I want someone who has some speed.  As much as I don't like it, a few games in it seems to have ignited both Schwarber and Trea Turner, also struggling.
Both have erupted the last few days.  Schwarber is hitting home runs.  Turner had a four-hit game and is playing heads up defense.  So I think that they will ride this for a while.
If it continues to work, I would expect Rob Thomson to leave him there.  Especially now that he is without Alec Bohm and the right-handed bat of Turner is helping in the middle of the lineup.
I can philosophize all day long about where he should hit, but if the results are where they are, I suppose I cannot argue with that.
What is the purpose of Josh Harrison if Drew Ellis is playing over him?
~David
The Phillies signed infielder Josh Harrison for a second time ahead of the 2023 season.  They had him in camp in 2020 when the world shut down.  Perhaps due to that interference, and the very heavy camp in terms of infielders that season, the Phillies let him go.  He then had three very productive seasons among the Washington Nationals, Oakland Athletics, and the Chicago White Sox.
2023 has been a struggle for Harrison.
At 35 years old, is he starting to approach the end of his baseball career?  He was at the heart of the Pittsburgh Pirates team with his close friend Andrew McCutchen that won 97 and 98 games in back-to-back seasons and made the playoffs.  He is an incredibly likable guy with an impressive resume.
But Harrison has not hit in 2023.  After 27 games and 63 plate appearances, Harrison is batting just .206 with one home run.  He has walked once.  At third base he is behind Edmundo Sosa on the depth chart, and it's hard to blame Rob Thomson for not playing Bryson Stott every day.  So he was blocked while Alec Bohm was healthy.
The reason Drew Ellis is getting a look is because he was on somewhat of a hot streak at Triple-A.  He can play third base and first base, as Bohm had been doing.  And after a rough start to his Phillies tenure, he had a two-homer game.  So I would think that, with Bohm's return as soon as this weekend, Ellis might get a look before they have to make a decision as to who departs.
Ellis does have an option remaining, so he could be sent to Triple-A.  A decision to remove Harrison from the roster would be much more permanent.  So the Bohm injury will give the Phillies a small window to see what exactly they have.
If by July 31, would you trade Aaron Nola?  You would get a couple almost ready kids instead of a comp pick.  Would you?  Or do you think an August and September charge?  Would Lucas Giolitto make sense?
~Tom
Well, Tom, this question certainly goes in both directions.  A trade of Aaron Nola would be a definite white flag on the 2023 season.  And conversely, a Lucas Giolitto acquisition would be something that could propel the Phillies into the playoffs.  As of right now, I would characterize either as unlikely.
First Nola.  A trade of Nola is unlikely because I do not think that by July 31 the Phillies will be so bad and buried that they would not consider themselves in contention.  As we see now, the Phillies are able to win four games in a row if the fifth starter day somehow goes okay and they don't completely burn the bullpen with strong starts on either side.
The Phillies could be mediocre at the deadline - .500ish - and I think they would go for it.
But the same thing can be said for the Chicago White Sox.  They may be in the same situation as the Phillies come the trade deadline and want to hold onto Giolitto and others.  Now, there are reports that the White Sox plan to part with Giolitto after this year.
So let's say that the White Sox would be out of it and are indeed willing to trade Giolitto, my guess is that the Phillies could be easily outbid.  The White Sox will probably want prospects that can help them sooner than later as they will hope to continue to win.  I am not sure that the Phillies have that.
I think the Phillies will add a starter but may have to settle for a little bit lower in quality that Giolitto.  The pitching prospects that they would have to trade have not really increased their value a whole lot in 2023 so far.  They'd be better off hanging on to them and keep working with them.