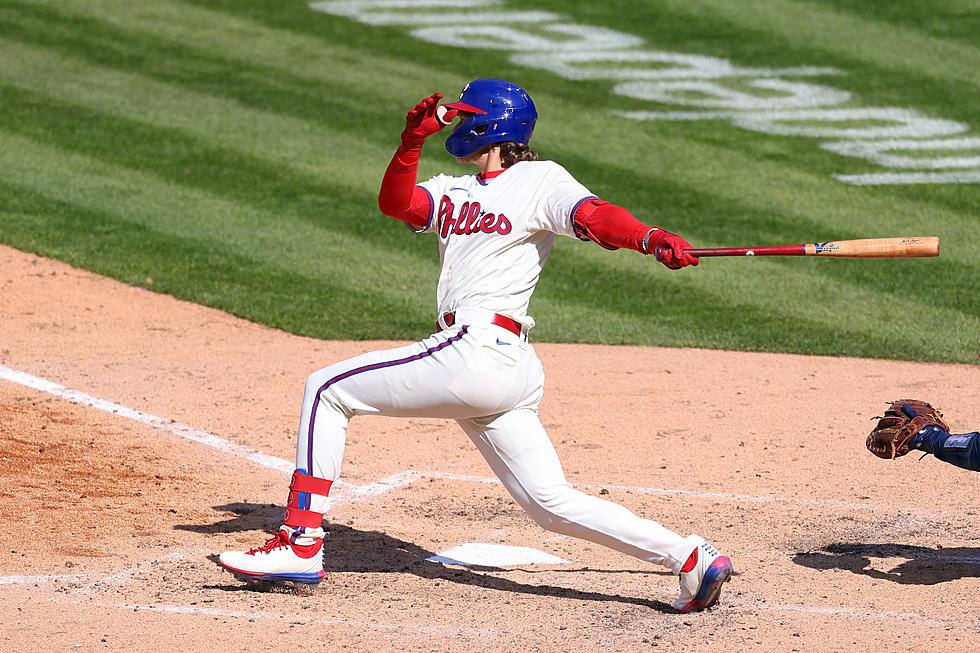 Phillies Takeaways: A Closer Look at Philadelphia's Sweep vs Braves
Getty Images
The Phillies' first series of the 2021 season is now in the books, and Philadelphia is 3-0 after sweeping the Atlanta Braves thanks to a 2-1 win on Sunday afternoon.
After a walkoff extra-inning win on opening day, the Phillies got two dominating pitching performances and stellar work form their re-made bullpen to win the series.
The Phillies now have three straight with the New York Mets starting Monday.
Let's take a look back at the opening series. Here are the biggest takeaways from Philadelphia's opening series sweep over Atlanta.
Starters set the tone 
Phillies pitchers had a tremendous series, walking only five batters while recording 35 strikeouts.
After the first series, the five walks issued, just one of which came from a starting pitcher, was the best mark in the league.
The teams 0.96 ERA was second best in baseball, while their 0.61 WHIP and .128 batting average against were the best in MLB after the opening series.
"To limit this team to the amount of runs we did is really not easy to do," Phillies manager Joe Girardi said. "That's an explosive lineup, its extremely dangerous. Our guys executed pitches."
Aaron Nola, Zack Wheeler and Zach Eflin were outstanding in their respective starts.
Nola set the tone on Opening Day, allowing just two runs in 6.2 innings.  On Saturday, Zack Wheeler was dominate over seven scoreless innings, allowing just one hit with 10 strikeouts.  Zach Eflin allowed just one solo home run, giving up just four hits and one walk with eight strikeouts over seven innings on Sunday.
"I always try to top the guy that pitches before me," Eflin stated.  "Use it as motivation, its really nice to see the first two guys who out there and get the job done."
"I don't think any of are surprised by the starts we got from those three guys," said catcher Andrew Knapp, who started the game on Sunday. "Its kind of how we planned it."
Bullpen does their part 
The Phillies' bullpen still hasn't allowed a run this season in 7.1 innings of work.
The bullpen of course was a major weakness for the Phillies the last three seasons, but could play a big part in whether or not Philadelphia can contend for a playoff spot.
Collectively the Phillies bullpen is 1-0 in eight appearances with a 0.00 ERA, 0.68 WHIP, 11 strikeouts and four walks.
Closer Hector Neris appeared in all three games so far with picking up his first save of the season on Sunday in a 2-1 win over the Braves, striking out the side in the ninth inning on Saturday and threw a scoreless frame on Opening Day with a strikeout.
Bohm Time 
The Phillies open the 2021 season with Alec Bohm set to play every day at third base.
Bohm started all three games at third, hitting in the middle of the order all three games.
In the series finale on Sunday, Bohm had a pair of hits, including a key single in the bottom of the eighth, that ended up being the game-winning single.
"He's come through time and time again," Girardi said.  "You feel pretty good about him when he's in that spot. He's not going to try to do too much. That's why we have him in the middle of the lineup, he's been so good in those situations."
"I didn't panic when it got to two strikes," Bohm explained.  He happened to make a mistake and it worked out for the best."
He also flashed the leather on Opening Day making a stellar play on a line drive.
Bohm and the Phillies offense struggled against Braves pitching, scoring just nine runs in three game and will have their hands full this week, facing the top of the Mets rotation. The Mets have yet to play a game this season due to COVID-19 protocols, meaning the Phillies will face Jacob deGrom on Monday.
The Philies will counter with left-handed pitcher Matt Moore, who will make his first Phillies start in the series opener. Chase Anderson starts game two opposing Marcus Stroman and in the rubber match it will be Nola facing David Peterson.
"Every game counts," Girardi said.  April is just as important as every other month."
Phillies Major Award Winners Since 1980
PEEK INSIDE: Derek Jeter is Selling His Stunning Hudson Valley Lakeside Castle For Discounted Price