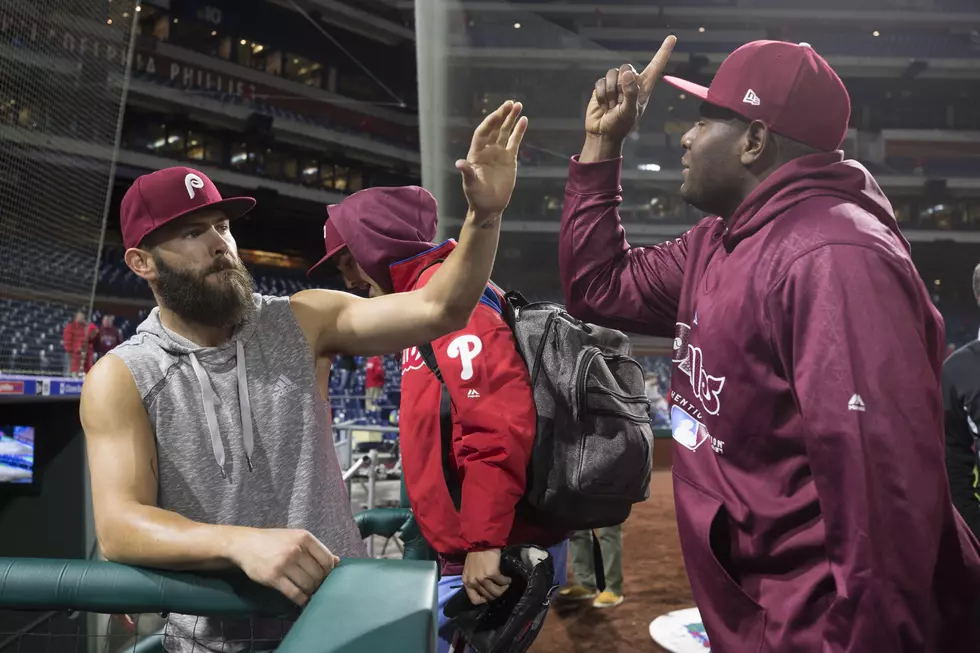 Pivetta: Arrieta's A Really Great Addition For Our Team
Photo by Mitchell Leff/Getty Images
The Phillies at 41 Games in the 2018 season have a 25-16 record, just half a game behind the Atlanta Braves and 1.5 Games ahead of the Washington Nationals in the National League East standings.  The Phillies Pitching Staff has the third best ERA in Major League Baseball (3.34) along with the Eighth Best Batting Average Against (.233).  A major factor in the Phillies strong pitching this season has been the addition of Jake Arrieta.  The 32 year old Right Handed Pitcher has 3-1 record in Seven Starts with a 2.59 ERA; he is the oldest player to throw a pitch in a Phillies uniform so far in 2018.
Phillies Starting Pitcher Nick Pivetta joined Rich Quinones on Friday and discussed the impact of Arrieta as a member of the Phillies Pitching Staff:
"It's really comforting having a guy like that for all of us. You know, to lean on in certain situations and times when either you're struggling or you just wanna, you know, dive into baseball and talk a little bit more about stuff that's gonna happen in the future and stuff that he's went through in the past. So, I think it's a really great addition for our team not only from a pitching standpoint, but also from a whole team standpoint. You know, it brings a veteran leader into the clubhouse and I think it's been nothing but positive, the energy from him so far."
Checkout what Pivetta had to say about Gabe Kapler, the 2018 Phillies season, and more