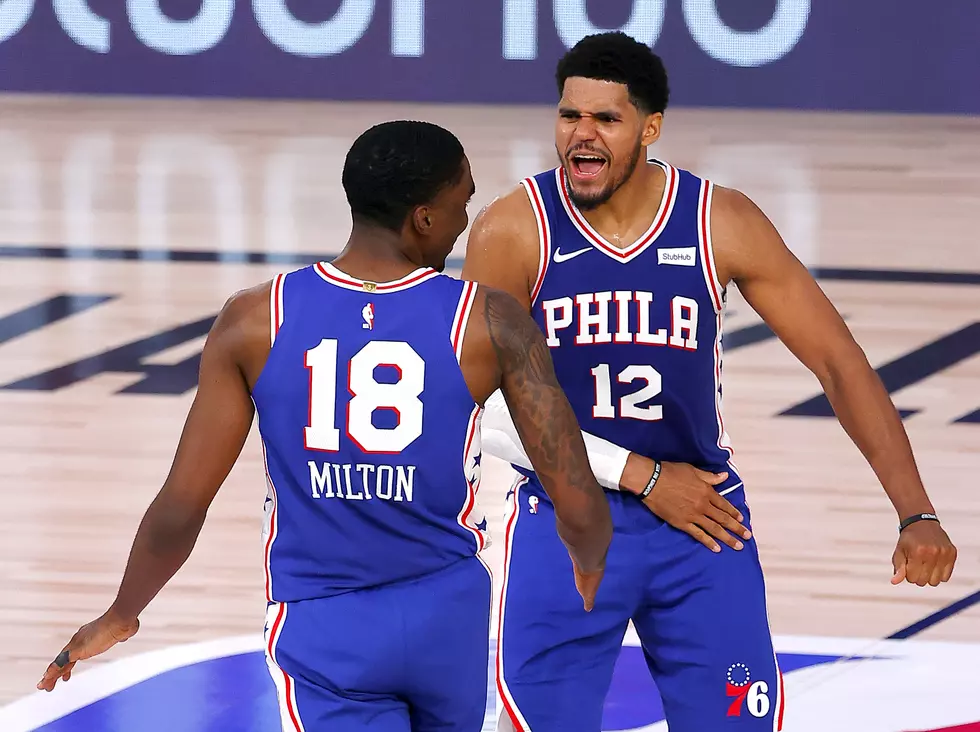 Predicting The Sixers 10 Man Rotation
(Mike Ehrmann, Getty Images)
Doc Rivers has said he intends to use a 10 man rotation this coming season. Predicting stat-lines is a fool's errand, but some errands must be run in the spirit of the holidays. After two preseason games and a couple of weeks of getting to feel the team's pulse, here are my probably very wrong predictions for the 76er's top 10 rotation and their predicted minutes, points, rebounds, and assists, steals, and blocks.
Enter your number to get our free mobile app
What jumped out this preseason was the significantly improved depth from last season. Any given night, excluding overtime, will feature 240 minutes to allot to players. Some nights will be well in hand and allow for an emptied bench in garbage time, but assuming a typical game margin within single digits, this is my best guess at the allotment you should expect.
Things to note. Tyrese Maxey has played his way into an increased role. The signing of Frank Mason III on Friday night signals that Maxey, who may have been slated to play some time in Delaware, has earned a spot in the rotation in Philadelphia. He joins a fairly deep backcourt with Ben Simmons, Shake Milton, and Seth Curry. Curry and Milton's ability to space the floor off-ball will be crucial to opening up minutes to get the explosive Maxey on the floor more.
In a surprise to some, Mike Scott was mentioned early and often in camp. He has responded by playing well with the second unit, including 12 points on 4-6 from three in Friday night's game in Indiana. Furkan Korkmaz, another player in man fans doghouse, has similarly been praised by coaches and teammates alike. Korkmaz will get a chance to play 12-16 minutes per game, especially early in the season, due to chemistry with the team's returning players.
The team should have balanced scoring, with Curry and Milton providing secondary ball-handling when Simmons is on the floor, with the ability to lead the offense when Simmons is on the bench. The team should also rebound the ball well, with Dwight Howard, Tobias Harris, Ben Simmons, and Joel Embiid having the ability to grab double-digit rebounds on any given night.
Notably absent is Matisse Thybulle. Doc Rivers has said not to read too much into Thybulle's limited playing time or lack of comfort on the floor, but it's hard to envision a major role for the second year player given this team's preference to space the floor and have ball handling on the floor at all times. Maxey's emergence and Mike Scott's apparent resurgence has probably cost Thybulle and early opportunity. This is not to say Thybulle will be a permanent DNP-CD, but it does make it hard to project him among the top 10.
It's only preseason, but what stands out about this year's Philadelphia 76ers is a lack of obvious weaknesses. Generally speaking, this team should defend, rebound, and score. Those are the elements of an excellent team.