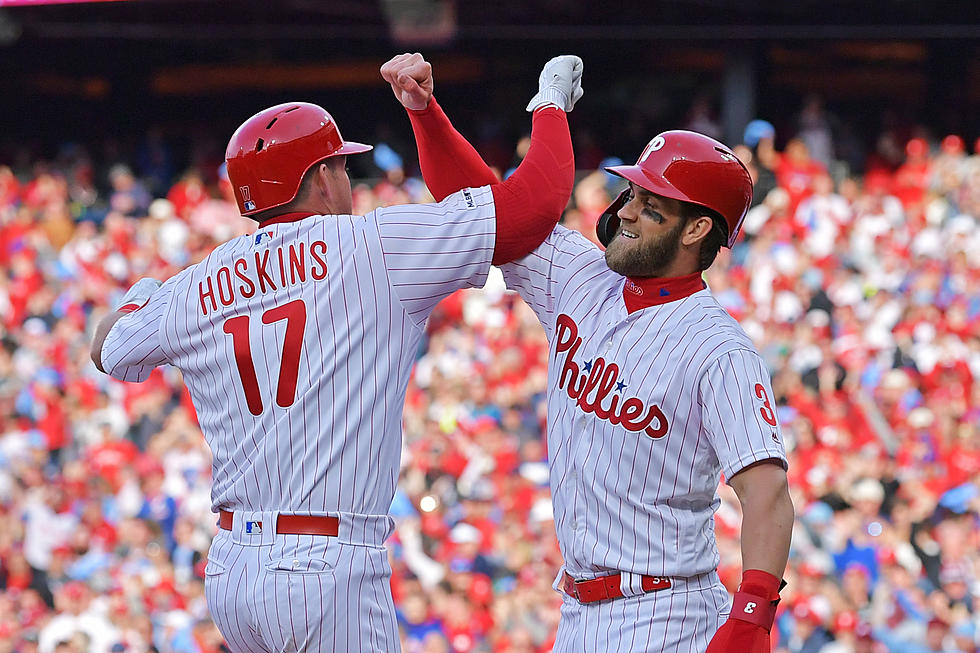 Projecting the Phillies' Opening Day 30-Man Roster
Rhys Hoskins and Bryce Harper. (Drew Hallowell/Getty Images)
The Philadelphia Phillies have to get their Opening Day roster down to 30. On Sunday, they announced the pool of 53 players that they'll bring into camp later this week.
But who will make the teams final roster of 30?
One factor could be the addition of the designated hitter this season. No DH means National League teams won't be using the double-switch, which means less need to use their bench on a nightly basis.  That could change the dynamics of roster construction for general manager Matt Klentak.
With that being said, here is my best guess at what the Phillies 30-man active roster will look like when the regular season gets underway.
Aaron Nola
Zach Wheeler (L)
Jake Arrieta
Zach Eflin
Spencer Howard
The Phillies' rotation is so easy to predict, apart from the top three spots. While Eflin seems to be a lock at No. 4, there is a slight possibility that the Phillies could move him into the bullpen and use Vince Velasquez in the starting rotation. The wild card is Howard, who the Phillies might want to keep him under control under the service time rules.
Hector Neris
Francisco Liriano (L)
Adam Morgan
Ranger Suarez (L)
Vince Velasquez
Nick Pivetta
Jose Alvarez (L)
Tommy Hunter
Enyel De Los Santos
Víctor Arano
Édgar García
This list is about as fluid as can be, sure there are a few familiar names like Neris and Morgan at the back of the pen, the wild cards names are Velasquez and Pivetta. They would only both be in the pen, if Howard ends up landing the No. 5 spot in the starting rotation.  Something else to keep in mind is teams could piggy-back pitchers, with starters likely tossing less innings with less time in spring training to get ready for the season.
The 30-man roster will eventually be trimmed down to 26, which means some of these names will only be here for a short time.
Rhys Hoskins
Scott Kingery
Didi Gregorious
Jean Segura
Alec Bohm
Josh Harrison
Logan Forsythe
Bohm would seem to be a logical fit for designated hitter, at least against left-handed pitching but he might not make the team right away due to service time reasons. However, my guess is the Phillies will start the season with him in Philly.  The rest of the guys here add versatility behind the starting group.
Andrew McCutchen
Roman Quinn
Adam Haseley
Bryce Harper
Jay Bruce
Bruce is another prime candidate to be the DH, especially against right-handed pitching. Klentak mentioned using McCutchen, who is coming off knee surgery, as a DH some days which means Haseley could see some time in left field.
J.T. Realmuto
Andrew Knapp
Realmuto is the best catcher in baseball, that about sums this position up.
Phillies First-Round Picks Since 2000