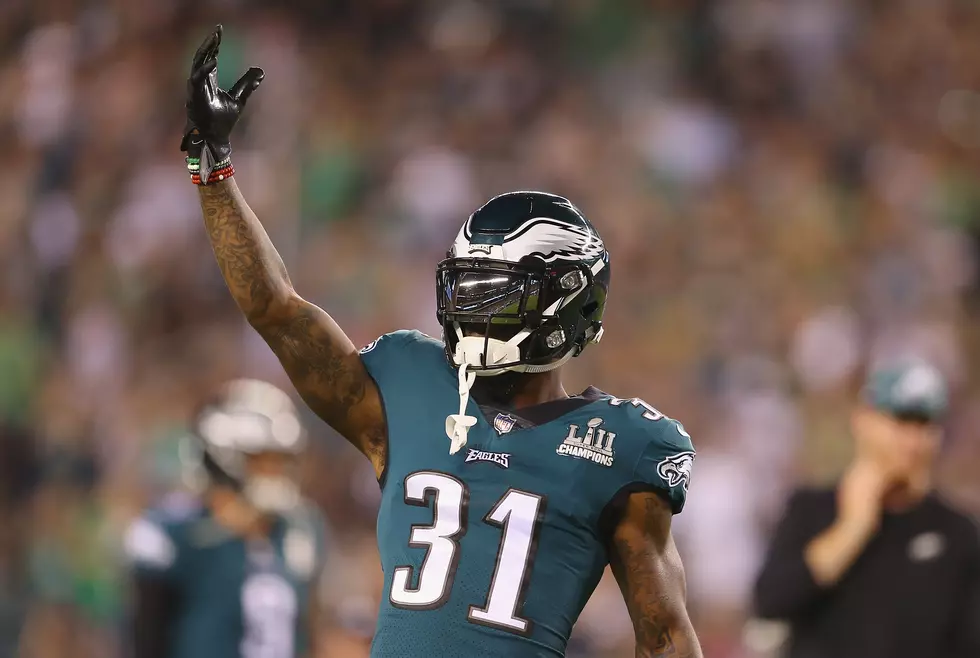 Reinforcements Slowly Coming for Eagles at CB
(Photo by Mitchell Leff/Getty Images)
PHILADELPHIA (973espn.com) — Cornerback has been the biggest issue for the Eagles early in the 2019 season but reinforcements are expected soon.
Sidney Jones, who tapped out early in Green Bay with his latest hamstring issue, is expected to return in Minnesota on Sunday and there is at least a chance that Jalen Mills will finally be back on the field for Dallas in Week 7.
From there Avonte Maddox (neck), Ronald Darby (hamstring) and even Cre'Von LeBlanc (foot) will begin nearing returns.
Jones has pushed through practice this week, and the third-year player is expected to play a significant role against star Minnesota receivers Adam Thielen and Stefon Diggs on Sunday.
"Sidney's doing well," coach Doug Pederson said Friday morning. "He's doing well. He practiced yesterday, practiced all week actually. He'll get back out there again today, so fully expect him to go Sunday [against the Vikings]."
Jones will likely start let left corner opposite Rasul Douglas with veteran Orlando Scandrick handling the slot duties. Minnesota, like the Eagles, play quite a bit of 'Tiger' or 12 personnel, so Jim Schwartz will likely mix and match with his big-nickel look at times as well. When the Vikings use a third receiver, typically rookie Bisi Johnson, Scandrick will be called upon and when Kyle Rudolph and Irv Smith are in the field together at tight end, former Viking Andrew Sendejo will be in play.
Having Jones on the outside rather than the inexperienced Craig James, also a former Minnesota player, is a big development for the Eagles, though, because both Thielen and Diggs are regarded as two of the top receivers in football.
Jones was dressed last week but only in case of emergency after tweaking his hamstring in Green Bay.
Mills, the former starter at left cornerback, is eligible to begin practicing next week if he's cleared by the team's medical staff. He began the season on the PUP list, stemming from a murky foot injury last season that cut Mills' 2018 campaign in half and eventually required surgery.
Once Mills is given the all-clear in practice the Eagles will receive a 21-day window to either put the LSU product on the 53-man roster or return him to the PUP list for the remainder of the season. The goal, though, is to get Mills back in the mix for a position group that has struggled outside surprising third-year player Rasul Douglas.
Mills said returning against Dallas was "always the plan" when speaking to reporters on Thursday but the medical staff will have the final say.
"It's all about the doctor and what he says," Mills acknowledged. "It's just sticking to the plan. They've had a great plan so far. I'm feeling good. Whatever he says I can or can't do, I'm just going to follow."
It's almost been a calendar year since Mills was last on the field, the win over Jacksonville in London on Oct. 28 of 2018 and the assumption was that he would be able to return at some point but when the foot didn't respond as well as hoped for, surgery was the ultimate end game.
"I've dealt with adversity before, not even just as far as the football aspect, just my life in general," Mills said. "As far as that goes, it's just keeping a strong mind."
If the doctors say Mills can't being practicing next week, the window can be pushed all the way to Week 11 so while everyone is hopeful that the Cowboys will be in play for the Texas native, there is a cushion to still get involved in the 2019 season.
In other injury news Receiver DeSean Jackson will miss another game with the murky abdominal injury suffered early in Week 2 against Atlanta. Jackson has amped up his rehab from a running and conditioning standpoint with an eye toward returning for Dallas next week.
"He's progressed each day," Pederson said of his speedy receiver. "He's done a nice job with that. We'll do it again today, and the key is for him to make sure that there's not a lot of soreness or pain dealing with after a workout, but he's doing well."
Running back Corey Clement (shoulder) also hasn't practiced this week and will not play Sunday, meaning the Eagles will be down two running backs [Darren Sproles is out with a quad injury], something that could foreshadow the promotion of Boston Scott from the practice squad as both a third option in the backfield behind Jordan Howard and Miles Sanders as well as a returner.
"We're going to take a look at that today," Pederson admitted. "We obviously have Boston Scott on the practice squad, so that's a possibility for us."
-John McMullen covers the Eagles and the NFL for 973espn.com. You can reach him at jmcmullen44@gmail.com or on Twitter @JFMcMullen