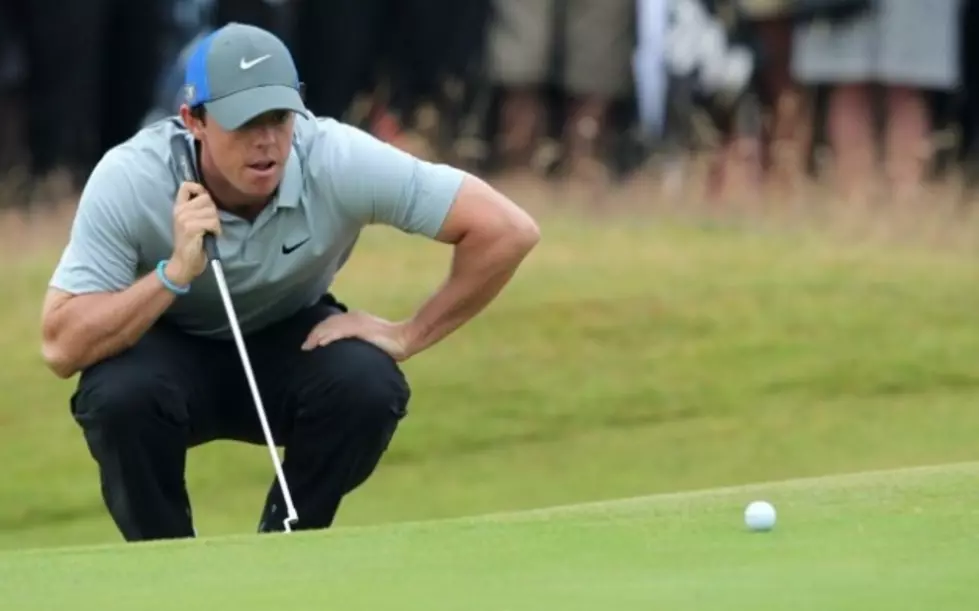 Rory Now Sets Sights on Green Jacket
Getty Images
Rory McIlroy clutched the treasured piece of silverware, his reward for winning golf's oldest major championship.
Now he's got his eyes on a new jacket. Something in green, preferably.
With a grind-it-out performance on the final day of the British Open, McIlroy checked off another requirement for joining perhaps the most exclusive club in the game.
U.S. Open? He's won that. PGA Championship? Yep, got one of those too.
British Open? Took care of that on Sunday.
"I'm immensely proud of myself," McIlroy said, clutching the claret jug after a two-shot victory over Sergio Garcia and Rickie Fowler. "To sit here at 25 years of age and win my third major championship and be three-quarters of the way to the career Grand Slam, I never dreamed of being at this point in my career so quickly."
All that's left is the Masters.
Get ready, Augusta National. This guy isn't very patient.
"I really don't have any doubt that he'll win there," Fowler said. "It's just a matter of time."
Unlike his first two major titles - eight-shot runaways at both the 2011 U.S. Open and the 2012 PGA Championship - McIlroy had to sweat this one out a bit. He didn't play his best, settling for a 1-over 71 that was his highest score of the week. He bogeyed two straight holes on the front side, giving his challengers a glimmer of hope. But it was never really in doubt, his lead never less than two shots.
"I always felt like I had that little bit of a cushion," McIlroy said.
All along, he had his eyes on a bigger prize.
With his victory at Royal Liverpool, McIlroy became the third-youngest player - behind Jack Nicklaus and Tiger Woods - to win three of the four majors. Nicklaus, Woods, Ben Hogan, Gary Player and Gene Sarazen are the only players to capture all four, a feat that eluded such greats as Tom Watson, Arnold Palmer and Sam Snead.
Indeed, a pretty exclusive club.
"I just want to be the best golfer that I can be," McIlroy said. "I know if I can do that, then trophies like this are within my capability. I'd love to win a lot more and I'm really looking forward to ... next April and trying to complete the career Grand Slam."
Nicklaus has long been impressed with McIlroy's potential.
The Golden Bear liked what he saw on Sunday, watching the finale on television.
"I like his swagger," Nicklaus said in a message posted on Facebook page. "I like the way he handles himself. I like his desire to be great. I like his desire to do the things he needs to do. I like that in a young guy. He's cocky in a nice way."
After ripping up the course the first three days, McIlroy didn't go with the driver as much and played some shots safely into the middle of the green, avoiding unnecessary risks when he had a lead to work with.
That strategy looked familiar to Nicklaus, who has won more major titles (18) than anyone.
"The other guys put the pressure on him with what they did," Nicklaus said. "Rory then did what he had to do. That is the measure of what you are doing. It is not to go out and shoot another 66. It's shooting what you have to shoot to win the golf tournament."
Playing in the final group for the second straight major, Fowler put up his best round of the championship, a 5-under 67 with not one bogey on his card. Garcia, still seeking that elusive first major title 15 years after he nearly got one at age 19, fired a 66 but saw his hopes collapse when he needed two swings to get out of a bunker at No. 15 - the shortest hole on the course.
At the end, all McIlroy has to do was tap in a putt from a couple of inches away to finish off a 17-under 271.
"It's difficult when you're in a situation where you know you can't make a mistake," Garcia said. "I wanted to at least make him feel a little bit and see how he would respond. And he obviously responded very well."
After some issues off the course, including him breaking off the engagement to tennis player Caroline Wozniacki just as the marriage invitations went out, McIlroy seems totally focused on his game.
That's good for golf, especially with Woods struggling to recapture anything close to his former dominance. Playing his first major of the year after recovering from back surgery, he finished 23 shots behind the winner and 69th overall - the worst 72-hole performance of his major championship career.
McIlroy is eager to fill the void left by a wounded Tiger.
"Golf is looking to someone to put their hand up," McIlroy said. "I want to be that person."
(Copyright 2014 The Associated Press. All rights reserved. This material may not be published, broadcast, rewritten or redistributed.)