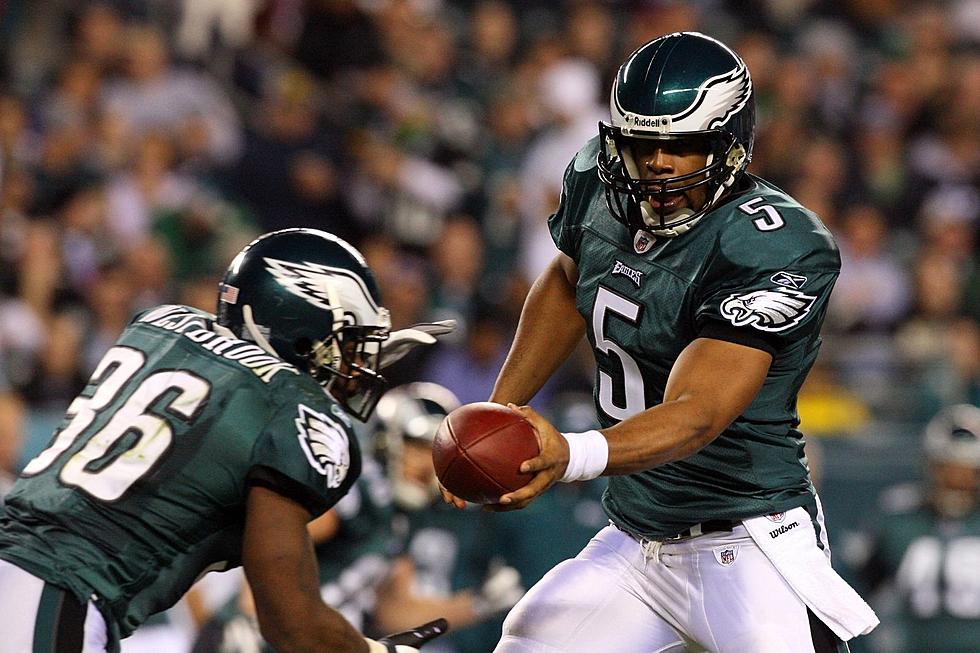 Several former Eagles on Pro Football Hall of Fame Nominees List
(Photo by Jim McIsaac/Getty Images)
On Wednesday, the Pro Football Hall of Fame Class of 2022 nominees were announced and the list featured 15 notable former Philadelphia Eagles players on the list. The 122 modern-era nominees include 65 offensive players, 46 defensive players and 11 special teams players. The modern-era nominees' list has to be cut down to 25 semifinalists in November and then the 15 finalists will be announced in January 2022.
Two of the biggest former Eagles on the list includes two of the greatest Quarterbacks in Franchise History: Randall Cunningham and Donovan McNabb. While McNabb is number one in Eagles History in Quarterback Wins, Passing Touchdowns, and Passing Yards yet Cunningham is third in all three categories. The man known as "The Ultimate Weapon" had the most Fourth Quarter Comebacks in Eagles History with 18 while McNabb has 14. The third Eagles Quarterback on the list of nominees is Jeff Garcia.
On the list of Running Backs features of the greatest RB's Philadelphia fans ever got to see in Brian Westbrook who is top four in franchise history in Rushing Attempts, Rushing Yards, and Rushing Touchdowns. The list of nominees also features former Eagles Running Backs from the 1990's Herschel Walker and Ricky Waters.
On the defensive side of the ball, two members of the famous Eagles Defenses from the late 1980's through early 1990's made the initial list of nominees: Seth Joyner and Eric Allen. Joyner is second all-time in Philadelphia Franchise History in Solo Tackles and he was a three time Pro Bowl selection.  Allen was a six time Pro Bowl selection during his career and he is tied for the most Interceptions in Eagles history with Brian Dawkins and Bill Bradley.
Also on the list is five time Pro Bowl selection and current Executive Vice President of Football Operations for the NFL Troy Vincent, along with four time Pro Bowl Selection Asante Samuel.  Both Cornerbacks are top ten in Eagles Franchise history in Interceptions and both were key members of Philadelphia's defenses during the Andy Reid era.
A few Special Team Standouts are also on the list of nominees including Kicker Gary Anderson (with Eagles 1995-96), Punter Sean Landeta (Eagles 1999-2002), Running Back Plus Kick Returner/Punt Returner Brian Mitchell (with Eagles 2000-02) and Defensive Back/KR/PR Allen Rossum (Eagles player 1998-1999).
Also on the list is Linebacker Takeo Spikes, whose one season in Philadelphia was 2007 when the Eagles finished with an 8-8 record and the coaching staff featured five future NFL Head Coaches on Andy Reid's staff.
In addition to the 15 modern-era finalists that will be named this upcoming January, there will be a group of Senior Finalists including former Eagles Head Coach Dick Vermeil as he will be joining his former player who was inducted this past August Harold Carmichel. The next Pro Football Hall of Fame Class is set for enshrinement in August of 2022.
Top 10 Rushers in Eagles History
Top Ten Eagles Wide Receivers in Franchise History