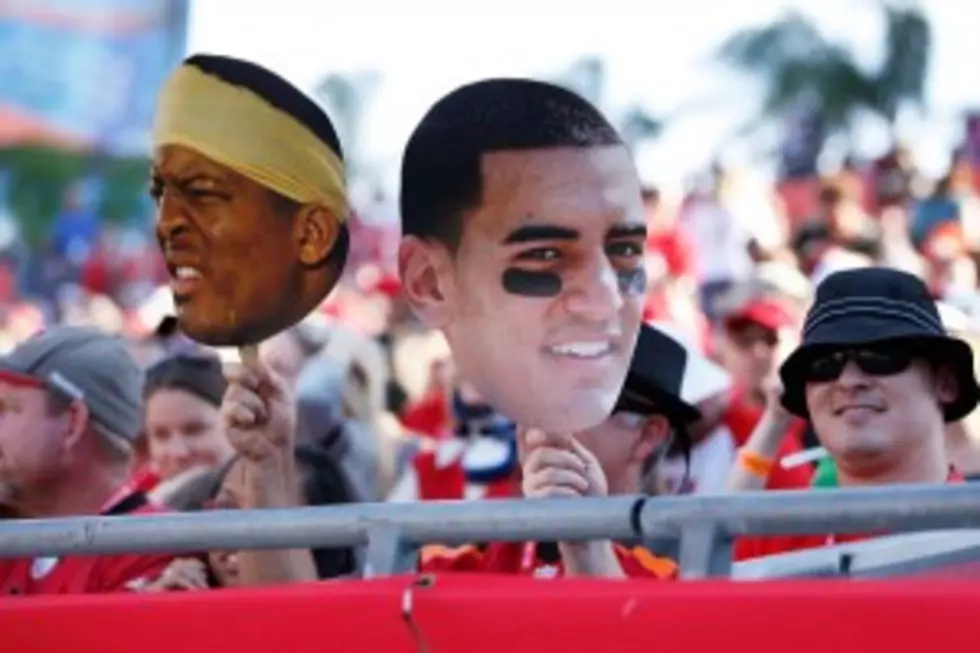 Should the Eagles Move up for QB in NFL Draft?
FSU QB Jameis Winston and Oregon QB Marcus Mariota (Photo by Joe Robbins/Getty Images)
Eagles fans all over are debating.
We asked that question on the Sports Bash to draft expert Scott Wright, President of Draftcountdown.com.  "Its highly, highly, highly unlikely," Wright said about the possibility of moving up to select Mariota.  "Are you willing to give up three, maybe four first round picks for to get him?
Well Eagles fans are you?  I know I am certainly not.
So what about Florida State quarterback Jameis Winston?  Winston entered the draft today and would be an "absolute nightmare" (in a good way) in the Eagles' offense, according to Cian Fahey of Football Outsiders.
According to Wright Winston is the best quarterback in the draft.  "As a player, there is no question that Winston is a better football player then Marcus Mariota, Wright said on the Sports Bash. "If he didn't have off the field concerns, he would be third best QB I have rated behind Andrew Luck and Peyton Manning."
The Eagles would almost certainly have to trade up from the No. 20 pick to get Winston unless his off-the-field issues caused him to drop, but even if they do, getting to pick 20 seems a bit unrealistic.
So if the Eagles can't get Winston or Mariota is there another intriguing prospect that could be there at pick 20?  "This is kind of a two QB class," Wright said.   "If you don't get Mariota or Winston - good luck."
So Eagles fans if you could pick one: Mariota or Winston which one are you taking?  And are you moving up in the draft to get either of these guys?
I'm intrigued by Winston, but not enough by Mariota to give up multiple picks to get him.
In this edition of 'On The Couch' with Mike Gill, I answer your questions on this topic.