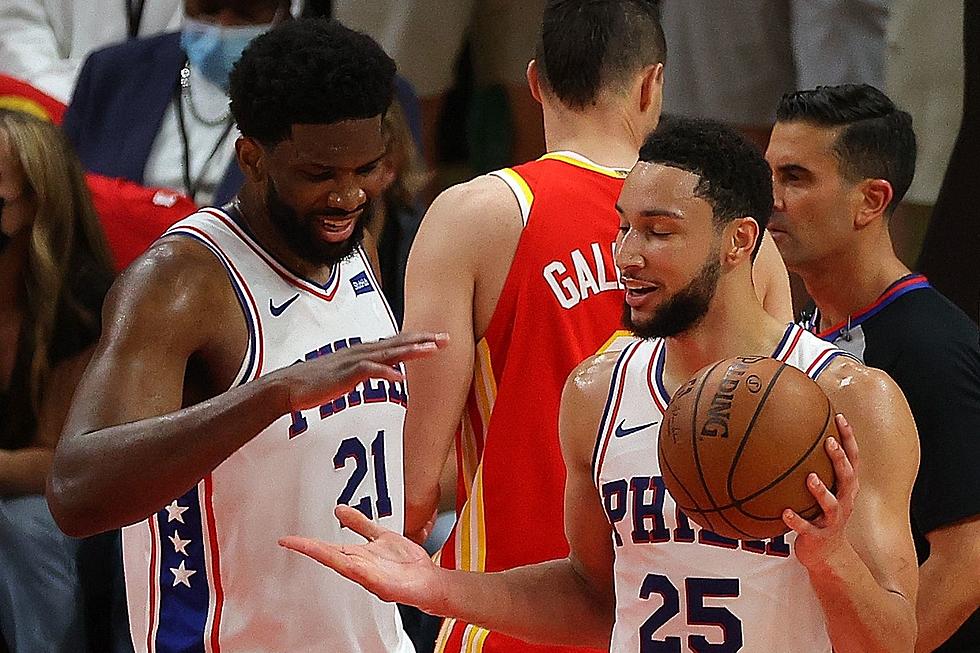 Should the Simmons and Embiid duo stay together? Stats say yes
(Photo by Kevin C. Cox/Getty Images)
The duo of Ben Simmons and Joel Embiid have played four seasons together and the Philadelphia 76ers have won at least 49 games three of those four years.  Ahead of tonight's Sixers Home Opener versus the Brooklyn Nets, ESPN Stats and Info Twitter account dropped this nugget that should make everyone question the Simmons era in Philadelphia:
Interesting to note that Ben Simmons and Kyrie Irving will both not play in Friday Night's game so two members of each duo above will not play.  But the reality is that Simmons and Embiid have played well along with reaching the playoffs every season together.  Yes, they have not gotten past the second round of the NBA Postseason but both men have the burden of those playoff shortcomings on both of their shoulders.
Now I am not going to just throw my hands up and just say "Well that stat convinced me, Sixers need to not trade Ben Simmons" but there is something we should all keep in mind: no one wins a championship without other All-Star Players.  So Joel Embiid needs help and the Sixers along with Embiid know this.  The Utah Jazz Hall of Fame duo of Karl Malone and John Stockton had to play together ten years before reaching the NBA Finals.  There was six years of Hall of Famer Isiah Thomas playing with Bill Laimbeer before the Detroit Pistons reached the NBA Finals.
There are many other examples of NBA Duos playing together for several years before reaching the NBA Finals but the point is that there is still a chance for Simmons and Embiid to do the same.  But all the Sixers hopes of this duo having that level of success falls on Ben Simmons' shoulders: Is he will to grow and do the work to be the best version of himself?  If the answer is yes, then the 76ers can take that next step.  If the answer is no, then the organization has to move on and trade him.  Championship caliber teams are build on the shoulders of players who are willing to push themselves and their teammates to be great.  I am not sure if Ben Simmons can be that type of athlete but time will tell for sure.
South Jersey Describes Ben Simmons in 4 Words or Less