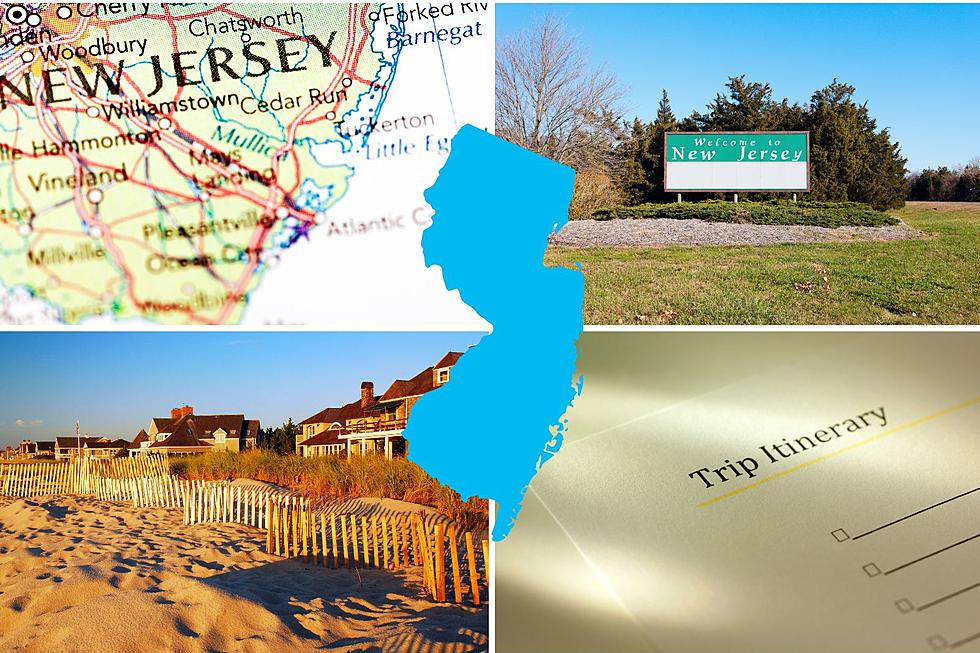 Six Jersey Shore Towns Among Top 33 to Visit this Fall in New Jersey
Canva.com
We have officially entered the fall season down the Jersey Shore.
For many, this is their favorite time of year, with nice weather, but fewer crowds at some of our favorite places to eat, drink, and visit.
Since 2019, NJ.com writer Peter Genovese has compiled a list of the best small towns in New Jersey to visit this fall for a day trip. The criteria was the town must have fewer than 15,000 residents, to land on the list of the best 33 small towns in New Jersey.
So here is the list, with some of the places to visit in each town from out listening area in Atlantic and Cape May County.
Coming in first at No. 28 is Brigantine.
Brigantine may always be Atlantic City's little brother, but the former wouldn't have it any other way. No casinos or clubs. No high-end restaurants. No gigantic boardwalk. No industry. Brigantine bills itself as "An Island You'll Love for Life." Legend has it that Captain Kidd once buried a treasure chest here. Good luck finding it. One cool thing: You can drive on the beach with four-wheel drive, as long as you obtain a permit.
Genovese must-visits: Aversa's Bakery (the Shore's best rolls and sticky buns); Ernest & Son; Marine Mammal Stranding Center; Black Turtle Coffee; The Cove.
Mike Gill says: I agree with many of his picks and want to stress, that you must get a sandwich at Ernest & Son.  Brigantine Bistro, Pirates Den, and Yianni's Cafe are just a few of the spots you are going to want to try.
Next on the list, coming in at No. 25 is Hammonton.
This Atlantic County town is slowly getting on the tourist radar, with a diverse mix of restaurants — pizzerias, Mexican restaurants, wine bar and cafes. Penza's Pies at The Red Barn makes delicious, fruit-loaded pies. Pick your own blueberries at DeMeo Farms or Blueberry Bill Farms. Hammonton is, after all, "the blueberry capital of the world.''
Mike Gill says: Hammonton is such an underrated town, with breweries, and great Italian and Mexican restaurants. Check out Roccos Town House, Illianos Funky Cow Cafe, and Marquez Mexican Grill.  Stop by Viynal, Three 3's, and Chimney Rustic Ales for a great craft beer. Finally check out a high school football game on a Friday, night at Hammonton High.
At No. 15 is a town that seemingly makes every best-of lists, Cape May.
Cape May is one of the nation's Victorian jewels and the Jersey Shore's most romantic town, with its postcard-pretty inns/B&Bs and generally unhurried manner. And what other Shore town allows you a grace period on your expired meter? "The Nation's Oldest Seaside Resort" is named after Dutch captain Cornelius Jacobsen Mey, who explored the area in the early 1600s.
Genovese Must-visits: Emlen Physick Estate; Cape May MAC; Washington Street Mall (pedestrians-only); the Mad Batter; Hot Dog Tommy's; C-View Inn.
Mike Gill says: I'm a big fan of Cape May, and when I'm there I always try to stop in the C-View, do yourself a favor and order the wings. Other spots to check out include the Boiler Room, Rusty Nail, and Lucky Bones Back Water Grille. Pick a nice fall day and take a walk down Washington Street and pick out your favorite shop to get a head start on Christmas shopping.
Further north off the Parkway, coming in at No. 12 on the list is Strahmere.
Being one of just five free Jersey Shore oceanfront beaches should get you on any list, but Strathmere — part of Upper Township — is a Shore town notable for what it doesn't have. There is no boardwalk. No amusement parks or water slides. No parking meters. Not even a pizzeria. The post office is on the ground floor of a faded white house.
Mike Gill Says: As the writer points out, there isn't much in Strathmere, but what they offer is worth checking out.  The Deauville Inn and Twisties are the two spots that stay open in the fall and La Fontana Del Mare is a restaurant that you should visit during the offseason.
Heading back down south on the Parkway is Wes Cape May, which comes in at No. 9 on the list.
No, not Cape May, but sleepy West Cape May, where 1,020 people live at the end of Jersey. Drive down Sunset Boulevard, past the Chattel House Village series of shops (Exit Zero Magazine, The Bird House), past the Nature Conservancy's South Cape Meadows (weekly guided bird walks) to Sunset Beach in Lower, home of an evening flag-lowering ceremony and the state's spookiest attraction — the concrete ship Atlantus, which sank in 1926. Just down the road: The Bread Lady — Elizabeth Degener — and her Enfin Farms roadside stand on Sunset Boulevard. Two more stops: Willow Creek Winery and Exit Zero Filling Station, where you can find the Shore's craziest dish.
Genovese Must-visits: Sunset Boulevard, Nature Conservancy's South Cape Meadows (weekly guided bird walks), Sunset Beach, Willow Creek Winery, and Exit Zero Filling Station.
Mike Gill says: Check out Exit Zero and order the Hot Chick sandwich, Go visit the Beach Plum Farm and head to the end of the state for fabulous views.
Finally, the top-ranked town to visit this fall, coming in at No. 3 on the list is Port Republic.
Thousands of people drive past picture-postcard Port Republic every year without realizing it. It's to your left as you cross the Mullica River southbound on the Garden State Parkway around milepost 50. There's a boatyard, a pleasant town park with a gazebo and a collection of modest homes. Port Republic is a city in name only — a mere 1,000 or so lucky souls live here. There are modest tree-shaded homes on sizeable lots. Atlantic City is minutes and another planet away. The town ended up #1 on my list of the Jersey Shore's 25 best towns.
Mike Gill says: A city with just over 1,000 residents has events in the fall and plenty of history which includes the Port Republic Historic District.  If you like history, spend a day checking out Port Republic.
Other towns that weren't included on Pete's list, but are worth checking out?
With a population of just under 10,000, Ventnor has plenty of restaurants and shopping for someone to stop by and spend a day this fall.  Atlantic City's next-door neighbor has a boardwalk and plenty of restaurants to check out like Nucky's Speakeasy, Velo Cafe, Hannah G's, and Isabella's. Makt Arts is a cool art studio that features local art, Ventnor Coffee has plenty of events and music over the Dorset Ave. bridge.
Next to Ventnor is Margate, where you can grab great wings at Robert's Place, Bocca Coal Fired Pizza, Dino's Sub Shop, Maynard's Cafe is a local favorite and Betty's Seafood Shack is a new kid on the block that quickly became a favorite. There is shopping and plenty of dining like Steve & Cookies and don't forget to stop by Jagielkys Homemade Candy store, you'll thank me.
Somers Point has tons of food options and a great brewery, SoPo, that is worth checking out (I like the beer called Flake News). You have Charlies for wings, Gregories for Taco Tuesday, and Jose Kelly's for great brews and live entertainment.  The Anchorage has always been a hot spot and has a tremendous menu and I like CJ's for breakfast. Check out Kennedy Park and the historic Somers Mansion.
Finally down in Cape May County, Cape May Court House is worth a stop. Home to the Cape May Zoo, a couple of wineries and two breweries, Bucket Brigade and Slack Tide. I like Cafe 101 & Carvery, George's Place, and Nino's for a bite to eat.
25 Best Things to Do in South Jersey — From beaches to boardwalk and everything in between