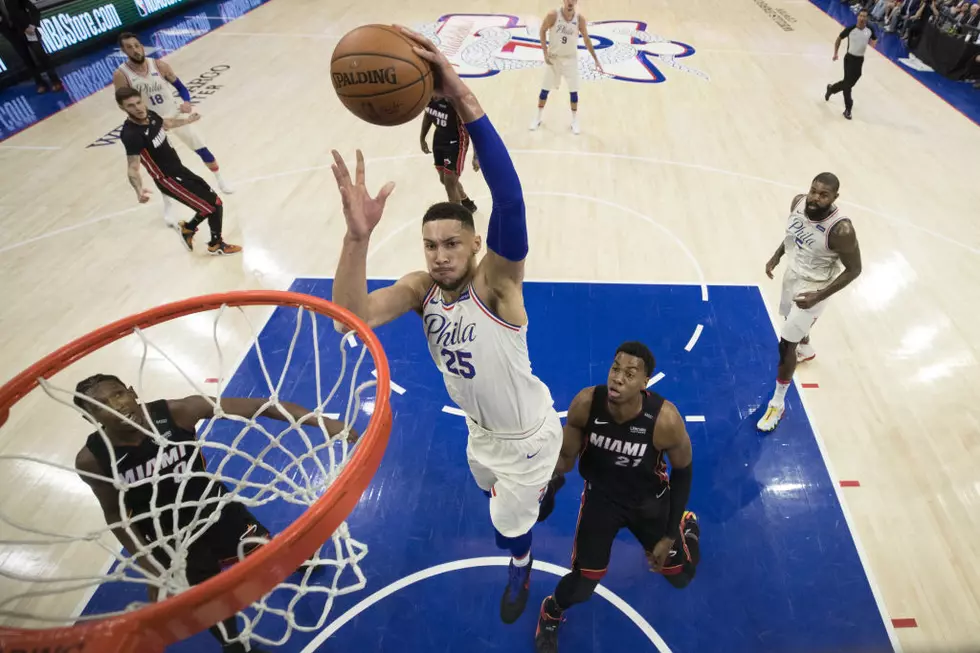 Sixers KPI: One Stat to Watch For Every Starter
Mitchell Leff, Getty Images
A Key Performance Indicator is a measurable value that demonstrates how effectively a player is delivering against expectations. When asked, a player will typically say that they are working on all facets of their game. But as an exercise, let's attempt to boil everything down for each player to one key stat to watch to indicate growth, progress, and meeting team needs. In theory, if each of these metrics is met, the team will thrive as a result.
Ben Simmons - 8 Free Throw Attempts Per Game
Ben Simmons can do nearly everything on a basketball court well. His vision and IQ are truly among the elite of the elite in the game. Those attributes make him versatile on defense and deadly in transition. While the rest of the world debates Simmons' shooting form, I would say that free throw attempts are the key performance indicator for the rest of his career. Simmons has attempted 5 free throw attempts per game for his career. If I were Doc Rivers, I would set his target at 8 attempts from the line this coming season.
Enter your number to get our free mobile app
The reason for this is simple. Free throw attempts indicate an increased ability to play downhill, turn the corner and attack the rim. As Simmons will almost certainly not become a player who forces defenses to fight over screens in a pick and roll, he will need to be more efficient at getting to the rim to take that next step in his career.
Forget his shooting percentage from the line. Drawing fouls has many downstream impacts that are positive for his team. Getting fouled at the rim means he's gotten into the teeth of the defense, which opens up open shots for others. It also means softening the opposing defense by getting rim protectors in foul trouble. These all have positive impacts on the team overall. So Ben, attack the rim.
Joel Embiid - Turnover Percentage Under 13
Joel Embiid is what makes the 76ers unique. In many ways, the franchise will only go as far as he can take them. Joel Embiid provides an anchor on both ends of the floor. His ability to score from three levels is rare, but his gravity on the low block is the real swing skill for this team. Ultimately, if the 76ers want to truly pressure opposing defenses in the slower, half-court pace of the NBA playoffs, the offense will need to come from Embiid in the post.
Opposing teams trap and double Embiid when he gets post touches. The gamble they are making is that it's worth leaving someone open on the perimeter to get the ball out of Embiid's hands or force him to score against two defenders. When teams double team him, his ability to reduce turnovers will unlock everything else in the half-court for this team.
Embiid has reduced his turnover % in the past two seasons to just over 13%. Getting that number down to 12 or 11 would further reduce the risk-reward calculus that opposing teams have to make when the 76ers deliver an entry pass into the post.
Tobias Harris - True Shooting Percentage Over 58%
Tobias Harris is a polarizing figure among some fans who focus on his contract. There is no dissent in the Sixers locker room, however. Harris is a leader on this team and a key figure in the locker room. But for Harris to provide this team what it really needs, his efficiency will have to be closer to the player he was under Doc Rivers in Los Angeles, rather than the player he was for Brett Brown.
True Shooting Percentage is a combination statistic that factors efficiency of scoring rather than raw output. It combines players shooting percentages from 2, from 3, as well as free-throw attempts. Players who get to the line and shoot well from three typically have the best TS%, and players who settle for mid-range shots usually have low true shooting percentages.
Harris was roughly a league-average player last season from an efficiency standpoint, but under Doc Rivers was very efficient. This matters because you want your complimentary players only to take the best shots possible or keep the ball moving on a team with two superstars. Harris settling for 12 foot contested shots off the dribble is near the bottom of the wish list for shots this team should want. A True Shooting % over 58 means Harris is shooting well from three and getting to the line, and that is exactly what you want.
Danny Green - 1.6+ STOCKS
Danny Green brings experience and championship pedigree to the 76ers. His ability to provide wing defense and floor spacing is a perfect theoretical fit with this team. Green played roughly 25 minutes per game for the NBA champion Los Angeles Lakers last season. In 2019 he played just under 28 minutes per game for the NBA champion Toronto Raptors. If Green is to make it a personal three-peat, he will need to play a key role on this team. His scoring and shooting will matter less on this team than his ability to play the kind of defense that has been his calling card.
STOCKS are simply an aggregation of Steals + Blocks. Defense is hard to measure and quantify, but like Matisse Thybulle, it's probably the best measure for a wing defender who tends to play off-ball. Steals lead to transition offense, and that helps Ben Simmons immensely.
Seth Curry/Shake Milton - 42% From Three
Call it cheating, but combining Shake Milton and Seth Curry allows us to look at River's top 6 rotation players. Both Seth and Shake probably have the same KPI, so let's keep it simple. If the two players combine to shoot 42% from three, they provide the 76ers the floor spacing and efficiency that the team needs to be deadly in a playoff series against virtually any opponent. There will be matchups that Milton will likely better fit as a starter and other nights where Curry makes more sense. But forced to boil down expectations to one stat, I go with three-point %. We know a significant number of both players' attempts will be from beyond the arc, so volume is assumed. If the pair can provide this level of elite shooting, it opens passing lanes for Simmons to attack the rim and provides great outlet options for Joel Embiid to pass out of the post.