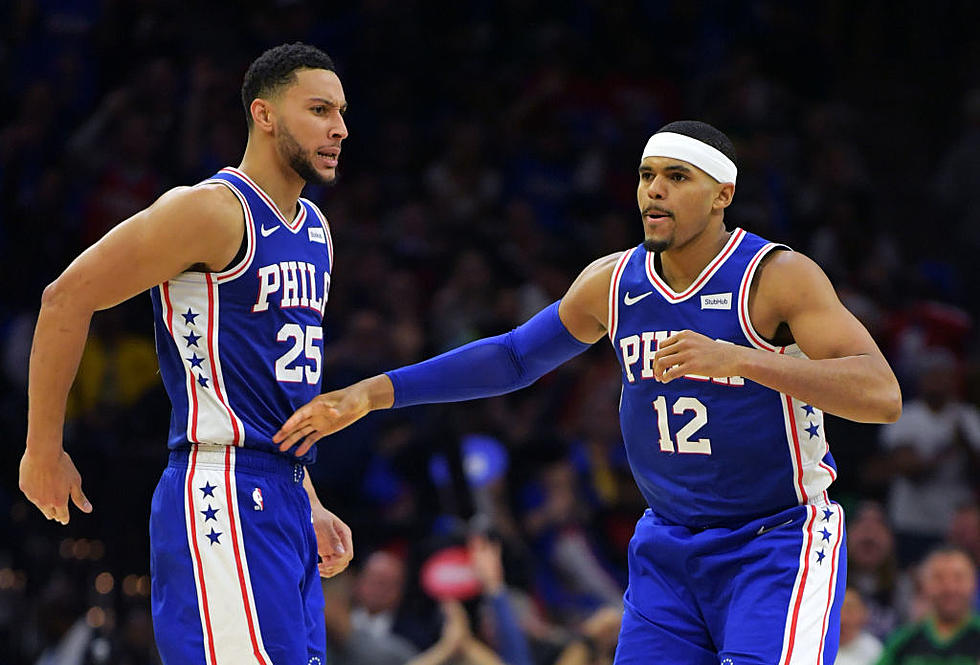 Sixers Need Confidence from Harris and Simmons to Win Series
Drew Hallowell, Getty Images
After coughing up back-to-back double-digit leads, instead of closing the series out with the Atlanta Hawks, the Sixers are on the brink of elimination.
The team had leads as big as 18 on Monday and 26 on Wednesday night, but could not close the deal. However the team can put that behind them with a win tonight in Atlanta and to bring this series back to Philadelphia on Sunday.
"I trust my guys," Sixers head coach Doc Rivers explained. "For the most part they have come through, they've played well. I really believe they are going to do that.  If I didn't believe that I would say that."
Rivers will need to have more than just trust on Friday night, as his team became the only team to lose a game where they had a lead of 18-points or more in back-to-back games in 25 seasons according to ESPN Stats and Information,.
Two guys he is going to need more from are Ben Simmons and Tobias Harris.
The duo combined to score just 12 points on Wednesday, and have just three total points in the fourth quarter of the last two games on 0-5 shooting in 39 minutes of action, showing a complete lack of confidence.
Simmons lack of confidence at the free-throw line has become increasingly frustrating to watch.  While he isn't a very good free throw shooter to begin with, just 59.7% for his career and 61.3% this season, he has totally regressed and has become unplayable at times in these playoffs hitting just 12-of-39 free throws in this series and 22-of-67 in these playoffs.
"No idea," Simmons answered Wednesday night when asked what is going on at the charity stripe. "But I need to get back."
His answer doesn't exactly exude confidence that things are about to change anytime soon at the line.
"It is what it is," Simmons said. Honestly I need to knock down free-throws, step up and do that. It is what it is."
As for Harris, who was the Sixers second-leading scorer, hitting many big shots throughout the season, the late game struggles and the trend that is putting them in this position are also concerning.
But as our buddy Kevin Kinkead from Crossing Broad points out, Harris did have a solid year late in games this season.
"When we gain those leads, we kind of go away from what got us there," Harris said. Playing defense, moving the basketball and getting good looks."
From the sound of this comment, it almost sounds as if Harris thinks the team as gone away from what they did during the course of the season.  Has Rivers lost confidence in Harris?
However, Harris has appeared to shy away from the bigger moments in these playoffs after being one of the teams big shot makers throughout the season in late game situations. He had a shot to give the Sixers the lead with 1:17 left in the game on Wednesday, but passed off to Joel Embiid, who was doubled and passed back to Harris, who had his layup attempt blocked.
For the Sixers to take this game in Atlanta, they are going to need both Simmons and Harris to much more aggressive.  The team got field goals from just two Sixers, Embiid and Seth Curry on Wednesday night and that can't happen again.
"Our backs are against the wall and we have to play like it," Harris said.
He's right, now let's see if he listens to himself.
You can listen to the Sixers and Hawks on 97.3 ESPN with Tom McGinnis calling all the action starting at 7:30.
LOOK: Here is the richest town in each state
Just saying the names of these towns immediately conjures up images of grand mansions, luxury cars, and ritzy restaurants. Read on to see which town in your home state took the title of the richest location and which place had the highest median income in the country. Who knows—your hometown might even be on this list.