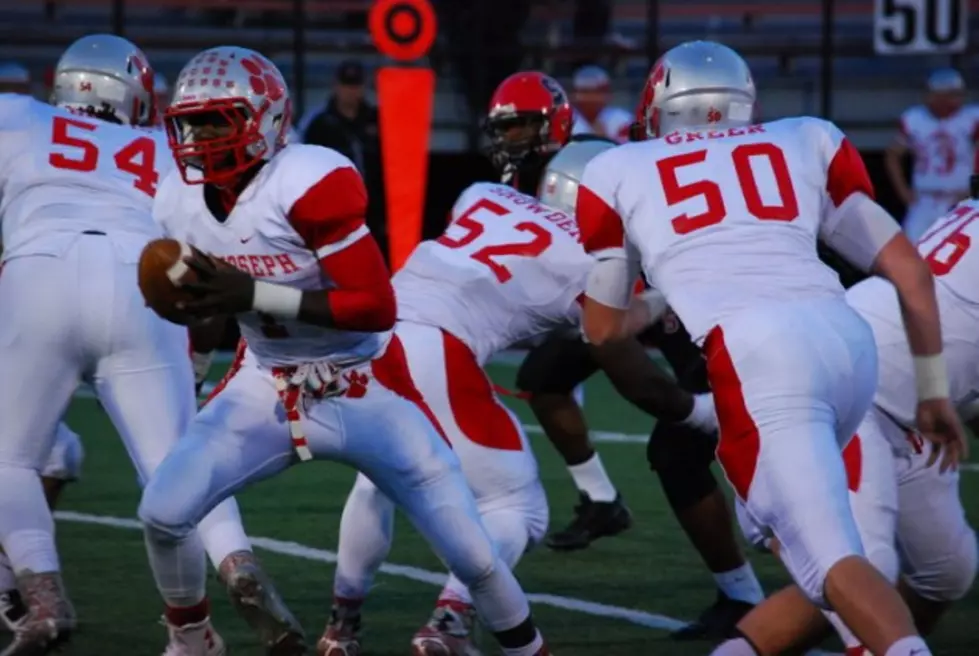 St. Joseph Wildcats Rally, Win in Ohio 25-23
Photo Courtesy: Press of Atlantic City (Click on the image to see the image gallery from the game)
There's an awful lot of high school football tradition running through the Ohio/western Pennsylvania area.
So with that being said, when Hammonton's St. Joseph High School took a 400-some mile journey to Steubenville, Ohio, to take on one of the country's most-storied high school football programs, nobody would have blamed them if the came back with a loss.
However, down 14-0, the Wildcats rallied, miles from home, and staked their claim as not only South Jersey's top team, but also among the top programs in the country.
St. Joe signal caller,
Salaam Horne
 scored three rushing touchdowns, including a 73-yarder early in the third quarter. That long run put the Wildcats on top for the first time - and for good.
St. Joe goes to 5-0 on the year with Saturday's rare come-from-behind win. The Wildcats will take on
Atlantic City on Friday
, in 97.3 ESPN's Game of the Week.
---
---
Middle Township hosted an out-of-state opponent Saturday. The pounded Bristol (PA) 44-17. Undefeated Buena will head to Bristol on Halloween. Meanwhile, yesterday's finals bring the Cape-Atlantic League's record against out-of-state opponents this year to 2-2.