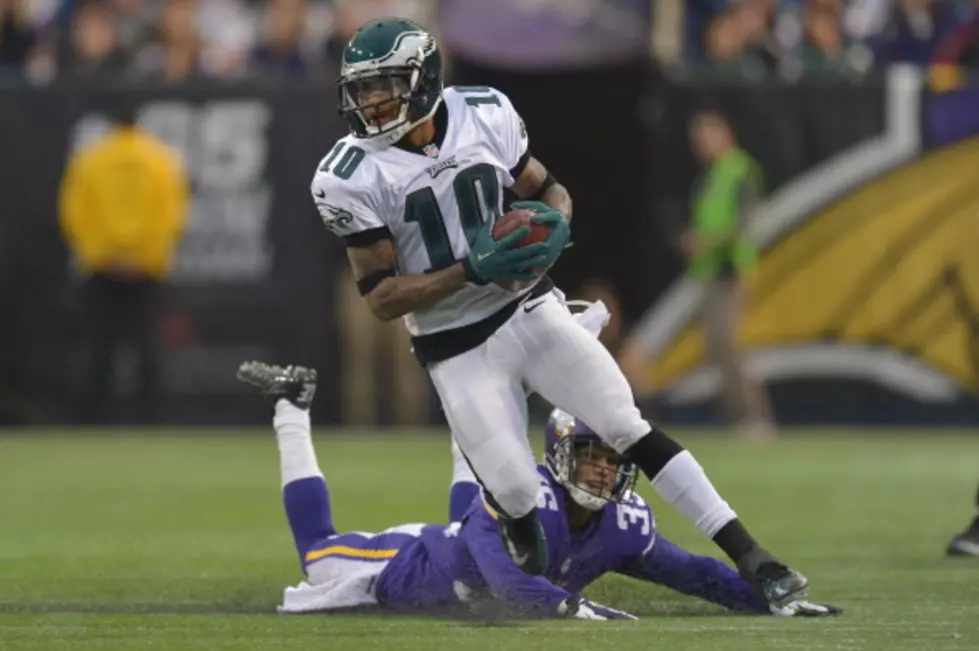 Taking another page from Chip Kelly's playbook
Getty Images
The Chip Kelly years in Philadelphia were not considered a success by any stretch of the imagination. A few positive things to come out of the Kelly-era, however, were career-years from Nick Foles, DeSean Jackson, Jeremy Maclin, and LeSean McCoy.
To help a struggling Foles and spark an eventual Super Bowl-run in 2017, Doug Pederson went back to the film of 2013 and took a page out of Kelly's playbook. A playbook that allowed Foles to throw for 27 touchdowns and just 2 interceptions.
Two years later, Pederson could once again dive into Kelly's offense to find out how he can maximize DeSean Jackson's second stint in Philadelphia.
When Jackson hangs up the cleats, he will go down as one of the best deep-threats in NFL history. In the past, being that home-run hitter has made offenses want to keep Jackson on the outside the majority of the time to stretch the defense.
Jackson can do significant damage, however, in a number of ways around the field. The way Chip Kelly deployed him as a weapon in a certain 2013 matchup should be part of the blueprint for Pederson.
The game to take notice of was a Week 15 loss to the Minnesota Vikings in 2013.
Jackson tied a career-high 16 targets finishing with 10 receptions 195 yards and 1 touchdown.
Kelly moved the wideout all across the formation utilizing his explosiveness on the outside, in the slot, and even at RB.
Jackson lined up in the backfield repeatedly as Philadelphia took advantage of a matchup against current-Eagles safety Andrew Sendejo.
There may not be a more dangerous threat on a wheel route down the sideline against a linebacker or safety than Jackson. While the Eagles have Darren Sproles to use in this way, Jackson can make contested catches like the one below in one on one situations where complete separation isn't created.
Pederson could even use a formation that has both Jackson and Sproles/Miles Sanders in the backfield like the Eagles did with Jackson and McCoy.
Getting his top-tier speed in space is a huge advantage for the offense.
Jackson separates better than any player in the NFL but he is also very elusive making defenders miss after the catch. Whether it is lining him up at RB, running underneath routes, or dialing up reverse plays, the Eagles would be smart to steal this gameplan for Jackson against Minnesota.
Many defenses including the Eagles don't have their cornerbacks follow one receiver across the field.
In an offense with as many weapons as Philadelphia, that might be the plan for a lot of teams. Thus allowing Jackson to potentially find himself in with these kinds of mismatch.
When Jackson was the top wideout in Philadelphia his first time around, year after year the Eagles scaled back how often they used him in these packages, and as a punt returner. Likely to limit the number of hits he took as a 175 pounds receiver.
Now that Pederson is running an offense that will spread the ball to a dozen proven weapons, it may be time to fully unleash Jackson the way Chip Kelly did.