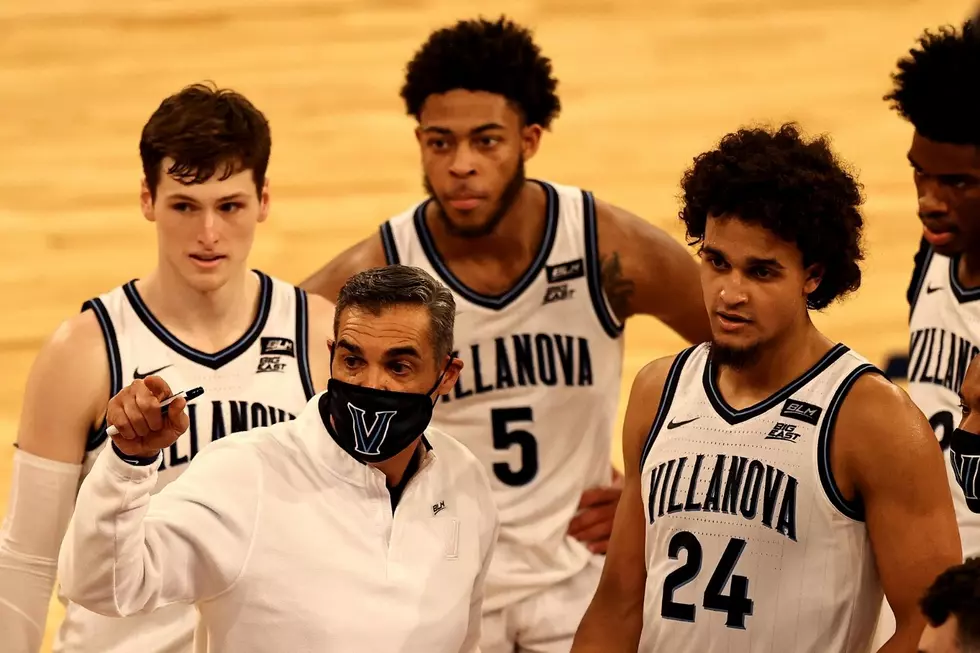 The Madness Is Back With Villanova In The Tournament
(Photo by Elsa/Getty Images)
The NCAA Tournament is underway and its wall to wall basketball games all weekend. College basketball fans have filled out their brackets and it's always fun watching people with brackets in hand checking on the scores as the tournament progresses. This time last year it was all stolen from us with the outbreak of the Covid-19 pandemic, so it's exciting to have March Madness return!  This year only two local teams have been selected to play in the tournament and they both play Friday: Villanova finished the season with a 16-6 record being slotted as a fifth seed while Drexel with a 12-7 record gets in as a Sixteen seed.
The Flyers who were embarrassed by a 9-0 loss to the Rangers on Wednesday night at Madison Square Garden but they returned to action the next day with a huge win over the New York Islanders in a 4-3 victory at Nassau Coliseum.  The Flyers now have two more games against the Islanders who current sit in second play the East Division.
The Sixers who are coming off an Overtime loss to the Milwaukee Bucks without Joel Embiid, they prepare to take on the Sacramento Kings at home Saturday night before they embark on a five game west coast road trip.  With Embiid and now Seth Curry out of the lineup due to injuries, the Sixers have their work cut out for them with a road trip that includes games against the Lakers, Clippers, and Nuggets. 
On Saturday's The Locker Room with Billy Schweim we will talk with Mike Sielski of the Philadelphia Daily News about the Flyers, his feelings on Jake Voracek and JV's comments about Sielski's work.  Then we will hear from the radio voice of the Villanova Wildcats Ryan Fannon about this College Basketball season and the challenges they faced over the last several months.
On Sunday's Show, I will be taking the day off but we will bring you the "Best Of The Locker Room".  I've picked six interviews over the last several weeks that are worth hearing again including Tampa Bay Defensive Backs Coach and Paulsboro native Kevin Ross, Flyers Radio Play-by-Play Voice Tim Saunders, Legendary NHL announcer Mike Emrick, Six time Stanley Cup Champion Mark Messier, Former Flyers goalie Dominic Roussel, along with former Phillies pitcher and World Series Champion Jamie Moyer.
Don't miss all the action starting every Saturday and Sunday at 10am on 97.3 ESPN radio.
KEEP READING: Flyers Top Goal Scorers Each Year Since 2010
LOOK: Carson Wentz's $1.7M South Jersey Estate is for Sale