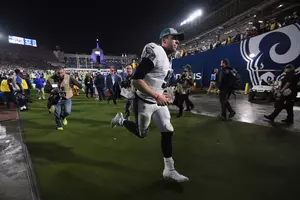 The Magic of St. Nick is Intangible
LOS ANGELES, CA - DECEMBER 16: Nick Foles #9 of the Philadelphia Eagles runs off the field after a 30-23 win over the Los Angeles Rams at Los Angeles at Los Angeles Memorial Coliseum on December 16, 2018 in Los Angeles, California. (Photo by Harry How/Getty Images)
PHILADELPHIA (973espn.com) - The Eagles don't have a quarterback controversy.
From scouting and contractual standpoints the answer to that is obvious but when you add in the results portion of the equation it does get a touch murkier.
And it was a little ironic that Eagles coach Doug Pederson busted into the team's joyous locker room in Los Angeles last night by telling his players to give him a "Hell Yeah" after stunning the heavily-favored Los Angles Rams 30-23.
That, for those of why who don't know that is the tagline of professional wrestling legend "Stone Cold" Steve Austin and it's usually followed by the punctuation of "that's the bottom line because Stone Cold said so."
The bottom line for Philadelphia is this team usually wins with Nick Foles under center, a stark fact best highlighted by the Lombardi Trophy in the lobby of the NovaCare Complex and the realization St. Nick has won 21 of his last 27 starts under center for the Eagles, a gaudy .778 winning percentage that someone even with the surname of Brady might be envious of.
"I'm not trying to think about it," Foles said of his success, which reached to 7-2 [that same .778] as a starter since he returned to the Eagles before the 2017 season. "I'm just trying to stay in the moment with this. I'm blessed to be part of an amazing team, the Eagles franchise … So I'm just enjoying the moment."
It's tough to explain the success on some levels because Foles simply doesn't have the physical gifts of Carson Wentz. Some of it is likely subconscious in that Foles' teammates know they have to dial it in a little bit more without the uber-talented Wentz around to erase some mistakes with off-schedule offense.
But, that ignores the fact that Foles seems to know how to win, an intangible that drives the numbers-obsessed professional sports world batty because it simply can't quantify it.
Bring up the wins and losses of a starting pitcher in baseball and you might get indicted for violating the Cathedral of Bill James but smarter players in all sports have always played to situations.
At the height of his career former Major League pitcher David Wells was the epitome of that. Always a top-tier win-loss pitcher, Wells would tailor his approach to situations. Give him an eight-run lead and he would throw strikes in an attempt to get to the finish line as quickly as possible. Give him a one-run advantage and his mindset would change.
Foles, like the injured Alex Smith in Washington, isn't going to wow you from a physical perspective but he seems to understand what it takes to get to the finish line on any given Sunday, which can always differ from week to week.
"I really didn't look at the time on the clock, the score," Foles said. "I just wanted to go out there when Doug [Pederson, the Eagles' coach] called the play, just communicate in the huddle, just tell the guys, 'Hey, we're living for this moment. Stay in this moment. Don't think of anything else, all the distractions or the score or whatever it may be. Just execute this play.' And we were able to do that. "
None of this can be easily quantified like arm strength, mechanics, quickness or a 40-time but it's a trait worth valuing, perhaps more than any other.
"I think [winning QBs]  have a great handle on how to process -- I know in Nick's case, former basketball player and I know he said this before -- he's like a point guard in basketball, and he just wants to distribute the ball, doesn't matter where. He just wants to distribute the ball," Pederson said. "I think that's what you see characteristic of great quarterbacks in this league is how well they can do that. They don't get too high. They don't get too low. They kind of stay right in the middle. If something negative happens in the game, they brush it off and want to come back to it again. They will make it right the next time."
-John McMullen covers the Eagles and the NFL for 973espn.com. You can reach him at jmcmullen44@gmail.com or on Twitter @JFMcMullen