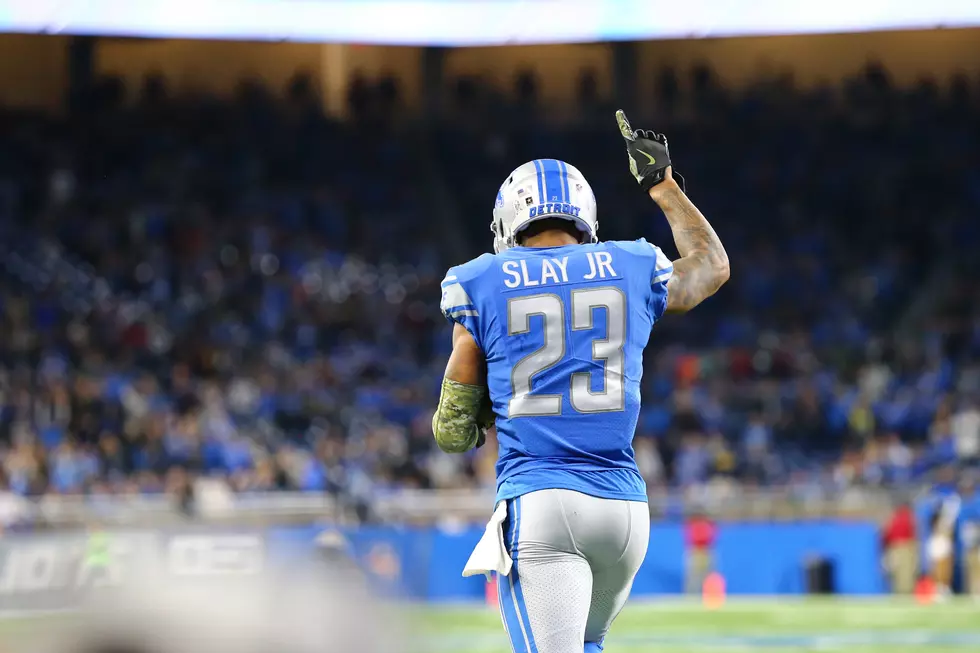 The New Face of the Eagles Secondary is Darius Slay
Getty Images
Last week, the Philadelphia Eagles announced they acquired cornerback Darius Slay in a trade with the Detroit Lions in exchange for a third and fifth round pick in this years draft.
The move came less than 24 hours after the team let safety Malcolm Jenkins leave for New Orleans, so they needed a new face of their secondary.,
Enter Slay, who will slide into the No. 1 cornerback spot the team has been lacking for years.
So if Slay is a significant upgrade to what the Eagles have in their secondary, why were the Lions so willing to move him at at reasonable price?
"The Lions didn't want to pay him what he was looking for - that's a large reason why he was put on the trading block," explained ESPN Lions reporter Michael Rothstein on The Sports Bash.
By adding Slay, the Eagles finally have that shutdown style of corner they have been lacking, who can follow, and shutdown opposing No. 1 wide receivers.
"They are getting a really, really good player," Rothstein said.
While the Eagles may not have had their eye on Slay right from the start, and he might not have been their first choice to make a play for this offseason, they may have landed a better player than they would have gotten in free agency, like Byron Jones from Dallas.
"He's a good player, he's great man-corner, he's a great press-corner, he still has has speed and can hang with any receiver," Rothstein continued.
This tweet from Jeff Ratcliffe from Pro Footbal Focus, shows how well Slay played when matched up with some of the top receivers in 2019.
This Tweet from Warren Sharp also takes a closer look at Slay vs Amari Cooper, who he will now face twice a year when the Eagles face Dallas.
Slay also helps fill some of the void in the community by the departure of Jenkins.  He is routinely seen at local events all over the city and in the community.
"For the city of Philadelphia and the surrounding suburbs, he's a great community guy," Rothstein said.
"He goes out to high school football and basketball games, he just hangs out with fans on his own, he really enjoys doing that.  He has mentored some of the bigger name athletes in Detroit.  He's a very good community guy."
While Slay has been Detroit's best defender the past few years, making three Pro Bowls and being named a first team All-Pro selection, he doesn't get the credit he might deserve with the Lions struggles during his tenure in Detroit.
"If he played in a bigger market, or on a team that got to the playoffs and won a couple of playoff games, I think people would look at him a bit better publicly," Rothstein admitted.
"In the league itself, I don't think there is any question the amount of respect he gets."
"This is a good move for the Eagles, its a great move for Darius Slay."