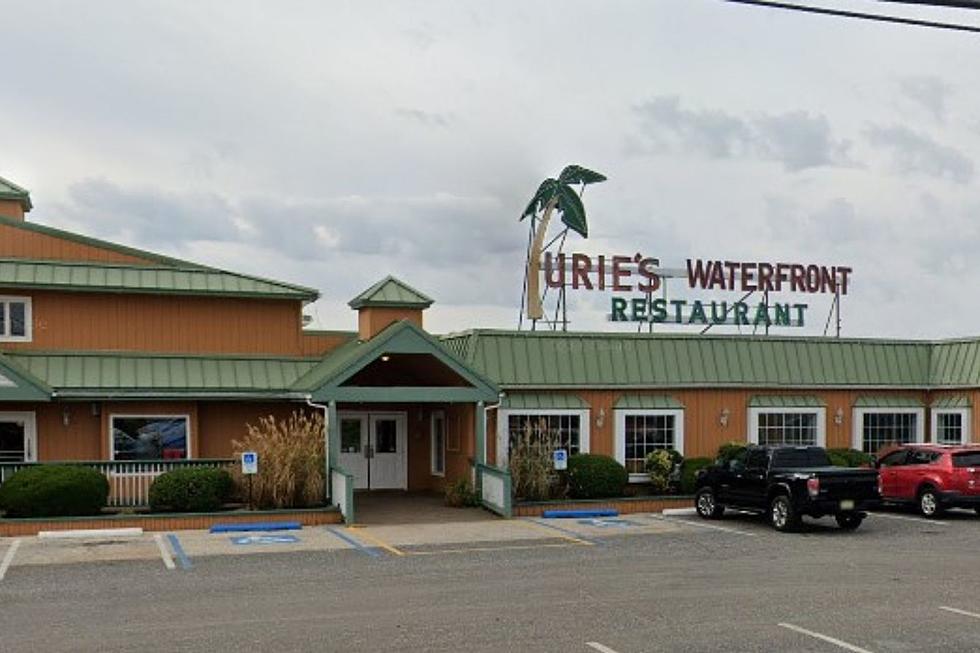 Uries Restaurant celebrating 67 years serving Wildwood, NJ
Google Maps
Uries Waterfront Restaurant is celebrating their 67th year in business serving locals and vacationers visiting Wildwood; On Friday, July 14th, The Sports Bash with Mike Gill will be broadcasting live on location from 2 pm to 6 pm for this week's edition of "Happy Hour Friday" where 973 ESPN will be giving away an all expenses paid trip for two for the Phillies game in Pittsburgh the final weekend of July.
As you drive over the Wildwood Boulevard Bridge via Route 47, you will find Uries Restaurant located to the right of the bottom of the bridge on West Rio Grande Avenue. This Restaurant on the bay has been a staple of the island community since 1956.  It was first opened by three brothers, George, Charles, and Larry Urie, as an extension of their seafood and catering business in Philadelphia.  In the summer months, business was very slow in the city for them, so it was a simple idea to open a restaurant on the docks at the Jersey Shore where all the people would go for three months of the year.  After eight years, George Urie decided to take over the restaurant in Wildwood full-time from his brothers and ran the business for almost forty years with his wife and kids.
Formerly known as Urie's Fish Fry Restaurant, the property has grown from a little seafood eatery on the water to what is today a dining complex.  Whether you are traveling by boat the waterways around the Wildwoods' island or driving into town over the Wildwood Boulevard Bridge, there is something for everyone at Uries Waterfront Restaurant.  After 40 years of ownership by the Uries Brothers and Family, the property was sold to a group of local businessmen who also own their neighbor, The Boathouse Restaurant.  Dan Powell is the Executive Director of the Big Fish Restaurant Group and he spoke to me about the evolution of the restaurant from a small seafood restaurant to the multi-layered property the establishment is today:
"We have certainly grown while keeping the same original feel of family tradition and fresh seafood. Our most recent addition is the beautiful inside sports pub offering multiple TVs and a pub-style menu (which is) perfect for watching the game. With one of the largest covered outdoor bayside seating decks in (Cape May County), Uries offers unique views of not only the beautiful yachts surrounding us but the famous Wildwood sunsets. We look forward to many more families adding Uries to their shore tradition by cracking crabs by the water."
The Jersey Shore communities have faced real adversity over the years that created a complicated environment for businesses to operate in, including Hurricane Sandy in 2012 and the COVID-19 Lockdown of 2020.  But just last week, Wildwood faced a new obstacle as there was a major power outage on the island because of a fire at one of the Atlantic City Sub-Stations, leaving homes and businesses without power for more than 24 hours.  But as Dan Powell points out, its another example of how Uries Waterfront Restaurant is a big part of the Wildwood community:
"Uries has been a staple of the island life where we all help each other in times of need. Just (last week) we experienced a black-out - Because of our efforts and surrounding businesses coming together to help one another, many businesses were able to save their product and avoid an even more devastating blow. It's being a staple in this community for so many years that has kept Uries a household name at the Jersey Shore."
You are invited to come out and join Mike Gill this Friday, July 14th, for this week's edition of "Happy Hour Friday" as 973 ESPN will be broadcasting live from 2-6 pm at Uries Restaurant.  If you cannot make it out this Friday, don't miss out on checking out all that Uries has to offer whether you want to enjoy the Wildwood Sunset with your dinner or want to watch a Phillies or Eagles game, they are there to serve you!
10 Favorite Things about Cape May County