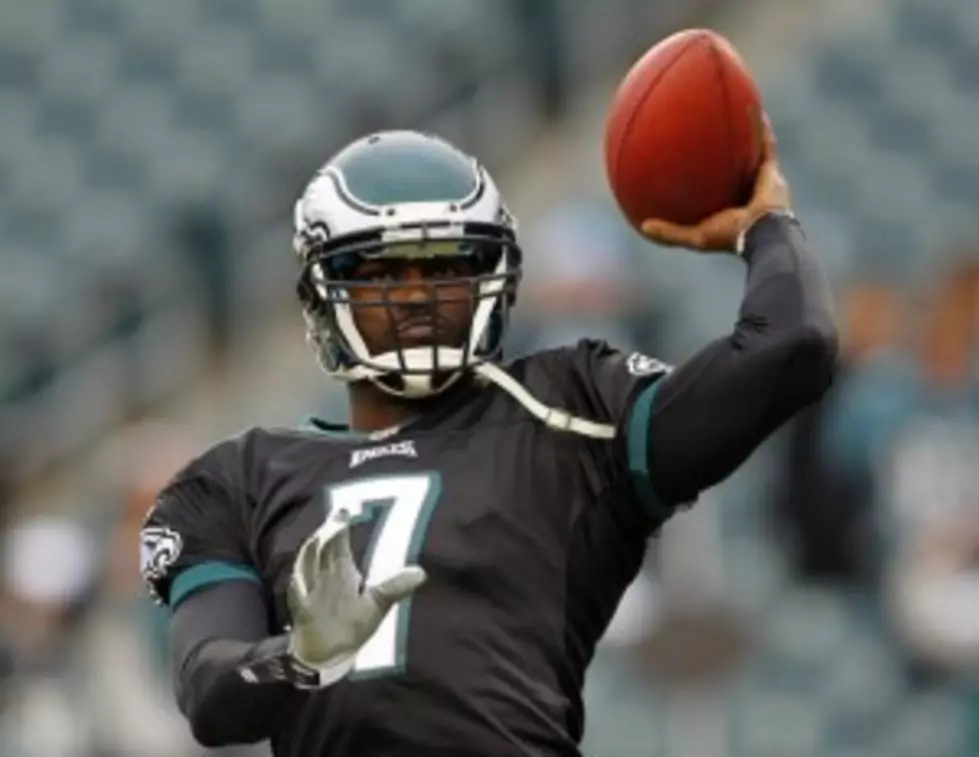 Will Mike Vick Return in to the Eagles 2013?
Will Mike Vick be back with the Eagles in 2013? (Photo by Rich Schultz /Getty Images)
Former Eagles safety Brian Dawkins spent many years playing in the city of Brotherly love, he knows how the Eagles organization thinks.  Mike Vick, because of a provision in his contract is still with the team and they will be able to keep him on the roster until March 11.
(Listen to ESPN reporter Sal Paolantonio talk about Mike Vick's future in Philly)
Vick stated a few months back that he has no interest in restructuring his deal, he is due $16 million in 2013.  That is going to have to change if he wants to stay with the Eagles, but Dawkins speaking on the Scott Van Pelt show thinks Vick might change his mind and be willing to to re-work his contract.
"I think it will (his mind will change)," said Dawkins.  "When you talk about a player, the pride, your thinking, I'm not taking a pay cut for nobody.  That is just your mind-set.  But when you look at Mike's situation, where he is right now, the bad year that he just came off of and not knowing what the market is going to be for his service out there.  I'm saying to take that pay cut, to go into this offense, that to me will benefit him and allow him to showcase the talents that he has shown us for so many years, not having to think so much, just playing football, reacting, that will show people that I am back, that I can get the job done - and get back to that $12 million.
If he plays well enough in 2013 to earn another contract at some point some team will be very happy they took a chance on Vick - the big question is; will it be the Eagles?
According to Mike Freeman of CBS, new Eagles coach Chip Kelly "likes the idea" of keeping Michael Vick at a reduced salary, but "genuinely doesn't know" what he has in him.    According to the article, per a "person familiar with the Eagles' thinking," Kelly believes Vick remains "more than a viable thrower," but is spooked by his injury history and turnover rate.
Further more, in the article, it states that Kelly is "not as high on [Nick] Foles as some believe."
Think about it, if you are Chip Kelly making the jump from the college game to the NFL, do you want to run your innovative offense with Nick Foles who has played just a handful of NFL games and doesn't have much mobility or do you want to take a shot with the former no. one overall pick in the draft?
The answer seems simple to me, but the Eagles are still in an "evaluation period" with Vick, and you can be sure that money is the "top factor" in Vick's Philadelphia future.