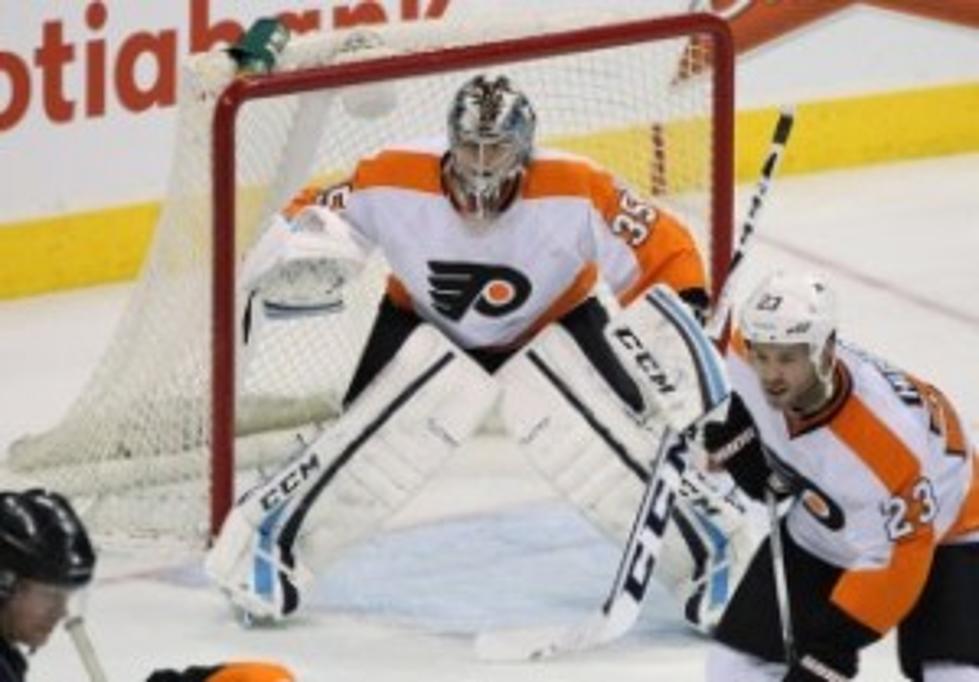 Will Steve Mason be Ready for Sunday?
Steve Mason took part in Friday's practice. (Photo: prohockeytalk.nbcsports.com)
NEW YORK — For the first time since Tuesday, goalie Steve Mason was on the ice in practice.
Conditions were a bit unusual. The rink at Chelsea Piers isn't quite NHL size and the players shooting on him – Jay Rosehill, Chris VandeVelde and Erik Gustafsson – didn't play in the Flyers' Game 1 loss to the New York Rangers Thursday. Goalie coach Jeff Reese and assistant coach Ian Laperriere watched over practice as trainer Jim McCrossin sat at the bench with a watchful eye.
Mason was knocked out of last Saturday's game in Pittsburgh when Penguins forward Jason Megna threw Andrew MacDonald into his own goalie. Mason fell back ward and the back of his head hit the ice. He finished the second period, but didn't play in the third.
"I remember everything," Mason said."I made a save on (Sidney) Crosby coming down my right-hand side. Rebound kicked to my left. I was just looking to try to get a stick on it and Mac was kind of in a helpless position when he got pushed into me."
The Flyers won't say if Mason suffered a concussion on the play and neither will he. He did say that before Saturday he had two documented concussions in his career. He practiced Tuesday for about a half hour, but didn't feel very good. Friday was much, much better.