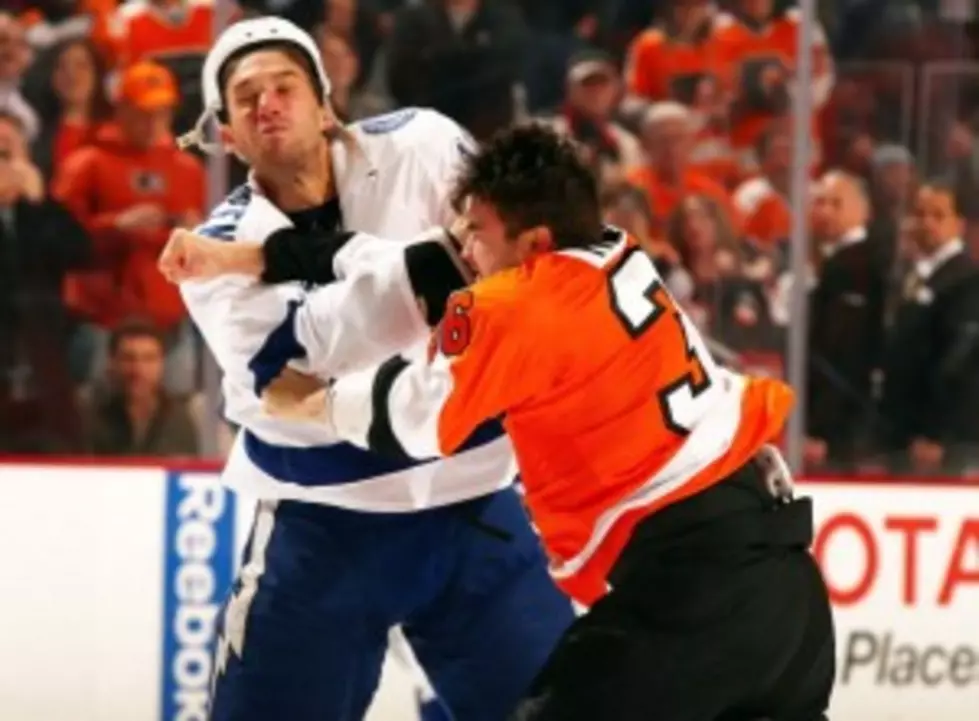 Zac Rinaldo Out Six Weeks with Ankle Injury
Zac Rinaldo and B.J. Crombeen fight. (Photo by Elsa/Getty Images)
Nothing could have brought down Zac Rinaldo Wednesday night, apparently not even an injury.
The 23-year-old winger notched his first goal of the season, the game-winner in the Flyers' win over the Montreal Canadiens. After the game, he was smiling and joking. Oh, and he wasn't limping.
The next day, however, wasn't as uplifting.
Rinaldo will miss the next six weeks with a left high-ankle sprain, GM Paul Holmgren announced. The Flyers didn't call someone up from the American Hockey League's Adirondack Phantoms to replace Rinaldo immediately.
In 44 games, Rinaldo has 153 hits and 101 penalty minutes to go with Wednesday night's goal and an assist back in October.
The third-year Flyer has also had some increased responsibility recently and actually led the team in shots Wednesday with four.
"He's played good hockey," coach Craig Berube said after the game. "We're using him killing penalties at times. His physical skating, I think, really rubs off on our team. He can really skate, he's been physical and not taking penalties, which is important."
Rinaldo said that recently he's been making a conscious effort to contribute more than just a physical effort. He fought Montreal's Brandon Prust, his first time dropping the gloves in 11 games.