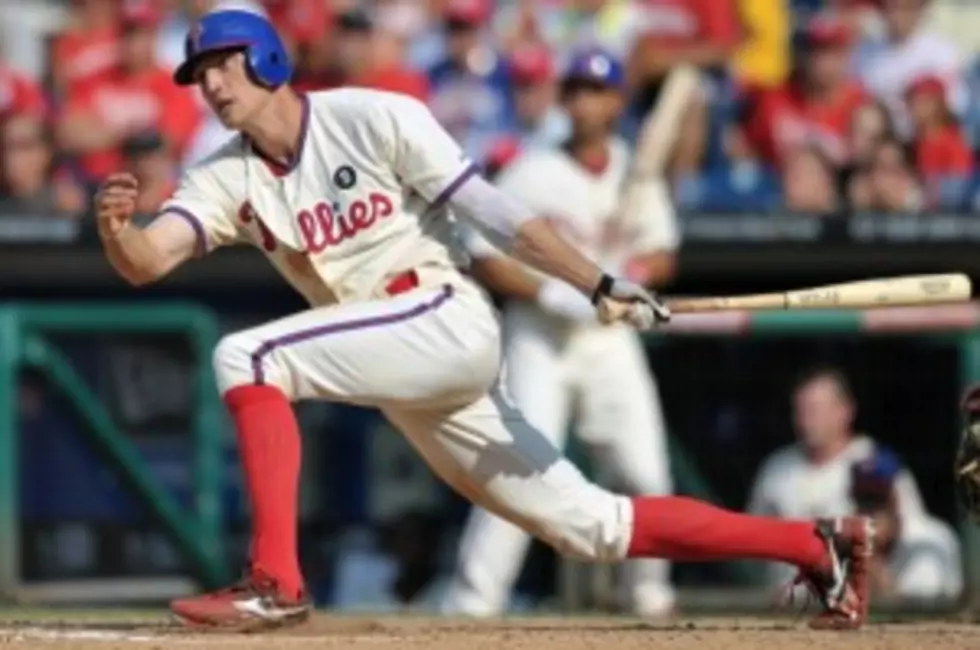 Anyone Else Missing Hunter Pence?
The Phillies could use Hunter Pence's right-handed bat. (Drew Hallowell, Getty Images)
Consider what the Phillies have sought this offseason (three-year averages):
Josh Hamilton - .313 BA, 33 home runs, 107 RBIs
B.J. Upton - .242 BA, 23 home runs, 74 RBIs
Ichiro Suzuki - .282 BA, six home runs, 36.7 RBIs
Cody Ross - .260 BA, 16.7 home runs, 66 RBIs
All drew varying interest. It's unclear whether Hamilton was extended an originally reported three-year, $80 million offer from the Phillies. He signed for five years and $125 million from the Angels Thursday. Upton drew a five-year, $55 million offer from the Phillies weeks before signing for $20 million more and the same years in Atlanta. Ichiro fielded from the Phillies a two-year, $14 million deal, about what he's set to sign with the Yankees. Ross has been targeted, even if he hasn't yet gotten an offer.
Even include what they could've pursued, but haven't and likely won't (three-year averages):
Nick Swisher - .273 BA, 25 home runs, 89 RBIs
Swisher, according to reports, will begin visiting teams next week. Vying are, reportedly, the Red Sox, Yankees, Indians and Giants. The Rangers, who missed out on both Hamilton and Zack Greinke, have the money and could make Swisher the seven-year, $126 million man he outwardly sought to be, rendering him unaffordable for Philly.
Now consider what the Phillies had, but dealt (155 games over two seasons):
Hunter Pence - 289 BA, 28 home runs and 94 RBIs
Pence, of course, was shipped to San Francisco in July for Nate Schierholtz (non-tendered by the Phillies last month) and prospect Tommy Joseph, in what was effectively a cash dump. The Phillies sought to save the $15 million in salary he'll likely in arbitration negotiations this season, to create flexibility for moves elsewhere.
In reality, all they accomplished was necessitating that he be replaced -- with someone in a free agent crop of similar, if not lesser, players. Worse, they've yet to seriously pursue said replacement.
Forget that the Phillies haven't courted any of the players available in earnest. If true, the three-year offer they gave Hamilton wasn't more than due diligence. Same thing for the Upton deal, just in case. Suzuki should be considered a discount target, a distinction he earns because of his diminished value. Same story for Ross.
People forget, though, Pence wasn't all that bad here. At all. He pained through 2012, but only once he was thrust into a role for which he was never intended. He was never supposed to carry a lineup. Yet, when Ryan Howard missed the first three months of the season, there was Pence, an accidental four-hole hitter. He didn't stand a chance.
With Howard, Pence hit .324/.394/.560 in 54 games. Without him? Just .271/.287/.384 in 101 games. As for his power numbers, Pence's 162-game averages with Howard were 50.1 home runs and 105. Hardly sustainable, but that was the type of tear Pence was on. Sans Howard, those fell to 27 bombs and 94 RBIs.
The irony? At his worst, Pence still represented a better option than all on the free agent market but Hamilton.
Assuming the Phillies didn't trade Pence, and instead traded a fun but anticlimactic summer run last year -- which may still have happened with Pence, maybe with better results -- the 2013 Opening Day lineup would look something like this:
On paper, given the longevity Howard and Utley demonstrated in 2012, re-inserting Pence in a lineup enriched with reliable average guys in Young and Revere and Ruf's power potential seems, at worst, serviceable.
At best, it's actually imposing.
Forget what Pence did with San Francisco after being dealt. Baseball players are delicate creatures, uber sensitive to their environment(s). That goes for geography, but also psychology. When Pence was shipped out, his psyche -- he loved this city, remember -- was trashed, rendering those meaningless for this comparison.
Barring a long-term deal with the Giants, who are reportedly pursuing an arbitration deal with him now, Pence will become a free agent next winter. In theory, the Phillies have the money to spend. Between the 2013 cost savings in dealing him and economizing from Shane Victorino to Ben Revere and finding a third baseman, Michael Young, in Placido Polanco's 2012 pay grade, they should have $24.5 million.
Then there's the $50.5 million that comes off the books after 2013, with Roy Halladay, Chase Utley, Carlos Ruiz, Young and Kyle Kendrick. None are sure-things to produce in 2013, let alone do so at a level that demands they be re-signed.
The worst part isn't that the Phillies have demonstrated reluctance to spend any of it this winter. It's that they couldn't go after Pence, who last year became as good as damaged goods in Philadelphia, if they hoped to rectify what now seems a mistake.