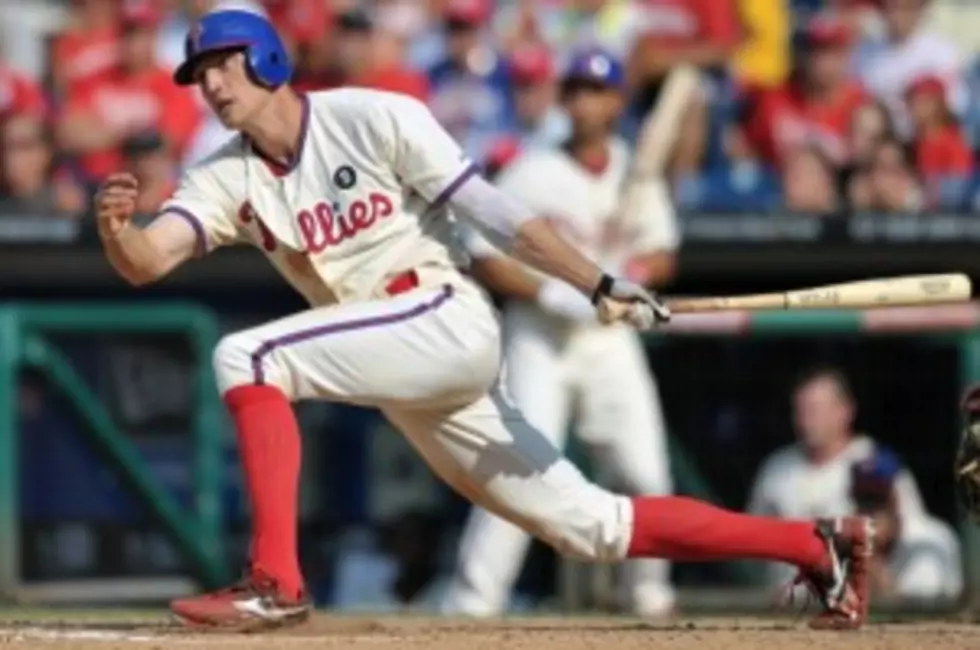 Are You Ready for Some Phillies Baseball?
The Phillies are about to play meaningful baseball for the first time in months and I hardly feel prepared for it!
In my defense, the season has sneaked up on me and I got sick while I was in Clearwater last week, messing with my baseball clock.
Regardless of whether we are ready for the season, it's starting early Wednesday morning. So here are five things about the Phillies I am looking at this season.
1. The Line-up. Jimmy Rollins will hit third in the Phillies batting order to start the season, at least until Ryan Howard and Chase Utley return. I am looking forward to seeing what kind of damage the top of the order can do with Shane Victorino hitting lead-off and Placido Polanco hitting in the two-hole.  Polanco was once an elite two-hole hitter, but injuries have derailed him since he signed with the Phillies and we haven't seen the vintage number two hitter here in Philly.
This puts Hunter Pence in the four spot, but the big question is, who will hit behind him?
We will see what John Mayberry Jr. and Ty Wigginton can do in the run-producing spots behind Pence. Rollins will hit third, leaving Pence to hit fourth without Howard in the line-up. Can Mayberry be the player he appeared to be growing into last season? Mayberry hit 15 home runs in just 267 at-bats last season and will be counted on to provide some pop in the middle-of-the-order.
Can Wigginton come in and give the Phillies some production in the five-hole after hitting just .234 with no homers in 47 at-bats this spring?
If those two develop into a solid five, six tandem, the Phillies offense will be alright without Chase Utley and Howard.  If not, the offense might struggle to score runs and put much more pressure on the pitching staff.
2. Who's in Left. As anyone who has read this blog or listened to this show knows, I am not Mayberrys' biggest fan. My biggest problem with Mayberry is that I think he is more of a fourth outfielder and bat of the bench.  I see a guy that if he gets regular at-bats, will be figured out quickly.  Expect a lot of slumps from Mayberry.
The Phillies need to keep Mayberry in the line-up as a power hitter and Juan Pierre obviously does not fit that description. With Citizen's Bank Park's dimensions, Mayberry could pop 20-25 home runs, but we he be able to hit around .255?   Without having a solid hitter at second base and, without Howard at first, the Phillies will need to find more power and Mayberry fits that bill.
I am looking forward to how left field plays out, with the need for power Mayberry will get the first shot, but speed demon Pierre could be in the mix sooner then later.  He has a solid spring and brings a small ball dimension to the Phillies that has been lacking in the past.
If Mayberry struggles to hit for power, Laynce Nix has some pop and can be used in left field as well.
3. Injuries. We need more time to determine how the Phillies line-up will fare without Howard and Utley, but there is little doubt that the spring training results are not in their favor. John Mayberry Jr. appears to be a fourth outfielder, Ty Wigginton looks like he's lost a step, Dom Brown was sent to Lehigh and Juan Pierre hasn't hit a home run since Bill Clinton was in office. That group along with Laynce Nix and Jim Thome is going to be called on to help off-set the loss of Howard and Utley
That said, I have covered this team during this entire run of NL East titles and each year has featured a different surprise story in the Phillies line-up. I never expected Aaron Rowand to succeed in 2007. In 2008 it was Jayson Werth who emerged. In 2009, Raul Ibanez was the surprise story. In 2010, Werth had another breakout season that got him paid big money.  Last season it was Mayberry who opened eyes and put people in his corner to grab a starting spot this season.  There are plenty of candidates for this season. If either Mayberry or Pierre can win the left field position, I'll be happy. If they fail, Dom Brown should be next in line. It's time to see what Brown can do with full-time at-bats soon, or people will begin to think he is a bust - if they already don't.
4. The evolution of Rollins. We all know Jimmy Rollins is one of the most talented and unique hitters in the game. His combination of speed, power, and defense have made him one of the best shortstops in baseball. But after a subpar year and with new contract, coupled with injuries to others, Rollins is being asked to change. For the first time, he has been asked to regularly bat third. The team wants him to produce runs, not just to get on base. They want him to drive runs in, even if it costs them his production at the top of the line-up. We all remember the MVP season where Rollins hit .296, 30 home runs, 38 doubles. 20 triples and 41 steals.  While I think it would be unreasonable to expect anything close to that, Rollins needs to have a better season then has in the four seasons since.  I hope to see Rollins roping more line drives and driving in runs this season. The question is does he still have it?  The Phillies success might depend on it.
5. The future. I thought about cheating with this one and mentioning my excitement for the three young pitching prospects that I hope to see in the big leagues soon. Yes, I'm incredibly pumped for Trevor May, Jonathan Pettibone and Julio Rodriguez. No, we will not see any of them anytime soon.  And because I'm sure we won't see any of them this year, it's not fair to put them on this list. But the future I'm even more excited for will be the NL East race over the next few years.
The Nationals, Braves and Marlins are all getting better, building with younger players and the Mets have to do something right in the near future right?
I am ready to go into the season not saying just get me to the playoffs.  An actual playoff race is something I hope happens this season.  Winning 102 games is great, but a pennant race right down to the wire is something I hope to see.
Yes, I'm aware that one of these days the Phillies won't win the division and might not be one of the wild card teams that represent the National League, but if the 162 game season feels like a playoff series, I am ready for it.
Another thing I'm excited for is my nightly ritual of watching baseball.