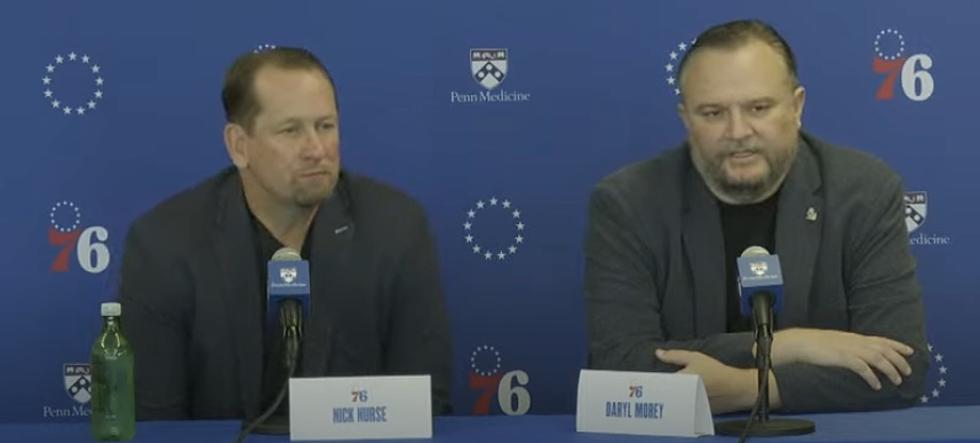 "As long as it takes": No resolution in sight for Sixers-Harden situation
Photo by Austin Krell/97.3 ESPN
CAMDEN, N.J. -- Daryl Morey wanted to try to nip it in the bud before anyone could ask a question.
"I want to address James Harden. He's not here today," the Sixers president of basketball operations said in a short statement at the start of Media Day. "He continues to seek a trade, and we're working with his representation to resolve that in the best way for the 76ers and all parties."
Harden's attendance and participation become really important beginning on Tuesday, when training camp commences in Fort Collins, Colorado.
The Sixers expect him to show up. If he does, Nick Nurse will work with him on the court just like he normally would with any other player. And if he doesn't show up, the Sixers will treat Harden just as they would any other player refusing services under the guidelines set forth by the NBA's collective bargaining agreement.
As much as the situation can change on a dime, without any prior notice or hint, Morey and new head coach Nick Nurse's jobs remain the same.
"We kinda got Plan A and Plan B. We got to get the team ready regardless. We're expecting him to show up. If he shows up, we go. If he doesn't, we go. There's two ways to look at it," Nurse said.
"We proceed and we really get to work in building our foundation of what we want to do, getting all our principles in, all the things that we want to do and play the style of play we want to play, regardless."
The sooner Harden's trade request is resolved, in one way or another, the sooner the Sixers can channel their focus entirely towards doing what they can to win a championship this season.
But, the tunnel seems to have no end through which the light can shine.
"We'll either move James for a player of a caliber that helps our championship contention or for draft picks and things like that that will allow us to, in short order, go get a player like that." Morey said.
"Short of that, it will continue as long as that takes."
The first jump-ball might not've been thrown yet, but the games have already begun.
Where to watch Phillies Playoff games during Red October in Atlantic and Cape May Counties