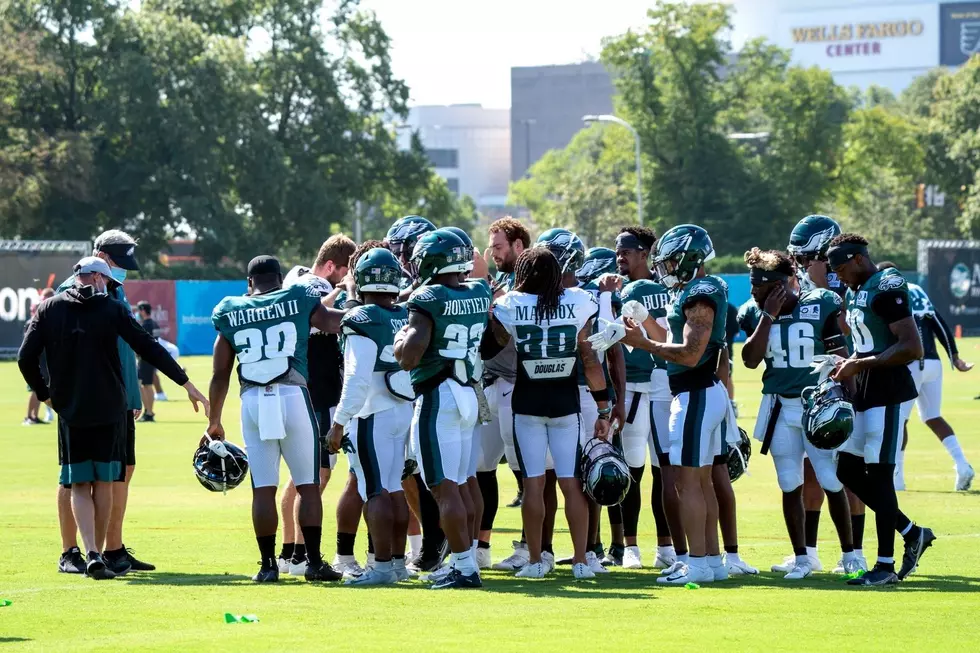 Beware Eagles Players: Avoid Becoming the next Ja'Wuan James
(Photo by Chris Szagola-Pool/Getty Images)
The good news for Football fans that came down on Thursday is the announcement of the Offseason Training Activities (OTAs) schedule along with Rookie Minicamps and Mandatory Minicamps around the league. The bad news is that your favorite team may suffer injuries and your favorite team is not obligated to pay those players because the National Football Player's Association (NFLPA) is using this offseason as a leverage point in their on-going negotiations for more player protections.
Some background for how we got here: Every NFL offseason, there are Voluntary and Mandatory workout sessions in which players are back in the building to work with coaches, build chemistry with teammates, get medical checks, and this is when new players first meet with coaches plus teammates in the new city. For the Philadelphia Eagles, here are the dates for this offseason's workout program:
As you can see, nine of those days fall under that Voluntary category and in past years many veteran players would skip most of those dates for a variety of reasons from stalled contract negotiations to dealing with family issues. But this offseason, the NFLPA has taken the hard stance that because the NFL was able to host a successful 2020 season with zero attendance for OTAs and Minicamps along with no NFL Preseason (all because of concerns and uncertainties during the first few months of the COVID-19 Pandemic), the NFLPA now contends that they need players attending Voluntary Workouts this offseason under continued concerns about COVID-19. Despite the reality that many NFL team employees are either "Fully Vaccinated" or within the targeted 75-90 percent of coaches plus front office employees plus others who have gotten the COVID-19 shots, the NFLPA contends that players still have concerns about COVID-19. Instead of viewing what happened last season as an outlier and unique circumstances, the NFLPA says it's a guideline of what can be.
So as a result, numerous NFL teams' players in-concert with the Players Association have released statements stating they will not attend Voluntary Workouts in a united front under the guise of "Health and Safety". One of those teams is the Philadelphia Eagles:
Despite the reality that many NFL players who tested positive for COVID-19 last season contracted it from "High-Risk Interactions" outside of the NFL Facilities and the positive test rate for those tested at NFL facilities from August 9 through November 21, 2020 was less than 1 percent (329 positives out of 623,000 test), the NFLPA is trying to create this perception that players are more susceptible to health risks by being at NFL facilities than away from them.
Which brings us to Denver Broncos Right Tackle Ja'Wuan James, who tore his Achilles tendon while working out away from team facilities. Per NFL contract rules, any injuries sustain away from team facilities are considered "Non-Football Injuries" and the team does not have to cover medical costs while voiding guaranteed money. So James will lose at least 10 million dollars in guaranteed money and Denver could require him to pay back his 3 million dollar signing bonus. Because the injury was sustained while doing activities that the team cannot verify the safety or circumstances of what occurred, contractually they do not have to pay James anymore. James opted out of the 2020 NFL season due to COVID-19 concerns and he lost out on 9.85 million dollars. In total, James could loose out on 20-24 million dollars which he could have made the last two seasons and now he will be 30 years old before the start of the 20222 NFL season.
This reality surprised some NFL players while others just gave a virtual "shoulder shrug" to what happened:
If James was working out at team facilities as players would be in the years before the 2020 Pandemic Year and aftermath, then he would still get his 10 million dollars thanks to his contract having $32 million in injury guarantees protections. Instead, the Broncos are without their starting Right Tackle and James loses 10 million dollars, thanks to the NFLPA using "health and safety concerns" as a reason for James to not be where he should be: at work and training in an environment setup to help them be successful.
So now Eagles and other NFL Players have a difficult decision to make: You can stand with your NFLPA brothers and take the Voluntary label for six of the next seven weeks by staying away from NFL facilities OR they can show up for their team's OTAs to avoid becoming the next Ja'Wuan James. Many players have roster bonuses built into their contracts to incentivize players to attend Voluntary Offseason workouts and many players are choosing to say "No Thanks" to that money while risking the possibility of being the next Ja'Wuan James then lose even more money.  Oh and by the way: the NFL published a memo this week laying out these details so NFL teams and players are all on the same page!
What happens if the Eagles loose Jalen Hurts or Fletcher Cox or Jason Kelce or Darius Slay for the 2021 season while they are working out away from team facilities? The team doesn't just loose important players for the upcoming season, but those men loose out on Guarantee Money from their contacts. These players work VERY HARD for MANY YEARS to get to this level and make life changing money that sets up their families for generations to have better lives. Now the NFLPA wants them to risk that Guaranteed Money in these coveted contracts under the smokescreen of "Health and Safety Concerns"?
Whatever team you are a fan of, the next seven weeks will keep you on the edge of your seat worrying if you favorite or most important players suffers an injury, becoming the next Ja'Wuan James, potentially under circumstances that could have been avoided if those payers were at NFL team facilities. I wonder if the NFLPA will offer to cover Ja'Wuan James medical expenses or better yet, offer to pay him part of his guaranteed 10 million dollars he will loose out on because he followed their advice.
Eagles First Round Draft Pick Busts
KEEP READING: Greater Atlantic City Area Athletes Who Played Games In NFL