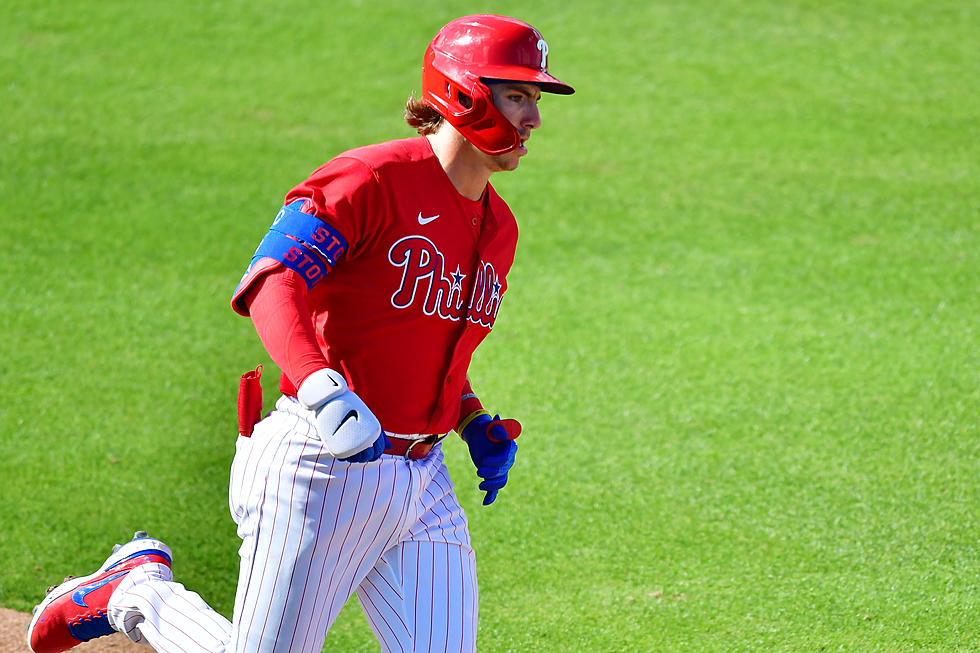 Bryson Stott, Mick Abel Top ESPN's Phillies Prospects List
Getty Images
The Philadelphia Phillies are hoping to end a 11-year playoff drought in 2022, but to get there they might need the help of some younger players.
ESPN analyst Kiley McDaniel released his team-by-team prospect rankings.
He gave three Phillies prospects at least a 50 grade, which he considers an every-day-caliber player or low-end starting pitcher.
Infielder Bryson Stott landed in the top spot and is one of three Phillies prospects ranked in the Top 100. The No. 14 pick in 2019, hit .299 with 16 home runs over 112 minor league games in 2021 and was outstanding in the Arizona Fall League.
Stott is having a solid start to Grapefruit League play and is being used at third base by manager Joe Girardi and could see some time at second. If he continues to play well, there is a possibility that he could start the season in Philadelphia rather than Lehigh Valley.
So far he is hitting .417 with one home run and a .588 OBP, thanks to five walks in six games spring games.
Pitcher Mick Abel (No. 89) and outfielder Johan Rojas (No. 99) were the other two Phillies prospects to crack the top 100 and receive a grade of 50.
Abel, 20, was Philadelphia's first-round pick in 2020 (No. 15), while Rojas, 21, hit .262 with 11 home runs in 96 minor league games across three levels last season.
While Stott has a good chance of making the team, or contributing in 2022, McDaniel named Matt Vierling Philadelphia's prospect who will have the greatest impact this season.
Vierling, is expected to get plenty of playing time right way in center field with Odubel Herrera expected to miss the start of the season, played in 34 MLB games last season hitting .324 with two home runs.
Vierling might break camp with the big league team as a true fourth outfielder who can play all three spots with a hit-first offensive contribution that's a bit below league average.
The 25-year-old's defensive versatility makes him a candidate to play all over with the amount of defensive liabilities the Phillies have on the roster this season.
So far this spring, Vierling is hitting .296 with a team leading six RBI and a stolen base in six games.
South Jersey Bars You Miss Most
By far Maloney's in Margate is a bar most people in South Jersey miss, but there are so many other bars we miss too.